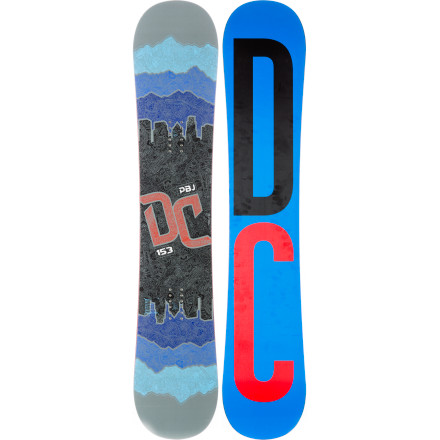 Detail Images
The DC PBJ Snowboard (Park Board for Jibbing) certainly lives up to its name. With a medium-soft flex and slightly rockered Anti-Camber shape, the PBJ was made for destroying every rail in the park. But don't be afraid to mix things up; it has a slightly rockered tip and tail for float in pow when the snow piles up.
Anti-Camber gives you a long, stable flat zone between your bindings, and rocker at the tip and tail for a playful, forgiving board that also floats in pow
Camber Core uses arched fiberglass and wood in the Anti-Camber zone to add pop and stability
Biax glass provides a loose feel
Astro Core is wood reinforced to keep it buttery
True twin shape lets you dial in your switch tricks
Structurn base uses golf ball-like dimples to break water tension for added speed
Extruded base is easy to repair after a rough day in the park
Note that every size board depicts a different graphic, so if you order the wrong one don't come crying to us
I come from China
Familiarity:

I've used it once or twice and have initial impressions
I come from China, this binding is very beautiful, very cool, I love it
Bring a loaf of bread for all the butter
Familiarity:

I've put it through the wringer
Really fun board. Super soft. Super rockered. Floats in pow. Locks on rails. Built kinda cheap though. I've broken 3 pbj's. The company is super cool though. I'd buy again but I think they'd have to build a little stronger. Think I'm getting the Rome artifact rocker this year.
Unanswered Question
I'm 163cm tall, foot size 7 and 72kg. What...
I'm 163cm tall, foot size 7 and 72kg. What size PBJ would you recommend?
I need a new bored that doesn't cost a lot...
I need a new bored that doesn't cost a lot and I'm coming off of a forum Youngblood how good is the dc pbj compared to the Youngblood? I know the young blood has some good flex but how good is the flex for the pbj? I mainly ride park but sometimes I just do straight runs is this good that?
I love this board so much!!!!!
Familiarity:

I've put it through the wringer
I bought this board for the reviews and mainly the price. I didnt know if the sizing was right for me because I have a size 12 boot and was scared it would toe and heel drag. Bu it does not i tested it in my room and i practically have to lay on the ground for the boot to touch the ground. The flex is unreal and the sizing is perfect because i am 6 foot 150lbs and I bought a 153cm and its exactly at my shoulders. The flex is definatly there but it is still good for riding in the trails. I definatly suggest buying this board I cannot wait till snowboard season to finally use this thing!
Unanswered Question
I just this board in a size 153 and i wear...
I just this board in a size 153 and i wear a size 12 boot will this fit the board? I am really a size 11 in boots and am probably trading my boots for a size 11 will that also fit this board?
Great park board for price
Great buttery park board,fun as hell to ride but I busted an edge in 2 months of solid park/resort riding. 1 year warranty covered it.

PS: 5'6" , 160 lbs , size 10 boot, 153
Im about 6'2 and 150 pounds and have a...
Im about 6'2 and 150 pounds and have a size 11 boot and im a park guru what size board should I get?
You can get away with a 154 depending on your stance but 156-157. I ride a 156-157 and im 6'2 and 170 pounds and a 11.5 boot.
Bought and tested this board out at Whitefish, MT and I love it! It is now my go-to board. I have to say that the earlier DC boards were crap but this board is definitely overlooked. Smiling and impressed the entire time I was riding it.

I would have to agree with the rest of the folks and say that there are softer boards for jibbing. But too soft would turn this board in to a jib and park-board only. 4 out of 10 for softness.

It handled fantastic in the park, hitting rails and rollers! Landing and sticking this board felt like butter. I felt very comfortable on it so I decided to take it up the mountain and it handled great! It handled carving and mid speeds with no sweat. Great response with the board.

It wasn't so great on groomed corduroy, slushy runs and got a little hard to control at high speeds...which was expected giving the specs of this board. I switched to a 156 Forum Seeker, a stiffer all-mountain board.

I'm 5'9", 155lbs and size 8.5 Burton Hail Boot. Bought the 153 and put the 2012-2013 Burton Cartel medium bindings on it.

Definitely an overlooked board. Overall I give it an A-

If you have questions, ask and I will get back to you.
I have size 14 feet. For this board will...
I have size 14 feet. For this board will i have to position my bindings differently so that my feet dont hang off the edges?
Hey,

Unless you put your bindings parallel to the board, that's not gonna happen. You absolutely need a wide board. I'd say only look at boards with a minimum of 260mm waist width. Ideally probably around 265mm. If you're looking for a soft rockered board, check out the K2 Parkstar Wide.

http://www.dogfunk.com/k2-snowboards-parkstar-snowboard-wide
no way its a 5 i would say more like a 2 on the flex rating, you can almost max it out just with your arms pushing down on it without even putting your foot up on it. but i guess itll be great for some rail work. it also comes with really sharp edges so you should work those down before hopping on local double kink
Replaced my Never Summer Evo
Dope board, never had a board this soft, never had this much fun. I jib everywhere on the mountain and I take this everywhere on the mountain. I'm 6'2'' 185lbs lean and I ride the 157.

Edit - Added a picture I took of it with Rome 390 Boss bindings and my boots with new Remind Insoles The Solution boot liners.
Edit Edit - Picked up another one whiskeymilitia for next season and giving my current one to my little bro. Selling my Never Summer Evo.
Took me a bit to get used to riding it first day but once I got it dialed I actually progressed a few tricks I've been working on in the park. Not as soft as my nitro sub-zero which is exactly what I was looking for. Base is surprisingly fast as well.