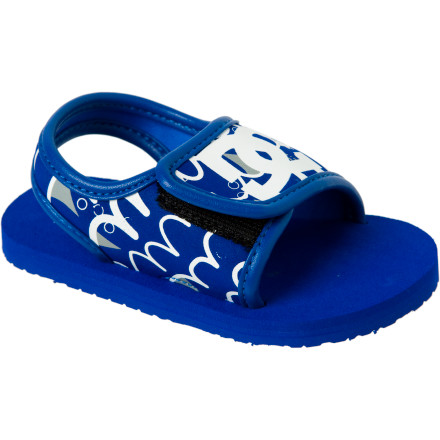 Detail Images
The DC Kimo Sandals offer cozy, casual comfort for tiny tykes. The cushy EVA footbed and hook-and-loop adjustability ensure happy feet and a secure fit from the beach to the backyard.
Cute sandals...great price
Comfy and cute...what more could you ask for?
Great little shoes for a two-year old! No break in with these, and he never complains of any discomfort. Also, they are very easy to put on and take off. I got the Black/Battleship/Athletic in a size 7, and they are TTS.
Unanswered Question
So these are for toddlers then, not...
So these are for toddlers then, not infants?
I'd buy it for my son and they were really comfortable, good looking and stay in place. My son can wear it proudly alone!
You wanna give you kid some style??
Just picked these up for my neice and they look soooo cute lol. People have asked me where they can get a pair for their toddlers, and OBV I drop dogfunks name. Just a great buy for under $15. If you know anything about kid's, you know they grow fast. So saving money on what they wear while they are young, BUT not sacrificing quality is what it's all about. Thanks DC!!!