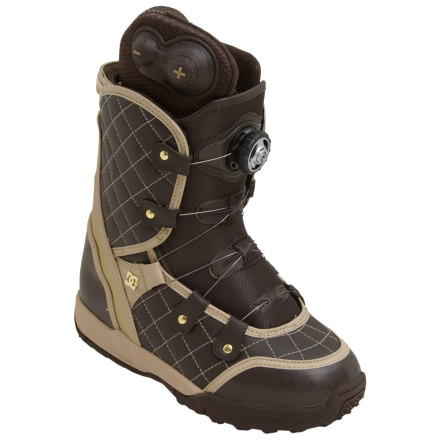 Detail Images
Ride with Slipper comfort!
These boots rock! I think the above post may have received a defective pair. My air pump is fantastic, and allows me to custom fit the interior to my foot and the boa makes for a quick efficient adjustment to hold that comfort in. They ride great, keep your feet warm, and are awesome for hiking in places! The spikes on the bottom of the boots have been really great for traction control. I spent a week in Alaska, and one of the days we picked the wrong place to board and it was almost ALL ice. No problems here! Grab your DC's and ride with precision and speed with the comfort of your own slippers!
I wore this boot the very first time in New Zealand this Aug 2008. The Boots gets loos fast, my ankle is swimming inside the boots. The air pump does not even work as well. I will have to return it as soon as I am back in the U.S.A. Thanks Dog Funk for the best customer service!
, ☃bcs_badge_alumni_label☃
ok
these are just okay. I don't like how the DC boots have such a huge volume that they look like moon boots and don't fit in bindings that well. The outer shell is very wide and could be a lot less like a moon boot. I found the inner lace system was hard to get tight enough and then the little plastic piece would lock up so it made them hard to get off.
These boots are awesome, BOA system allows you to have precision tightening and adjustments. I get my boots on a lot quicker than those who have to play the lace-up game. My right foot is slightly smaller than my left, so i pump up the right boot a little more and they're a perfect match! Not too heavy, lots of cushioning, no boot rub or pinch points either! Sweet boots, thanks to DC and this website!
Bought these boots because of the BOA system and fell in LOVE!!! These boots fit great with the help of the BOA system and the extra adjusting with the air pump. The air pump helps to reduce heel lift and make the boots fit even more snug. I like to wear mine tight and find myself turning the dial more as my feet adjust. (Remember that your feet tend to swell a half size as a day of riding goes on) so I find myself loosing and tightening throughout the day but with such ease and precision. Without having to replace I'm good to go in a flash.