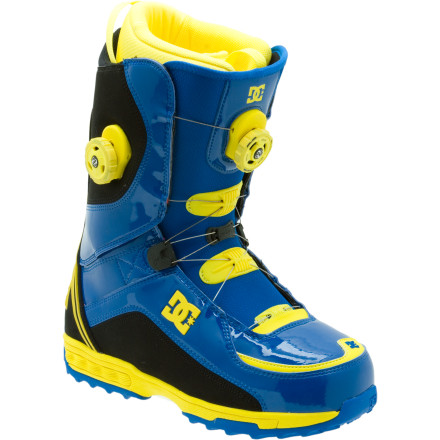 Detail Images
Share your thoughts
What do you think of the
DC
Judge Core Snowboard Boot - Men's
? Share a...
These boots are amazing. The colors are dope and the medium flex is awesome. I had the DC Status before but they were too stiff for the park. I have thin ankles/legs and the stiff boot hurt if you bicked it over a jump. These are stiff enough for support but soft enough to be forgiving... AWESOME BOOT, AMAZING PRICE!!
aaammmmaaazzzzziiinnnggg boots
i rode some rental burtons for a few years and they were decent, but once i put on these boots i didn't ever want to use anything else. extremly comfortable with the boa system. everything is great. outstanding customer support also
Got a pair of 11.5 for $172.22 from this site. They are great and the boa system is even better than I expected. If you think that the knobs are easy to break...they are freakin tough. It would take a pretty hard bail out to even damage them a little bit. Bottom line, they are worth every penny and should be bought. I would maybe go up half size if you buys these. I normally wear a size 11 shoe and bought 11.5 just in case and fit just as good if not better.
How is the fitting on this? I wear a size...
How is the fitting on this? I wear a size 11 and was thinking about buying this, should I get an 11.5 size because I've heard with dc boots you have to go up a size.
not on all boots but i would recommend.
I would have to say that these are the lightest boots I have ever had...So for almost the last 18 years give or take. Once sponsored by Vans and still wearing Vans boots I can't remember wearing any other boots by any one else. I still do a lot of hiking and shooting but I will be the first to admit that I want a really, really stiff boot but light because I am getting lazier. These are not stiff like I am used to, but feel as light as my slippers. They are comfortable as all hell and for the first time since the beginning of my snowboarding life (long time) I don't get cramps in my feet at all...Also I really like the X-Men colors!!! I have ridden about 50 days in them so far and they still work fine, stiffness is at about a 5 out of 10 now. Back country boots they are not once broken in. In the park and out in town I still love them!!! I think I want to buy every pair left in my size I can find. Once you find something you love, keep it!!!
I was super skeptical about the whole Boa system. I was concerned about pressure points, the system breaking, it just not working as promised. The system works as promised, it NEVER comes lose, it's durable, strong and in my opinion better than laces. I got out of the car, tightened them up rode the whole day and didn't have to adjust once. The bravo liner is fantastic, it keeps your heel down, all the hardware is durable and strong and the color is sweet. Size wise, my walking around shoe size is a 10, I bought the boots in a 9 ½ and was initially worried that they might just be a bit too small, but after a solid day of shredding the steep stuff they packed out nicely and were the perfect fit. I did a bunch of hiking and the Boa system was great for it… just had to loosen the top part of the boot to get some flexibility and my feet were fine. No pain at all. I have the boots with Rome390 bindings and the 157cm Lib Tech Travis Rice Pro Series C2BTX board. Try to keep up.
i never had boots fit perfect like this. #1 boots in the market