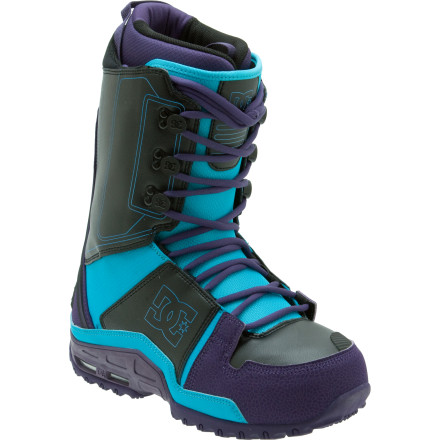 Detail Images
Unanswered Question
Just ordered this boot from another site...
Just ordered this boot from another site that was still stocking my size in black... My experience with other DC boots is that they run a tad small. Had to order an 11.5 so I'm a little concerned they won't fit my bindings (Malavita EST in medium).. Spec on them says max is size 11... I guess I can go back to the shop for the 10000th time but was wondering if anyone had any input or similar experience
Really great boots, buy a pair!!!!
The best boots you will find for the price. I just bought a pair, and have not used them to board yet. But upon visual inspection, the materials appear really strong and well built. The most comfortable boot I have ever tried on. I have owned several other types of boots, including, ride riots, forum boots, and northwave boots. These boots are supper light, and stiff. Would be a great boot for backcountry use. The one thing I really like about these boots are the arch support. I will update once I ride them this season. They fit really well into the burton co2 bindings, from 2009-2010.
Well Khaled, this boot has laces, just like my DC Ghost's, and they work very simularly to nowadays shoes, you just plant your foot and pull up on the ends of the laces and as the slack is removed from the boots the sides draw together until you have a snug fit. Then you simply tie the laces at the top of your boot so they don't loosen back up. If you have some extra lace up top, try wrapping them once around your boot before knoting them.
I hope this helps.
Lol I think your just gettin messed up by the picture. Its a traditional lacing system on these boots. The laces are just tucked in at the top so you can see the whole boot
Like the other review, I went to the DC Journey from the 32 TM-Two's and the DC are miles ahead of the 32's. Easily the most conformable boots out of the box I have ever experienced. I had surefoot fit them up for me and they were perfect. I rode them for 30 days straight until today when one of the lace eyelets pulled out when I was doing them up. Shattered, because this happened to my 32's as well.

I loved the fit and the liner and the stiffness, but I am returning these and exchanging for the DC Status. Laces are driving me nuts, time to give BOA a try. All up though, an awesome boot but disappointing lace durability. 3.5/5
Previously I had been riding 32 TM-Two's for about 2 seasons. They were very comfortable but didn't hold my heel down very well after a few hours. And after 50+ days on them, they seemed to have packed out a decent amount. When I started to think about new boots, the main points that I wanted to address were more support to get better response, good cushioning, and solid heel hold.

I considered some offerings from Burton but, the price point and my previous experience made me look elsewhere. I also considered 32 again but, didn't see anything that I felt really met my needs. This led me to DC and the Journey boot. DC rates this as one of their higher end boots with an 8 out of 10 flex rating and their top level Alpha liner.

The first thing I noticed out of the box is the quality of materials and construction. All aspects were head and shoulders above my previous 32's. The internal lacing system and calf wrap, the overall attention to detail were just executed on a higher level. Given DC's history as a skate shoe company I guess I'm not that surprised. The nice part is they are a top quality/featured boot for only $250.

Initial fit and support are great. I had them on in the house for a good 2 hrs and proclaimed they were, "more comfortable than my slippers!" Fortunately this also translated to the mountain.

My first day on these was at Squaw with hardpack conditions and they performed great. They gave me the support and response I was looking for, good cushioning, and held my heel in place. Day 2 & 3 was at Northstar in all kinds of terrain. I spent the morning doing park/pipe laps, then the afternoon powder hunting in the trees. The Journey boots held up and performed perfectly, I have no complaints. They are very light and the sole is also thin while, still supportive, for better feel. Felt a lot like a skate shoe when I first put them on.

Overall I would highly recommend these boots to anyone that rides at full speed across varying terrain. They match up great with the response of my CX. I also went with the Black/Blue/Purple colorway which my friends did not like but, I love it.
One of the best boots I´ve ever ridden. Flex is on the stiffer side but thats excellent for me. I was wondering if the heel-airbag would last cause some years ago i had a DC boot where it didn´t, but it´s all good. Got the black colour, keep it classy. Thank´s DC!!!