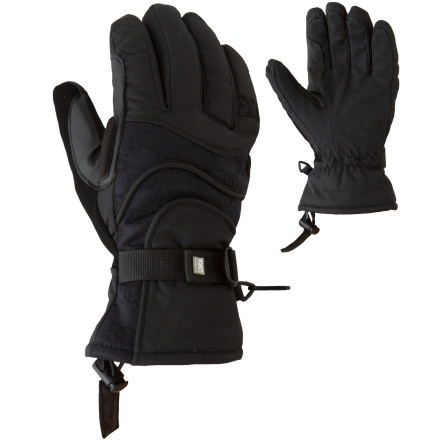 Detail Images
Share your thoughts
What do you think of the
DC
Gauntlet ll Gloves
? Share a...
These are really nice gloves, I haven't had to use the inner liner yet, they're very warm. But...keep in mind that they will never be as waterproof as your 20k pants or jacket. So if you tend to be in contact with snow A LOT like I did when I was learning then your hands will be wet. On the durability side, the fabric wears out faster than I thought, just by messing with snow.
did i mention that the palm blew out after half a session hitting jumps in the park?
the fit was very good, but these gloves didn't make it past the first day. on a day with wet snow and strong winds these gloves were soaked by lunch. the lanyards also didn't make it to the end of the day, having torn off at the cuff. the liners appear to be well made, but they hold water, too. i've had much better luck with dakine gloves, particularly the goretex ones.
These gloves are awesome! Kept me warm and dry all day.
Gloves are pretty dang warm
Got these at half off through a friend so I will review it as if i paid full price.

It is a really warm glove... I sweat a bit in these gloves. The inner liner causes the glove to get a bit tight. I'm sure after it breaks in the gloves will pack out a bit.

The waterproofness isnt as great as I'd like it to be. The gloves were a bit soggy inside after a day of riding. Another gripe I have is the gauntlet. not wide enough to go over my jacket, and too big to go under one of my jackets.

Works well going under my cuff on the Oakley jacket, not so well on my DC sweater style jacket.

Well worth it for the 40% off price
these gloves are pretty awesome. the shell is warm enough to wear alone on 30 degree plus days and the pipe gloves are awesome for well...the pipe and park of course. and when they combine they are insanely warm. but one thing, they are a bit stiff when wearing both gloves, and dont breath too well. all in all tho a very solid glove.
These gloves look rad, and the park liner is a sweet idea. They were pretty warm, but once my hands started to sweat it was over. The park liner didn't breathe at all, and my hands froze. So if you don't have sweaty hands, check these out.
These gloves are really nice if you wear them as 2 different parts- which makes it a versatile product and is really more like 3 pairs for the price of one. I found that the shell itself is warm enough to wear all alone in pretty much any weather you'll ride in at a normal winter outing. Obviously the inner lining (park gloves) are best used on the warmest days when you'll probably be rockin' a tee or the shell of your jacket. When you put the two parts of this glove together, they are extremely warm and made me sweat, except for when it was brutally cold out. In that case these gloves were perfect. I don't think that my hands have been remotely close to cold since I've purchased them. My only complaint is that this pair is a touch stiff... while i am still in the process of breaking them in, it seems as if they are going to remain on the stiff side for the duration. In addition to that, they run a bit small so be sure to size up one from what you'd normally pay for. (I usually wear large and bought the XLs and they were still a bit cramped). Comfortable, functional, stylish, and seem that they will be durable--- everything you could ask for in a good glove!
The Gauntlet II Tech Gloves are fantastic. Their comfortable, flexible, warm, and waterproof.
Highly recommend this glove
At first glance these gloves look really sweet, and I loved that they come with the pipe glove too. I havent used these for boarding yet as I live in the prairies but im going to panorama on jan. 02 (stoked). I've been wearing them around tho and they get the job done. I live in Regina, where its been -35 celcius with the wind chill the past 2 weeks and these gloves are WARM. I bought them for boarding, but I use them for everyday things and they havent failed. Warmth was a major concern for me, but I have tested these out in extreme cold and they have performed very well!
im not sure theres a word to describe these gloves. prolly Epic, i tried em on right when i got em, and already started sweatin in my hands after a minute. these gloves are gunna be perfect for the season. i grabbed the white color, so hopefully theyll get a new shipment in of em. but all in all these gloves are awesome, especailly with the inner (removable) layer. pull em out and go sesh the pipe or park, there awesome gloves, have never been dissapointed with this site, they're gnarly.
best gloves ive ever seen. ive had problems with the tear of the palm liner on other gloves but these are really strong and warm gloves. plus u can use the pipe gloves for those sunny days in the park. really good gloves, i highly suggest them.