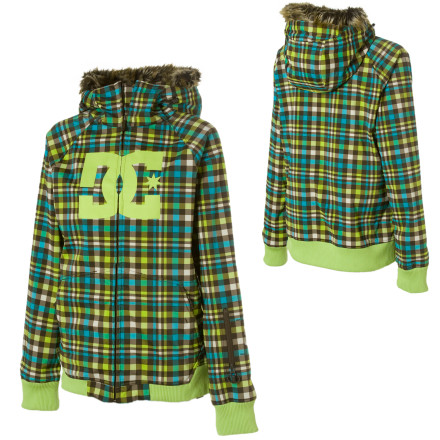 Detail Images
Share your thoughts
What do you think of the
DC
Gamut 10X Softshell Jacket - Women's
? Share a...
Posted on
How does this jacket fit? I read that it...
How does this jacket fit? I read that it fits just like your standard hoodie. I wear a size M in hoodies so would i get a M jacket?
Responded on
It is indeed very hoody-esque by design,If you wear this in the spring or summer without many layers or just thin layers underneath it, grab a medium. If you are wearing thicker or multiple layers, and you will need the extra room for movement, large will obviously be more suitable.
Posted on
does anyone else who owns this jacket have...
does anyone else who owns this jacket have issues with buttoning the powder skirt? The buttons are off it seems! (see pic). I can only get the bottom button snapped- because the top button isn't a snap. WTH???
Otherwise, this jacket rules! Its the perfect weight for spring. Layered with a fleece inside to wear in cooler weather too, very versatile!
Just don't understand the powder skirt buttons. I've already retured one, thinking it was defective, but my new one has the same type of buttons!!! What's up with that?
Responded on
No, I actually took my skirt off but it does button fine. But I see what you mean, I think it's just a weird DC flaw but the jacket does rock. I thought I was the only one who thought the buttons on the skirt was weird.
Responded on
I finally figured the buttons out. Its a little tricky and does not button up like a normal powder skirt. This powder skirt actually buttons to the jacket itself, then you double stack the top button on top of the bottom button to the pow skirt (the top part, fastens to the jacket, the bottom part snaps to the powder skirt). Once you figure out the powder skirt fastens to the jacket first, you will see how all the buttons work together. Hope this helps. The jacket still rules! Even more so, now that I figured out the powder skirt and the fact that there is so much pow to be ridden this season! <3 it!
This is the PERFECT spring jacket for those sunny, bluebird days! Not only is it a great lightweight jacket it looks so darn cute! Definitely a more stylish yet effective jacket!