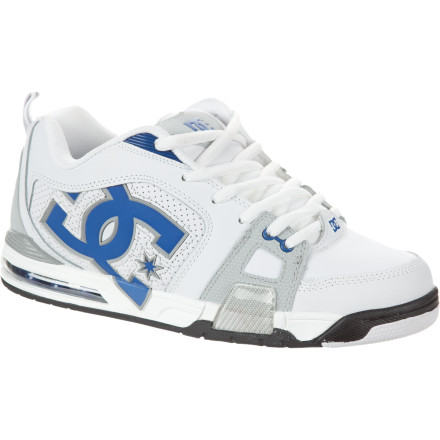 Detail Images
For months you've been sending skate companies your skate resume, videos, and photos, so when the team manager of DC finally calls you and asks to meet you at your local skate park in twenty you better pull your shit together, lace up the DC Men's Frenzy Skate Shoe, and get your ass in gear. Easily slide your feet into these sweet kicks with the help of its heel pull and enjoy the comfort of its mid-length airbag midsole when you frantically make your way to the park. The Frenzy's pill pattern rubber outsoles give you the traction you need to perform well, and its durable leather upper with round, perforated toe helps combat every day scuffs and tears.
What do you think about this product?
Have questions about this product?
I liked that very much...but, the right foot is a little tight. As a bought one DC Command too, I'm using the Frenzy casualy and the Command for the rides. DC frenzy are really beatiful and have a good contruction. I just didn't have much lucky with the size. (it's strange cause DC command fits perfectly and the DC frenzy is also nice in my left foot and they are all 10 size).
Unanswered Question
2 questions: 1- How come the shoes appear...
2 questions:

1- How come the shoes appear to be in special but are not in the shopping cart?
2- What is the shipping cost to Canada?