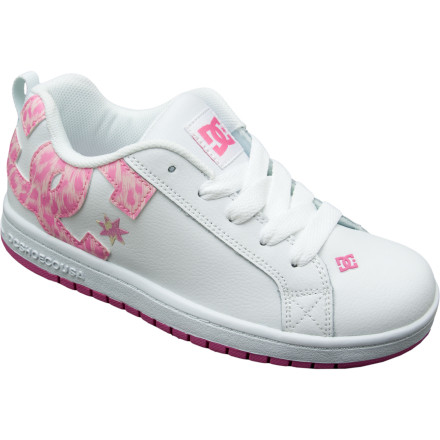 I bought these for my daughter. She loves them. Also can't beat the customer service from Dogfunk. There was a little mix up with the order and they could not have been more helpful. They quickly rectified the problem. I would definately buy from Dogfunk again.
The DC Court Graffik are just the it shoes for those skater fanatic people out there. I wanted a pair but couldn't find a shop that sold a pretty good pair. Its important that you not rush in buying a particular style of DC shoe before you see what other style of that particular look like the Black DC Court Graffik might look good but when you see it in white with graffiti on it you won't want to look at the black version again.
These shoes seem to run a little small
I bought these shoes for my 5 year old daughter, the shoes are really cute and I love the style, however, she is wearing a 10.5 - 11 right now and I ordered an 11 and it is too small, Im not sure if it is because the inside of the shoe is really padded, but they do not fit her :( So, I am putting them up in the closet for my 2 year old to grow into :)
i own the pink/black and cobblestone. these shoes are very comfortable and durable and fit me perfectly. i'm 29 years old and have a very casual but professional work environment and get regular compliments on these shoes. it's hard to find small shoe sizes so i try to buy a pair whenever i get a chance...esp. when they are on sale...great deal!
Unanswered Question
I was just wondering if you ship these to...
I was just wondering if you ship these to australia and how much postage it will be...Thanks Linda..
My daughter absolutely loved them. She was so excited. Till I got her the wrong size and had to send them back. My bad!
Court Graffik Skate Shoes
My son was totally stoked! These are by far his favorite shoes. Delivery on time as stated!!!
Adorable!
Her first shoes were vans, and now that they are too small she moved to these and they are even cooler. They are easy to put her feet into, and everyone is impressed with them....
Court Graffik Skate Shoe - Kids
My nephew was over the moon with these. I now have "best aunt ever" status for at least several weeks. The mom was delighted too, as these are so nice that they can easily dress up a pair of khakis to go out to events...before they get shredded that is...
I wish they made a smaller size in the kids shoes my son wants the DC Court Graffik shoes but they do not make his size he is four and wears a 11.5 that would be great if they made smaller sizes the are nice shoes.