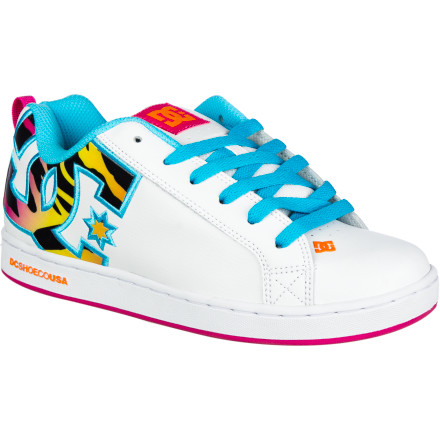 Detail Images

Videos

Community Images
Earn a fat lip in the pipe and want to draw attention away from your face? The DC Women's Court Graffik SE Skate Shoe's screamin' style should do the trick. DC stitched a big-ass logo onto the Court Graffik's leather upper and then decorated the shoe with various patterns and colors. DC tricked these shoes out with a foam-padded tongue and collar for cushioning support and designed the sticky rubber soles with its flexible, high-traction pill pattern tread.
DC Court Graffik SE Skate Shoe - Women's
My gf loves these for skating. They grip well and are holding up nicely.
I love DC shoes. I bought the white and pink ones, and they fit and look awesome! Pretty comfy too!
AMAZIIIIING SHOES!! OMG I JUST LOVE THEM!!!!!
I originally lost one shoe while skydiving. I loved them so much that I had to order another pair! And I had my friend in the US send them to me in Australia!
LOVE my shoes! They are girly, but also badass! ;)
Unanswered Question
shoes are important.
i need some durable skate shoes that are black so they won't get dirty. But i walk a lot in my shoes so either way, I have DC shoes and they're truely awe
I love shoes. But I have a lot that don't fit anymore and no money, but I'm determined to get these awesome shoes one day or make my own style of choice. (haha jk)_.........
Where can I find those Black DCs with the...
Where can I find those Black DCs with the green and blue plaid in an 8.5???
Unfortunately, they are sold out here.
ccs.com
shoes.com
zappos.com
might have them
im not for sale either.. what do u know? i love being sacastic and girly at times. uhhhh.. i still love the shoes im wearing. your sold out:)
These shoes are so cute! I was directed...
These shoes are so cute!

I was directed to this website from the official DC site.. and alongside this one which supplied this design there was also another one: http://www.the-house.com/dc0cgsw06cbc9zz-dc-skate-shoes.html?utm_source=dc&utm_medium=vendorfeed

Comparing it to the photos in the above link, I noticed there is a slight orange tinge in the ones displayed here. Are they actually like that with a different shade of pink?

(I prefer the other ones as shown in their photos, however I cant get them because they don't supply a size 8.5)
It's hard to tell which shoe you are talking about. If you can provide a specific color I can have a better answer. I do assure you thought that none of the colors that we currently carry in the DC Court Graffik SE have an orange hue to them. The black/pink colors are just that, black and pink. No orange. The Brown has an ocean blue to it.
If you are unhappy with your selection send them back. Dogfunk.com will is there to make you happy.
Write your question here..any chance that...
Write your question here..any chance that the white and rainbow monograph are coming back in stock, would love two pairs?
I'm sorry. There are no more available through DC. We will not be restocking the Court Graffik SE in White/Rainbow Monogram.
I ordered the Carbon/Black ones( they look like the cobblestone jusst black ) And they are cute! I love the fleece like uppers, because it does not rub like other skate shoes I have had. The only thing i dont like is that the toe part is so stiff! i am going to have to REALLY break these in. luv them , and I would recommend them! Plus they came in 3 days!
I bought these shoes for my girlfriend and she just absolutely loved them! They're some good looking kicks too
If this is your first time buying DCs especially online where you can't try them on, get a half size bigger than you would normally wear, then that's a perfect fit. I love these shoes!
Court Graffik SE Skate Shoe - Women's
I bought these for my girlfriend and she loves them! got me some serious credit:)the only thing she doesn't like are the 2 little vent holes on the side of the shoe, although these maybe great when it is hot, it is not so good when it gets sloppy