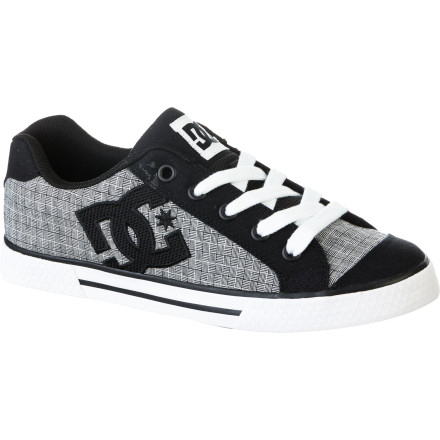 Detail Images
The DC Women's Chelsea Skate Shoes are for girls who don't go with the flow. These kicks' intriguing patterns keep your feet on the fringe. Whether you wear the Chelsea Shoes to jump gaps in the skate park or just to walk to the beat of your own drum, the lightweight uppers and soft fabric linings keep you spry and comfy. The foam-padded mesh tongue lets your feet breathe, and the padded collar provides support while you perfect your kickflips. A durable leather toe cap handles roughhousing. DC Shoes' trademarked pill pattern sole lends these women's skate shoes tons of traction and flex.
when will there be shoes in size 9
when will there be shoes in size 9
Best Answer
Hey,

There are a lot of these shoes in a size 9 available. Just pull down the "Select Options" window.
My Compliment Cup Overfloweth
I just can't express how many compliments I get on these. I got the ones with lime green and everyone, including myself loves them. They are comfy too; Bonus!
I was interested in purchasing these shoes...
I was interested in purchasing these shoes but they are not coming up as thier on sale price when I put them in my cart. ???
Best Answer
The DC Chelsea, and most of our shoes, are going to have different sizes depending on style and color. The black one may be on sale when the red one isn't. Make sure you check your drop down menu before dropping the shoe in your cart. The price that shoes up next to the color and size is the price you are going to get.
Super stylish with cool colors, really comfortable for running, walking, skating, jumping up in down at a concert...whatever! More of a tom-boyish look for the not so girly-chicks, but still hot.
I am satisfied by my purchases, I like gone shopping on your site! Thank you very much!!! :)
Chelsea Skate Shoe - Super cute, good fit!
I bought these to use when I go mountain boarding, and the have worked great. I actually bought a second pair to wear around every day! They are a little narrow for my feet(I am a c width, which is a little wide for most women's shoes). They are also very low profile. Also, I generally wear 7.5, but decided to go with a 7 instead, since I wanted them to have a closer fit to keep them from slipping.
true to size, great colour i bought the green, very happy with the price. get heaps of compliments on these shoes.
these kind of fit big, but it's comfortable that way. they're a bit heavy, so not ideal if you want to walk a lot in these or run or sprint. but if you want to keep your feet warm and comfy as well as keep your style in tact, this is the shoe. i can skate a bit, but i'm not a skater, so can't touch on how these are for skaters.
After looking in 8 different shoe stores, my teen daughter was not happy with anything she tried on. She has a very picky style! We went home and looked online...This site had what she wanted. We ordered the Chelsea and when the arrived she couldn't stop smiling! (That never happens)
Very comfy shoes, lots of padding..
These shoes have a "slim fit" compared to most skate shoes that have padding along the sides and in the tongue. The herringbone pattern is pretty loud making these shoes very unique and noticeable.