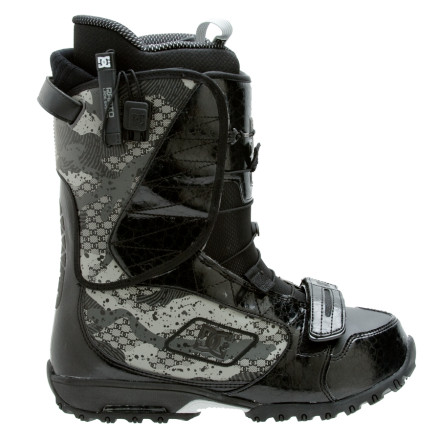 Detail Images

Community Images
These are impossible to put on. It killed my feet trying to get them on. once on they were alright but then the quick lace kept coming lose. i love DC but these boots are not worth it.
Parker Busch 12 yrs Killing it on mt hood
Timberline on mt hood where you can ride all year
They're starting to grow on me
So at first, I thought these things were gonna be sweet. I really did fail to mess with them enough before I went out and spent about 30 minutes on the mountain figuring these things out. The lacing is rather confusing at first... But I finally got the hang of it. Not really feeling the J-Bar thing... Hopefully it does work better as others have said after a few trips. The sole is removable. Best advice **mess with the laces enough to see how they work** Also, I tend to believe these run a little small, but hell, they fit my feet. It's all good.
Amazing- Look and Feel Great
I just bought these boots and they look sick. They went on easy and lace up awesome. The feel is really awesome being close to my board and all, but they still have nice padding. I recommend these boots!!
The Good, The Bad and the QUICK LACE
Well... maybe it's just me but I struggle BIG TIME with these boots. When they are strapped on good they have a great feel and are responsive. That's the good. The bad, the quick lace system doesn't seem to work, at all. It'll tighten up, but after three runs my boot will be so incredibly loose that if I were to hit the slopes w/out checking I'd eat it hard (which I have done). The laces REFUSE to stay locked in. If you hit a tough run that's backcountry and moguled up your feet are going to KILL YOU. There usually is some discomfort but man with these boots my feet die on those runs. And lastly, I have large (12) feet but am a skinny guy and have very trim ankles. I struggle every time getting them on and off because the liner molded to my small ankles, the J-Bar holds that mold and my damn big feet now can't get through there! Maybe my quick lace system is jacked and you won't have that problem... but skinny people with big feet and small ankles, you've been warned.
Been riding with these five times now and they are comfortable and hold the heel. The jbars take a couple times to break in. The first couple days was a little stiff but now they fit well. The quick lace takes a while to figure out how tight you want because it can get really tight and cut your circulation off. The flex is great for park and also holds up in the steeps as well overall it was steal for these pickup for 89.00 after Christmas...
Ok...so i said that those j bars arent comfy...well now...the boot feels pretty wicked. I guess its broken in a bit...its got a nice stiffness to it as well. Quick lace system takes some getting use to...but once u get the hang of it...its pretty good..so i revise my rating 5/5!
First off...they seem to run a half to quarter size smaller than usual. Construction is good and it has a nice small foot print...feels pretty stiff too. However, those 'j-bar' thingys that DC puts in the liner to help heel hold kill my ankles. Definitely creates a pressure point. Maybe when they pack out more this will go away...but so far...not comfy!