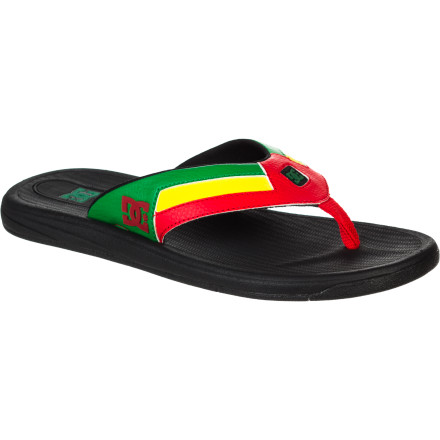 Detail Images
Live the easy life, if you can. If you can't, there's always the DC Men's Cabo Sandals. Some call them flip-flops, some call them thongs. We say thongs are women's underwear, but if that's how you get down, more power to ya. Nomenclature aside, the Cabo Sandals are cushy, light, and emblazoned with 360 degrees-worth of DC logo steez. Perfect for the beach, the back yard, or the trip to the mailbox for your government check.
cant go wrong for the price
i use them for the beach and they are fine. i even got them all wet. so they hold up well.
for this price you might as well buy two! they fit great. they feel great. they don't feel or look cheap. i hope to get years of use out of them.
ive had mine for 5 years, and they are by far my favorite sandal ive ever owned. they form to my foot, and they never chafe my feet. ive put at least 1000+ days on these and they are still in perfect shape besides usual sole wear and the logo on the side peeling a bit, but its all good.
In the sack on the boat or in the river...these sandi's rock
Highly recommend, very comfortable
I'm not a sandal person, but I really like these. They fit the same size as regular DC shoes; I'm a 9.5, so I went with the size 9s and they're fine. Squishy sole, very comfy.

However, after only about 2 months of use, one of the sandal straps began to fray and eventually tore off with just regular use, probably a defect. Get these when they pop up on whiskeymilitia for $8.99.
love em, clean comfortable and durable. and i think they were pretty cheap