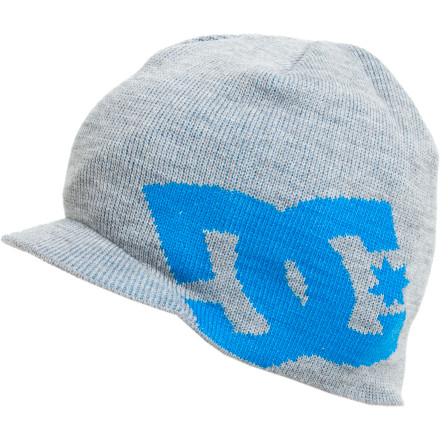 Detail Images
The DC Big Star Visor Beanie is good to go from the terrain park to your local hang out. Acrylic knit fabric makes this beanie comfortable and easy to keep clean. The built-in visor deflects sun and snow and wont flop down into your eyes. The classic DC Star logo is jacquard knit into the side for long-lasting style.
Good gear
Familiarity:

I've put it through the wringer
i usually keep my hair longer during the riding season and this is the perfect fit and weight for keeping my head warm without sweating out during long days of riding
It's my 3rd one.
Familiarity:

I've put it through the wringer
Love the way they fit and found one for my son in a youth size. The first one I had for over 5yrs and just started to fall apart it's been washed 100's of times and still holds up with a small tear on the visor. Hope they don't discontinue the line if so I may have to scoop up the rest.
does this is dc visor fit boys or is this...
does this is dc visor fit boys or is this an adult size?
Best Answer
My 9 year old son rocks this hat every day of his life (since I bought it). I have trouble getting him to take it off, and it fits perfectly.
My boyfriend got me this and some other DC gear for the holidays, and I'm so hooked on this beanie! I got it in gray.

I wear it over a ballcap usually so the visor doesn't bother me too much, and I just tilt it off center when I'm going "commando" under it, so to speak. I love how warm this hat is on my neck and over my ears without making it difficult to hear or being itchy or anything.

My only complaint is that since I got my beanie I've seen two other people with the same hat - both GUYS! I'm the only girl I know that owns one so far.... and my man steals it from me whenever he makes solo trips to the slopes.
not too thick, but still very warm.
great comfort, but the visor is VERY flimsy, and not big enough to really do much
I bought one a while ago that fit perfect but I lost it and decided to get another one. The only problem I have is that the top sticks out too much and makes my head look strange. It's an okay beanie if all you Want is to cover up your ears from the cold.
It's a hat, does what it does
Kept me warn on the mountain, looks cool too. Nice price and buy for me.
i like it but dont like it the brim is flimsy and its kida long i like my hats tight and when i do it with this on it gose into my eyes but i still rock it!
My 9 year old son wanted this beanie for Christmas very badly! At Christmas is was under the tree! He loves it so much he wears it indoors and was even going to wear it to bed the night he got it! Kudos to Dog Funk for having just what he wanted!! Did I mention excellent shipping/packaging/company!!! My hats off to Dog Funk!!!
I have used mine for a month now with no problems. No stitching has come undone.
i got this hat 2 months ago and it has not come apart. my girlfriend keeps stealing it
this is a great beanie...and yes some of them come undone i bought my first one and the visor came off on me too but took it back and got a new one and that never happened to me again and i just bought 2 more...there great and look good on girls tooo.....
x-mas gift- the thread that holds the visor piece in place has already came undone-i had to sew it back in myself
got the hat and i love it. got it very quick, and i wear it all of the time. warm and stylish, but it looks even better on my girlfriend.