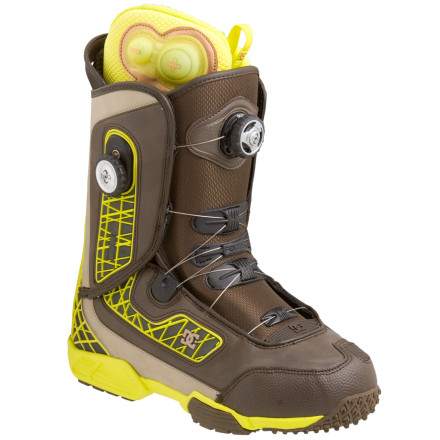 Detail Images
Best boots I've ever had.
Just picked another pair of these up, this price is a STEAL...best boots I've ever owned. Had the 2008's and rode them hard for over 100 days until they finally gave out...and I'm 6'3" 210lbs. I normally wear a size 13 but always buy snowboard boots at least a size small, the 12's fit perfectly. Yes, they are stiff and made for charging the steep & deep...but they work well for lapping the park on down days, too.
Fit is perfect, but the BOA's are not
On my first run, I tightened both BOA's as tight as possible. At the end of the run, I noticed that my boots felt pretty loose. I figured that the BOA's snapped out of the locked position, but they were still both locked. The whole day was spent sitting down every 45-60 seconds to re-tighten my boas. I know it's the boots because as soon as I tighten them, I ride like a champ. My ride deteriorates quickly until I'm able to sit down and tighten them again.
I bought these boots at the end of the season so I cannot tell you how they ride but having tried them on I can tell you they are true to size and fit like a glove. Walking around in them I did not notice any pressure points and found that once the liner was inflated that my heel stayed planted. I am extremely excited to try these boots next season and will update my review at that point.
Very nice just rubbed my ankle
I really liked these boots and how stiff they were. I didnt get a chance to ride them. I could tell that it would be an uncomfortable day. I usually wear 9.5 in street shoes so I got a 9. Everything was perfect except the left ankle. BOA rocked and so did the liner.
These guys are litterally ski boot stiff, ive ridden mine for over a month now and theyre not easing up much at all. If you like to flex your ankles at all avoid! I generally like stiff boots and ive been rocking Vans Fargo Focus for the last 3 seasons and they are vastly superior to these. Better flex patern and more supportive inner sole. Having said that if u just charge big mountains (ie Heli board) and nothing else these would be pretty good and the boa system is as good as it gets. But in future id still go Vans for sure. And if ur anything bellow a size US 10.5 get a medium binding, DF advised me to get larges and theyre far to big.