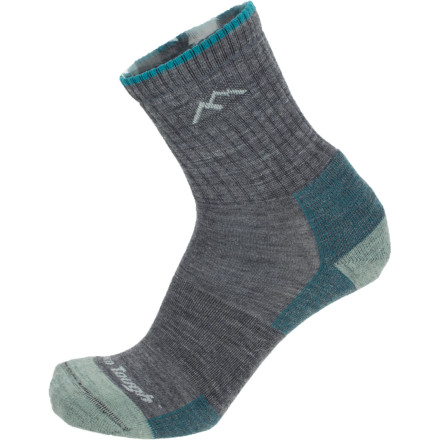 The Darn Tough Women's Merino Wool Micro Cushion Hiking Socks utilize high density cushioning on the bottom of the feet to take the edge off of adventures on the trail. A fabric blend that consists mainly of merino wool ensures that your socks breathe well when pick up the pace and turn up the heat. Ring toe construction, reinforced heels and toes, and elastic support in the arches add the premium durability, comfort, and support you expect from Darn Tough Socks.
Holy cow, love these socks, done with my other old favorites. They don't last more than three months any more. These things fit great and don't seem to change wash after wash.
While merino wool is always very good for warmth, these socks have thinner fabric on top for better breathing. Still they are fairly warm socks, but it really depends on what kind of usage you will make of these.

If you are planning to use them in cold weather you could use a thin sock underneath. If you are looking for something super warm, I'd recommend a heavy sock instead.