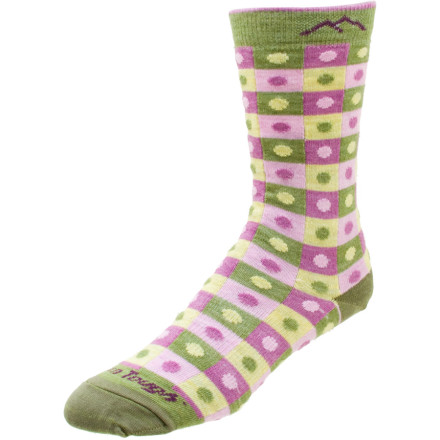 Detail Images
If you like your Darn Tough hiking socks so much that you wear them around the house and around town, then the Women's Dots and Squares Merino Socks are for you. Darn Tough reinforced these soft merino wool socks with nylon for durability and included spandex for a comfy, arch-supporting fit. These patterned socks are lighter weight than Darn Tough's performance socks, so they'll fit into your casual shoes.
These are turning in to my go-to winter sock. They are super comfy, and have held up all winter to repeated wear and washing. They definitely are lasting longer than other wool socks I wear. I just bought 4 more pair, because they were on sale. Stock up now!
Darn Tough Merino Wool Dots and Squares Light Sock - Women's
These socks are warm and comfortable. The design is cute. These ankle socks are longer than my other ankle socks, so I push them down after I put them on.
Do these socks ever go on sale? I want...
Do these socks ever go on sale? I want to try them since the last 6 pairs of Smartwools I've ordered from you guys have worn through within only a few months! I love them but can't afford to go through them so quickly -- I need a very durable sock as comfortable as Smartwools. Any thoughts? Thank you!
Surprise! they are on sale! They're called 'Darn Tough' for a reason. The stitch count in these socks is ridiculous-o, just turn them inside out and compare with other brands. Well, I guess you'd have to buy them to do that...I guess I should just say, you won't be disappointed with Darn Tough, "A little Vermont in every pair" as they say. Let's just be glad they didn't say New Jersey.
I'm pretty much a diehard Smartwool fan, but I discovered Darn Tough Last year, and love this brand even more. They are warm, comfortable, and never shift. If they had as good of a selection as Smartwool, life would be complete.