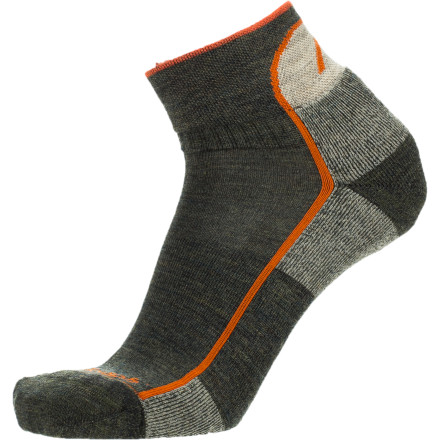 Find out for yourself why Outside Magazine praised the Darn Tough Merino Wool 1/4 Cushion Hiking Sock. Built with merino wool fibers, the Cushion Hiking Sock naturally resists odor and offers unsurpassed softness, keeping you comfortable from the trailhead to the peak on a sunny afternoon hike.

Merino wool breathes, offers excellent thermoregulation, and naturally fights odors
High-density knit on bottom of foot cushions your foot mile after mile
Reinforced heel and toe don't have any seams to rub you the wrong way
Elastic support around arch offers a snug, supportive fit
Share your thoughts
What do you think of the
Darn Tough
Merino Wool 1/4 Cushion Hiking Sock - Men's
? Share a...
I dare you to find better socks
I am a self professed sock snob. I have socks for game hunting, bird hunting, fly fishing, backpacking, camping, skiing, road and mountain biking, trail running, road running, the office and the yard and for all seasons. Vermont Darn Tough socks are without equal. For me the best socks are the ones that just do their job and almost disappear in whatever experience your having. To do that properly, they need to be soft under foot, have he proper amount of elastic on the arch and top of the foot to keep them in place, but not cut off circulation. And they have to get the ankle right. With out question these wool socks do it all better than anything else on the market! Height, cushion, weight and warm rating will obviously fluctuate with activity but Darn Tough socks cover the whole gambit. And best of all these things are bomber. I have several other pair of wool socks from other manufactures that are the same vintage as these, but they are all getting thin in the toes and heels. If you just want great socks, these are the ones for you.
These are darn tough, well made. Nothing like a good pair of Merino Wool socks for all situations. Until you know, you don't. Get a pair and you will understand. Good socks really do make a difference in your adventures in life.
Totally worth the price!
Gender:

Male

Familiarity:

I've put it through the wringer

Fit:

True to size
So far, so great! I wear a 9.5 shoe and the larges fit just right. They are nice and thick, which provides extra cush for the long days on trail. After two months of heavy use (I own two pairs and they are the only socks I have used) the quality is what you would expect from an $18 pair of ¼ length socks. At first they felt a little slimy and I was slipping inside my shoe, but after a wash or two I am loving these socks. Even after several days of use after they have crusted out to the max they don't seem to achieve the heinous smell of some of my other socks. I am stoked these are coming out of the good old US of A too! I'll be replacing my entire sock wardrobe with these incredible knits.

Follow the adventures where I put this gear to the test @Frazier_Far_Out.
Tough is right
Familiarity:

I've put it through the wringer

Fit:

True to size
Probably my favorite sock company, these guys are comfy and will last you forever. At least they shouldn't wear out for a long time, and even then you can just get them replaced, which is awesome.
Love these socks
Familiarity:

I've put it through the wringer

Fit:

True to size
I used to wear Thorlos until I came across Darn Tough. Now I won't go back.. They're very comfortable, wick moisture away with ease, and they're backed by a lifetime warranty. Can't go wrong with these socks!
love these socks
Familiarity:

I've used it several times

Fit:

True to size
These socks are super comfortable. They're thick enough to give a good amount of cushioning without being too thick. The Merino wool is never hot or scratchy; always soft and cool in the summer. I haven't worn them in the winter yet, but I'm sure they'll be great then, too. They have a high-quality feel to them and are backed by an unconditional lifetime guarantee. Hard to beat that! I use them for hiking, backpacking and general all-around use. My shoe size is 10.5, so I wear a large, but I loaned a pair to my size 7 daughter and they worked for her, too; probably of the 4% lycra.
Great Socks
Familiarity:

I've put it through the wringer

Fit:

True to size
I can wear them running, hiking, and rucking! Love them and the are my favorite socks!
Wear well
Familiarity:

I've put it through the wringer

Fit:

True to size
I just got back from a 75 mile hike in dirt and dust. They preformed admirably. I've owned this style for years and I keep going back. They just work.
Great sock
Fit:

True to size
Does the job, not too hot for use in summer. Great all around sock.
They Breath!
Familiarity:

I've put it through the wringer

Fit:

True to size
These socks work great for high hiking boots. Purchased several more for my every day wear.
Best socks ever
Familiarity:

I've used it several times

Fit:

True to size
My new favorite socks. Fit is spot on, keeps my feet dry even when they sweat buckets. Best part---absolutely no blisters or hot spots.
Will go 2200 miles and more
Familiarity:

I've put it through the wringer

Fit:

True to size
I used Darn Tough socks on my thru-hike of the Appalachian Trail. 2 pairs of these sock saw me all the way through Maine and are still going. If you're tired of smart wool's wearing out on you these are the socks. Not to mention they have a life time warrenty!
Good Product; Great Service
Familiarity:

I've used it several times

Fit:

True to size
Purchased the DT socks after being disappointed recently by the less-than optimum longevity of some of the other products on the market (including the offerings from Smartwool). The DT socks come in a great choice of colors (colors actually found in nature),
fit true to size, and appear to be well made. Most important, especially for someone who spends a tremendous amount in of time outdoors for both work and play in a wide range of conditions, they meet the ultimate sock test: you forget about your socks and focus on the task at hand because they fit and perform so well.

Great marks to BC -- again -- for fast shipping and great service.
they so nice, I wear them at least twice
Familiarity:

I've put it through the wringer

Fit:

True to size
I own many different styles of socks, including companies, materials, lengths, and amount of cushion, and let me tell you, ounce for ounce, Darn Tuffs are without a doubt my
favorites! I have a problem of gettingn holes from my big toes, but with these socks, there is no such problem! Great price, great fit, great feel, and darn tuff! I'd recommend them to everyone.
And one of my favorite aspects of the company is that they offer a 1/4 length model.
Great socks, I'm hooked
Familiarity:

I've used it several times

Fit:

True to size
I've worn smartwool, wigwam, danner and others but these were great socks and the warranty is the final hook. I really like smartwool socks but they wear out very fast
GOAT IS GOOD
Familiarity:

I've used it several times
Bought predominantly for mountain biking and to try out the darn tough brand. Got to say, my initial impressions are very good. I didnt think there could be a great deal of difference in sock construction, and there probably isn't without being able to point to any specifics, my general perception is this seems to be as good or (gasp) even better than anything comparable I've gotten from smartwool (and I own a couple dozen assorted smartwool socks for everything from skiing, snowboarding, hiking, biking, fishing, hunting and casual wear). Similar price and made in USA?assuming these hold up, I'll be looking to Darn Tough as I replace socks in the future. Bought this pair at the same time as some replacement Smartwool PhD cycling socks I know I like very much quick side-by-side comparison shows the darn tough a tad bit longer and a little more stretchy both things my fat foot will probably like. It's a sample size of one of each, but the Darn Tough are visibly perfect the smartwool has an errant hanging thread.

Perhaps the best 1/4 hiking sock made
Gender:

Male

Familiarity:

I've used it several times

Fit:

True to size
Had not tested this for too long so i cant comment on durability,but i am super satisfied so far.

Fit:5/5.Like molded.Very good,they dont slip down.

Comfort:5/5.Very good cushion for the weight,and its distributed nicely along the foot,no areas with less cushion than others.

Warmth:5/5.For summer/spring they are damn warm.Can easily be worn with long pants in autumn.

Wicking sweat/Odor:4/5.Since they are pretty cushioned,they are a bit warm in very hot conditions,but you still wont sweat too much.
Odor is minimal.

Overall 5/5.
They are Darn Tough,what more to say.They can be worn for pretty much all activities and 3-seasons.You wont regret.
They really are Darn Tough
Familiarity:

I've put it through the wringer

Fit:

True to size
I wear these for everything to include hiking, running, and working 10 hr shifts at the hospital. They're much tougher and have superior wear as compared to Smartwool. I can wear these all day. I'm ordering more since I'm replacing some previously mentioned brand of socks that are wore out at achilles area and ball of foot.
I've written some great review for Darn Tough socks in the past - good tight weave, and they wear great and have been long-lasting. Usually don't have to toss them till the heal or achilles has worn due to LOTS of use. But my last three have been trashed after only a couple of runs. There is a sewn seam near the toe that has come unfrayed in my last three pairs. I keep my toenails filed, so that is not it. And even my old Darn Tough are not having this problem. I can only conclude that a great product and success was followed by carelessness and lack of attention to datail. I hate to trash this product that I have loved for so long. But 0 for 3 in my last three pairs is a trend that can't be ignored. Sorry Darn Tough. Breakup are hard, but I have to move on.
Get this sock
Gender:

Male

Familiarity:

I've put it through the wringer
This is probably my favorite sock ever. I really like the cut, it is incredibly tough, I hiking the entire appalachian trail, started with 3 pairs of socks, and these are the only ones that made it the whole way. They are very comfortable and wick moisture really well.