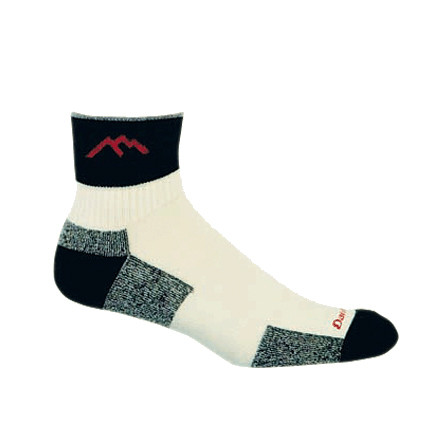 Even if your trail name is Tenderfoot, the Darn Tough Merino Wool Quarter Cushion Sock will soothe your dogs with heel-to-toe high-density cushioning and cool, quick-drying materials. The secret lies in the careful combination of naturally antimicrobial merino wool, durable nylon, and stretchy Lycra. Mile after mile, the sock's rugged, rib-knit ankle and invisible seam construction keep fit in check so your feet stay free of hot spots or biting blisters.
Downgrading my review
Familiarity:

I've put it through the wringer
Darn Tough used to be my favorite sock. They have a nice tight weave and lasted (at least they used to) forever! But there seems to be a real change in quality as the seam near the front of the foot has unfrayed in my last three pairs within two times of wearing the sock. That's true for three of my last three pairs - while the ones I bought two years ago are still going strong. What happened to your QC???? What a shame and disappointment. Darn Tough, you had me for life, but appears you took that for granted. It is with regret that I must move on. Not sure you will ever get me back.
I love these socks. Darn Tough are the best when it comes to wool socks. Great fit and super comfortable for hiking, running, or riding. Last forever and no sweat when it comes to washing them.
so far so good ....comfortable ! we'll see if they last
Darn Tough...Darn comfortable!
Love these socks, get to hike in and work in. Have worn all weekend on camping and kept feet dry, plus no bad smells. Love so much every time they come out of wash they are back on my feet, guess will test how long they last.
Got these in today and yeah they work for what you want and feel quite comfortable. no blisters or anything like that. But there was a little small detail that got me. On the wrapping for socks, it says Medium for males is 6-8.5, not 6.5-9 as the sizing says on the backcountry. So it is a little smaller than thought, though I think a size larger would have been better.
Well, almost. The nylon and lycra add durability, stretch, and some cooling power while the merino regulates temperature and provides the perfect amount of cushioning- not to mention merino's magical odor-fighting powers. Although these are labeled "running" socks they work well for all activities as they have just light cushioning. Darn Tough socks seem to last longer than Icebreaker and Smartwool (although I like both those brands as well). I'm gradually replacing all my old cotton/synth socks with merino blend or the coolmax. Just make sure you size them properly according to your shoe size.
I'm a long time SmartWool "convert" but thought I'd give these a try. The first "trial" didn't go very well as I was wearing my heavy winter hiking boots with these and developed blisters but then I realized that it "says" "running sock" for a reason so I tried them with my running shoes next on the treadmill and trail running and they turned out great! Make sure you use them "properly". :) Of course one can say that SmartWool is more "versatile" as I pretty much wear "any kind" of SW socks for anything - hiking, running, climbing - and never had any problems whatsoever. This said, still love those socks for "running shoe use". :)
Love these socks. I wore them five straight days backpacking in the Sierras and they never got smelly. No blisters either, worn with an Asics trail runner.
What a sock. Best padded running sock period. Made in my home state to boot. Those Vermonters know how to make a sock.
I recently ran a marathon in them. They feel great, wick moisture effectively, really protect your feet well during the longer distances.
HIghly recommend some Darn Tough socks. They breath well, add cushion and support.
These are awesome socks. Dense, have a nice thick cushion but not too thick, but not hot, protect your feet from blisters better than other pricey socks. Well made, durable darn tough socks!!
Everything You Want in a Sock
I love this sock. When I first put it on, I immediatly noticed that the sock was snug and it breathed well. On my first run in the socks, I did feel like the seem of the toe was bunching on my right foot. I do not know what caused the feeling, as the sock was not bunching and I have not had the feeling since. Otherwise, wearing these socks are one of my favorite things to do. I feel like I am running on air when I use them, probably due to the cushioning at the heel and toe. The socks are extremely breathable, I was able to wear them on my runs for one week straight without discomfort (which bodes well for their use the next time I head into the backcountry). They have maintained their shape, and they do not hold stink, even when I run in them over five times between washes. This is my go-to sock when I need performance and comfort.
fits perfect, nice extra cushioning, great colors.
I bought these socks for running. The extra cushioning is very good on the feet of a forefoot runner. I purchased these also for my son & daughter for basketball. Last year the blisters were uncontrollable, this year with these socks not a single one. Just great socks
A sock made in Vermont=awesome. The sock also has a lifetime warranty. Probably won't need it-these things last. This sock (1/4 cushion) is an awesome hiking sock. The wool regulates temperature and holds up. Warm, dry feet are always nice. The fit of the sock is very good and doesn't lose shape. My few pairs of 1/4 cushion socks really don't show much wear after a couple years. Some might say these are spendy, but they last. As far as sizing, I wear a women's 8 and the medium size fits nicely.
These are best socks I have. I have run in smartwool socks up to this point and I still think they are good, but the Darn Tough Merino Wool cushion sock is a serious step up in quality. I could see why some may think it is a bit thick/plush. They are too thick for my liking for biking, but I think they are perfect for running in .
Tough socks but fit can be better
Got these in the rainbow red color, which is an awesome color. Love the feel of the wool, as soft as Smartwool, but absolutely no pilling after washings. Unfortunately for me, the fit is not so good. I'm usually a medium in Smartwool, so I ordered medium for these, the toe box is definitely too big, probably designed more for guys than chicks (these are unisex rather than gender specific as in Smartwool). But no matter, I gave them to my other half, and he loves them and has been wearing them for a month and they have proven to be more durable than Smartwool. He usually wear down the socks at the big toe and achelle area within several weeks. But it hasn't happened so far on these socks. So 1 star less for a less than idea fit for chicks. Otherwise they are certainly worth the money.
, ☃bcs_badge_alumni_label☃
It doesn't sock to be me
These socks are awesome. They never smell and retain their stretchy factor. They wash well and I hang dry them and the colors stay strong too. Way stronger than Smart Wools which are good but tend to wear out after a couple of years of heavy use. You get what you pay for and they are made in Vermont! I'm ok with paying more if it means more Vermonters have jobs! Awesome socks, get a pair, they last and stay cushiony.
, ☃bcs_badge_alumni_label☃
Best Socks Ever!
These are the best socks I have ever owned! I used them for everything! Running, walking, biking, hiking, chillin', working, cooking, dancing... living! I just bought more of these because the 2 pairs I have had for 4 years are a still going strong! PLUS... they are from Vermont!