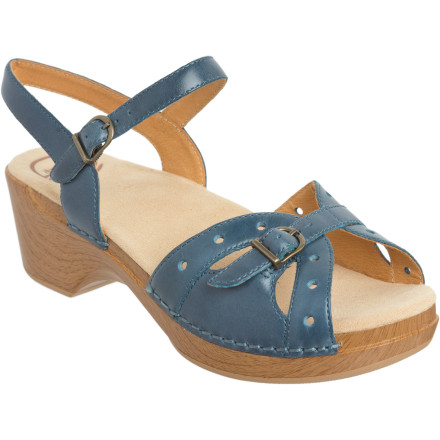 Ever feel like you have sissy-soft feet because they blister and hurt when you wear sandals all day? Dansko made the Women's Sissy Sandals with super shock-absorbing footbeds and outsoles, and topped these sandals with comfortable leather straps. The Sissy Sandals' wicking sock linings take care of moisture on hot days, while the open-cell foam footbeds and polyurethane outsoles feel flexible and help absorb shock.
I have problems buying sandals-I have flat feet, 8WW, and plantar fasciitis. I was told by my podiatrist that I could wear sandals but the heel should be higher than the front of the shoe. I was thrilled after trying my first pair of Sissy sandals. They solved all three problems. They have two adjustable buckles-one on the front of the shoe-which I put in the last hole to accomodate the width of my foot. The heel is high enough to accomodate my plantar fasciitis. I wore a 39 in these sandals. These sandals feel as though you are the closest to barefoot as you can get-lightweight and it feels as if your walking on a cloud. I wore these everyday on our 6 day vacation in July. They are so comfortable!!!! These are the best sandals I have ever worn!!!
Another great Dansko sandal
Love them! can wear them right out of the box. I have 2 others in black and cream from a few yrs ago and know these will be great. I just wish Dansko would bring back Lolita sandal.
They were tight and short at first, but broke in all around after a few weeks of wear. Perhaps if I'd ordered a size up I wouldn't have had this problem, although I fear they may have been too large once they broke in. Overall, I think they're adorable and extremely comfortable.
These are so comfortable! I could walk all day in them!
I love Danskos for work. However, most of their sandals are too narrow to fit my wide foot well. The Sissy has adjustable straps across the forefoot, which is awesome. The shoe does seem to run a little short, so if you are wavering between sizes, you might want to size up.
Ok, let me just start by saying I've had a pair of Dansko sandals for 5 years and they are still in one piece. I tried on the Sissy sandals in a store, found them incredibly comfortable, but did not buy them because I didn't want to carry them around (we were at the beach). I regreted that and ordered them from Back Country who bent over backwards to get them to me super fast. Well, sadly, one of them was defective in that the front and back straps were misplaced and out of alignment making my right foot shoot all the way forward over the edge. I wore them because I wanted to believe! I am huge Dansko fan. Alas, a few days into wearing them, the front strap tore right off the defective one. I am sad.....the Sissy has tremendous potential. It's cute and the left one was comfortable. They are gone now, nowhere to be found. I await the follow up style sandal and hope it is just as cute! Back Country is a good company. They took the the sandals back.
This is the most comfortable pair of Dansko sandals I have ever tried on. The foodbed is even softer than the other footbeds on their sandals. It's like butta'. And the poppy is a beautiful red with a hint of coral.