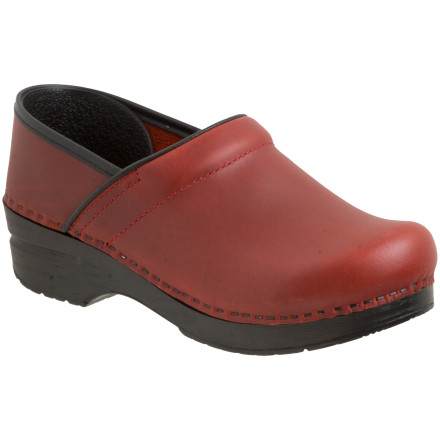 When you need classy-looking yet comfortable shoes, slide your feet into the Dansko Women's Professional Pull-Up Clogs. These leather clogs feature no-slip, rockered-bottom outsoles with 1.75-inch heels for safety and natural motion combined with style.
Share your thoughts
What do you think of the
Dansko
Professional Pull-Up Clog - Women's
? Share a...
I own these clogs in just about every color I can get my hands on. I hate shoes but when the snow flies these are the only thing I put on my feet other than ski boots! They are super comfortable and have great arch support. The reds are my favorite and I get tons of compliments on them
Dansko Professional Pull-Up Clog - Women's
I used to work in the food industry as a server and bartender and these were the perfect shoes to handle being on my feet all night. They are extremely comfortable and durable and the traction is great for the kitchen. Now that I need to wear them to work, I still do. I also love to wear them for gardening.
I have waitressed in these shoes for 2 years and just purchased my 2nd pair. They give you just enough lift to look professional, but without any of the pain! They saved my feet and everything else during long work days. They broke in easily and really formed to my foot. Highly recommended product. I wear generally a 7-7.5 and wear a size 37 dansko. You want your heel to come up slightly when you walk
I have multiple pairs of Dansko and find them the smartest, and best for my feet year round. I always wear them for flying as they are easy to take off for check-in and on the plane where they serve as my "foot rest". The Professional is the best for all-day comfort, but I also like the sandals with the rocker bottom. Cool as the thick sole keeps feet off the ground. Clogs are not suitable for hiking on rough ground. the oiled versiondoes not tend to scuff, but will expand over time. The price is high, but imitations do not come up to the real thing in any way.
great shoe, great price, great service
i love these shoes! the darker sole is very cool compared to the light version that most of these shoes have. i agree with some of the other comments about the scuffing. i've had them a month and they look like the ones i've had for four YEARS! the pullup leather is good for shoes that are meant to be casual. i wouldn't recommend this particular leather if you are hoping for a pair of fancier, nicer shoes...maybe go with the cabrio? nevertheless, they are super comfy and the scuffing matches my personality:) oh, and if they seem a bit loose, my local retailer gave me dansko insoles FOR FREE that are supposed to take up 1/2 size and come directly from dansko. these really helped me! just FYI.
Unanswered Question
Do the professional Dansko clogs come in...
Do the professional Dansko clogs come in the narrow size? If so can you tell me how to measure my foot to see whether or not I might need a narrow shoe. I just received my professional clog in size 38 and I think I either need one size smaller or a narrow size. Thanks! Toni
What are the differences between the...
What are the differences between the professional clog, the oiled clog, and the pull up clog? What are the benefits to each?
Best Answer
The difference is the Leather the leather used on the upper. The oiled and Pull up leather is softer out of the box and cabrio is a little firmer leather. The sole is the same through the professionals. You get the same benefit from all of them. Oiled leather is the most durable leather and easy to maintain. Cabrio is very dressy and easy to clean. Pull up is a soft leather but is a littl harder to maintain, but very good looking.
"Cabrio" is also a vegan material, if that's important to you.
I've had a couple pairs of Dansko clogs before. When you find the right fit, they're great for everything. I can stand all day, whether at work, hiking around, the beach...
The bridge tends to be low/flat which can make the shoe super uncomfortable, so here's my big suggestion: If you're a half size whether in US or Eurpean/UK size, size up your shoe.
Very comfortable shoe. Having owned Dansko's for the last 10 years my feet have grown accustomed to the fit of the professional model. It's hard to wear anything else. The new "made in China" ones have a definite fit of their own. Different than the Sanita made Dansko's. Maybe tighter on the instep and wider on the bottom and toe box area. The leather on these Pull Up models is very soft and it seems prone to immediate scuffing. You don't even have to try to scuff them. Also unlike the oiled ones, you cannot rub out the scuffs. I would not sub these for the cabrio's which are harder to scuff. Still a great shoe.
you don't seem to have my size in style/color...
you don't seem to have my size in style/color i want (professional pull-up, brown, 38). Will this item be re-stocked?
The best thing to do is jump on "live chat" and ask those folks. They'll be able to tell you if there are any more on order, and if there are roughly when they're expected to ship.
I love the shoe. It looks very professional with pants. The only downside is the back heel seems to be a little shallow- I would like it to cup around my heel better. The red is cool!!!
A friend at work let me know about these shoes,I have a HIGH arch and started to have pain in my foot. I started wearing these shoes and have had no problem. Back ankle, knee and hip pain also gone. The only problem I do have is that is the only pair of shoes that I can wear now. I have to buy other pairs. They are pricey for everyday, but it seems they are all I can wear. great shoe,
I have owned 5 different pairs of various Danskos. I love these shoes! When I had the blue of the same style, they scuffed too. I had to purchase blue shoe color and blue wax from the shoe repairman to make them look decent. Now after 3 weeks, I am in the same boat looking for new wax to match the red ones. I am really frustrated and would like to know a better way to get around spending the extra money.
Only reason I'm on my 2nd pair is b/c I can wear them anywhere and do! Need to ensure you're fit right b/c it's such a stiff shoe, but these clogs are AWESOME. When you find your perfect Dansko size, your are golden, AND with paid freight you can't go wrong.
Comfy but scuffed quickly
I like my danskos a lot, the only problem with these is that they scuff really easily.
What is the return policy if the clogs do...
What is the return policy if the clogs do not fit properly?
Anytime, no questions asked, full refund return. All you have to pay is shipping.
Yes, the Dansko Professional does come in narrow. You can check details at Dansko's homepage.