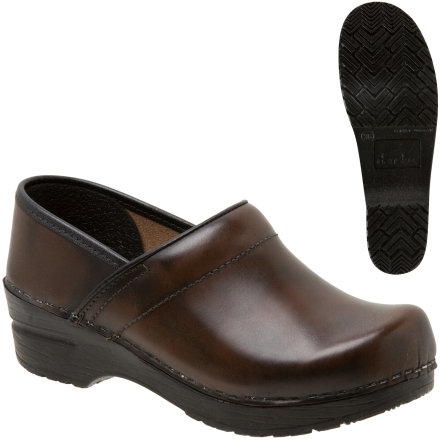 Detail Images

Community Images
When you have to dress nicely but can't stand the thought of high heels, slip on the Dansko Women's Professional Cabrio Shoes. These casual shoes give you a high-class look with top-notch comfort. Designed to follow the natural contours of your foot, the Professional Cabrio accommodates most feet. The high quality leather and generous padding make these shoes look and feel fabulous. The inner frame adds stability and reduces pronation so you can stand or walk for long hours without feeling the pain. Wear these in summer or winter as their outsole stands up to extreme heat or cold.
An All Day Affair
Gender:

Female

Familiarity:

I've used it several times

Fit:

True to size
Shout out to Backountry.com and Dansko for giving me the opportunity to review this awesome piece of gear for the Backcountry community!

I'm a climber, I'm used to my feet being stuffed into tiny uncomfortable shoes and various rock features so usually at the end of a long session all i can think of is putting on flip flops and letting my toes spread out. However, being a student that works part time in a lab, that's not always an option. Enter the Dansko clogs. These clogs are GREAT if you're going to be on your feet all day or some extended period of time! They're comfortable and supportive and the rubber provides pretty good traction on the often slick lab floors. As I mentioned I primarily used the clogs for laboratory work where I'm standing over a lab bench playing with petri dishes for several hours and the clogs kept my feet extremely happy. That being said I didn't love the clogs for days when I was running around between classes. I have a pretty narrow heel and the heel movement, which i know is normal, didn't feel quite right. I should mention though, that the more I wear the shoes the more comfortable I get with the heel shifting. I guess you can chalk the discomfort up to the break in period of the shoe.

Sizing - I wear a shoe size 9 - 9.5 and went with the 39. Which is great if I am barefoot or wearing a thin sock, but it's a bit too snug if I throw on anything thicker. Keep in mind there is supposed to be about a pinky width of space between your heel and the back of the shoe and your toes should not be touching the end.

Looks - I have the brown antique leather clog and it's true to the photos on the website. I'm not too picky with my footwear but I think they look pretty cool with jeans.

Durability - I really like the sturdy rubber sole, none of this slip and slide nonsense. The rest of the shoe construction seems solid. I've been wearing them pretty regularly during the day and they're holding up great (minus the inevitable chalk smudges that appear on all my gear)!

In the end I'd recommend these shoes for anyone who is on their feet for long periods of time for work or play. I'd consider sizing up if you're thinking about wearing thicker socks. The shoe / fit does take a little bit of getting used to, but it's well worth the wait (and price)!!
Service Industry MUST
Familiarity:

I've put it through the wringer

Fit:

True to size
Let's be honest, I am a ski bum. I ski from 8am-3pm everyday throw some dry shampoo in my hair and show up to wait tables half way out of my snow pants.



The Dansko Clog is a MUST for anyone who works in the service industry. When your feet have been crammed in your ski boots all day they can finally relax with an amazing amount of arch support and a roomie toe-box (no more 92mm crap here).



Yes they are pricey, but you won't regret it.



I am a 7.5 and wear a 38!
I love Sanita and Dansko but. . .
Dansko is winning with me. Sanita hurt my feet like crazy until I broke them in. Dansko didn't hurt at all. Granted, my Sanitas are one of my favorite shoes now but, I discovered today that they have cracked soles horizontally across the ball of the foot. I expected more from Sanita seeing as they are the original and they're not made in China and everything else. Oh and I've only had my Sanita pair for 5 months. And they're disintegrating on part of the heel sole. Did I just get a bad pair? Or maybe it's because I live in a hot desert. I don't know. Hopefully I'll have better luck with my Danskos. They may have been made in China but they're working better for me at the moment than Sanita. We'll see.
I love my danskos, but the sole on both...
I love my danskos, but the sole on both shoes cracked on the bottom, balls of my feet area, straight across. I would love it get them replaced or fixed. Any suggestions???
Hey Theresa,



If you got these from us and you are still valid to return them under our return policy then please set up a Return Merchandise Authorization number within the original order or give one of our Gearheads a call and they will be more than happy to help you.



Otherwise, you might want to contact Dansko directly to see if their is a way to repair your existing shoes. Otherwise, I do not thing they will replace them as their warranty only covers manufacture defects and not regular wear.
I landed on this thread bc I pulled out my Danskos, which are a few years old, and have not been worn much at all--same thing: the soles are disintegrating, with cracks across the balls of the soles!
Is this 38M or 38 Narrow?
Is this 38M or 38 Narrow?


Best Answer
The are the standard width clog which will fall on the generous side of B width.
, ☃bcs_badge_alumni_label☃
Perfect for all-day on your feet workers
Familiarity:

I've put it through the wringer
I have owned a pair of Cabrio Professional Clogs for years and wore them from time to time, however when I began waitressing, I purchased a new pair in a size up and absolutely love them. I have collapsed arches, a bunion from breaking my foot years ago and calsifications from climbing. My feet have seen better days and there are VERY few shoes that I can wear all day long. The Professional Cabrio are one of those few pairs and wouldn't trade them in for anything. I have the Black Cabrio and it looks very professional, doesn't scuff and are easy to clean.

I am a steady size 7 and wear a 37. I can fit into a 36 but find that my toes rub after a while. The 37 is perfect.
MY DANSKOS SOLD THIER SOLES.
Gender:

Female

Familiarity:

I've used it several times
I LOVE the comfort of the danskos and the look of my mary janes. 11 years old +-

The leather upper is in great shap, but the soles arerecently falling apart and crumbling, even after really good storage.I thought)

I have worn them less than 40 times..at least it's been years, but I want the soles replaced and ofcourse I'd pay..

guess you have to get "fresh" ones from the company itself.
I had a pair of Dansko shoes and I loved...
I had a pair of Dansko shoes and I loved them. I wore them at several times and don't want to wear them out. Then at last I wore them and went to somewhere. I got so embarrassed to find out the heels crumpling apart all over the floor. What caused that heels fallen apart? Is that came from a shoe storage that made of plastic as well as a chemical substance that effected the heels?
Same experience. But so far there is hope for repair. I keep hoping!


Bought these for sister's birthday so she can wear them to work. Said they were a bit loose so she had to play around with thicker socks but her feet don't hurt as much.
I have had my Dansko professionals for...
I have had my Dansko professionals for about a year now. I usually wear them all winter. My right shoe now feels so big that I feel like I am curling my toes when I walk. Do they stretch that much? My right foot is my larger foot. I am so not wanting this to be!
The Cabrio's material does stretch, but I'm not sure they stretch THAT much. In my experience they do not stretch as much as the Oiled Professional.

If you purchased from Backcountry, I suggest "chatting" with a rep. Perhaps you'd be interested in exchanging for a new pair?
These clogs got my wife through her medical residency and fellowship, both of which required her to stand and walk for hours on end. She absolutely swears by them (compared to other shoes, they helped reduce stress/pain in her feet, knees and back).
Been wearing the Dansco Cabrio professionals for a few weeks now and my feet are feeling so much better. The running shoes I was wearing previously were only lasting a couple of months and at over $100 a pair, were getting way too expensive. I did have to send the first pair back because the size recommended were too small, but Backcountry was very quick @ shipping. And now I can wear my custom orthotics, too. Backcountry was very easy to work with and I loved the live chat feature!
Phil will these shoes be good for working...
Phil will these shoes be good for working at restaurant?
Andrea from Denver
Definitely! Dansko Professionals are just that -- what the Professionals wear. I'm talkin' nurses, chefs, wait staff -- professionals who are on their feet all day/night.
Grocery clerks! Deli workers, yes yes and yes


I would suggest the slip resistant for restaurant's, or deli work


I need advice.... I just got a really...
I need advice....

I just got a really great deal on brand new Dansko Professional Clogs off eBay. When I went to try them on it was much "harder" and "stiffer" than any other shoe I have ever worn. The length is great and I understand they should slip a little on your heel...which they do (something to get used to). My concern is how tight they feel on the sides and the top. I have really high arches and I have read on other posts that could be a reason it is tight on the top of the foot. I'm hoping after "breaking in" the shoes the leather will stretch and not feel so stiff. Should I just give it time or do I need a bigger size. I bought a 38 and I normally wear 7.5-8 in everyday shoes....sometimes 8.5 depending on the cut of the shoe, but I didn't buy a 39 because I know I cannot wear size 9 shoes. Help??
I would definitely give them time, I have worn Danskos for 15 years and especially the professionals, they are very hard. I always thought they were too wide on the sides and top, and I have high arches too, but they will definitely get looser, to the point of probably getting too loose after a while. The Oiled clogs are softer and easier to wear imo, and the patents have been the worst for me. I stopeed buying the stiff ones, which stretched out to the point I couldnt wear them. I buy the oiled or the canvas type Danskos now, because they're still my favourite footbed of all time. So my advice is just wait a while, they shouldnt pinch after a while, depending on how often you wear them, but wear them as often as possible to break them in if you can, even inside the house.
Mae, I hope your shoes are working out for you now. I normally wear Dansko professional shoes in a 36 (I normally wear a 6-6.5). However, the 36 in the Cabrio Professional was too small (toes were crowded) and the 37 was too big (shoe came completely off when I walked). Answer- 37 narrow. Fits perfectly! It seems that this Cabrio shoe has such stiff leather, it just really hurt my little toes if I wore my "normal" size.
I just bought two pairs of danskos because...
I just bought two pairs of danskos because they feel so comfortable when have them on. But, when I take them off at the end of the day, the sides of my left foot and even my left calf really hurts. I am worried that my calf hurts because this sounds like a position of the foot problem? Once I put on my sneakers on for a day, I am fine.
Best Answer
Mary, the shoes could be causing a pronation problem and putting your foot into a bad position. You could try some insoles and if they do not help I would suggest returning the shoes.
Mary,
If this is your first pair of Dansko's it may take a little time to get use to the support. Dansko has some of the best support in the industry and some peoples body need to adjust for support. I would not recommend putting more support in the shoes as it will change support and fit. I would recommend having a shoe store stretch the leather a little on the side you are having the discomfort and see if that will put your foot into a better postion. Some peoples feet need to adjust to the fantastic support that come in the Dansko. This shoe has them most support in the industry and some people body need to adjust to this. I know because I went through it my first time.
Also the cabrio leather is great but it can take time to loosen up as it is a little stiffer at first. I hope this helps out.
really like the shoe. very comfortable. had to get used to the fact that the shoe does wear like a clog even though it has a back on it. this is my first pair of dansko shoes and i love them. i work long shifts(at least 10 hours) and my feet do not ache at the end of the day. would definitely buy another pair when it is time
Got the Cabrio Cordovan. Just enough hint of red, just enough hint of brown. goes with everything! Dansko's are always so comfortable. In regards to peoples comments regarding the sole 'cracking' I have never had this experience. I recommend this product
what size do i order if i usually wear a...
what size do i order if i usually wear a size 7 in regular shoes?
37. In my experience, half-sizes should order a size up.
I just bought my first pair of Dansko...
I just bought my first pair of Dansko Professional clogs. I bought a size 38 because I normally wear 7-7.5. They were huge! I returned them for a size 37, which still feel very loose. I can get two fingers all the way around my toe and they are not snug at all when putting them on. I know Danskos are supposed to fit loose, but isn't that too loose? I can't believe I would need a size 36 which is recommended for sizes 5.5-6! Maybe I need a narrow version?
I usually wear a 6.5 and the 36 fit perfect...37 was definitely too big for me! It did take a few weeks of constant wearing to break them in though...
Dansko Professionals should not be snug. There should be some movement or "slip" on the back. There should be no rubbing of your heel on the back, yet it should not be so loose that your heel completely comes out of the shoe. Figure that you should be able to start to fit your finger in between your heel and the back of the clog.
I like Amanda Roper's sizing tips for another user's question.

I do not think they should be snug -- particulary if they are "almost uncomfortable." A little snug by the metatarsals is okay, because that area of the clog will stretch. The clog should not be snug at the heel.