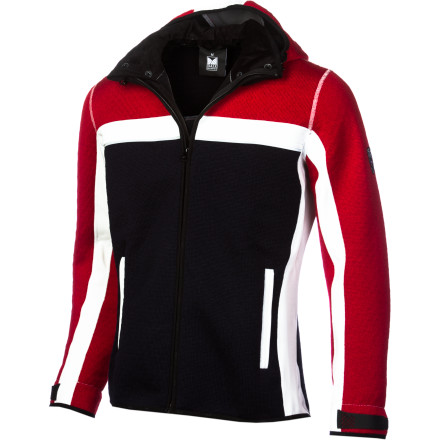 Detail Images
The Dale of Norway Men's Totten Jacket brings together weatherproof wool and Gore Windstopper to achieve the ultimate combination of tradition and technology. When the powder is six percent and dumping hard, there's nothing like the quiet warmth of wool to keep you warm and happy, and the Totten Jacket does wool one better to keep you grinning. Naturally soft, ultra-breathable, water-repellent (and reinforced with a DWR finish) Norwegian wool makes the cold crinkle of hard-shell jackets a distant memory, while the hidden bonus of Gore Windstopper makes light work of the heaviest gusts. A removable hood makes the Totten Jacket helmet compatible, and ribbed elastic cuffs hidden inside the sleeves seal out blower pow.
I was reluctant to spend the money on this jacket but with a discount at the shop I decided to go for it. A few things drew me to the jacket.

Styling: It is a unique jacket, I have received many compliments on it and rarely will you see someone else sporting the same jacket.
Fit: This is a tight fitting jacket, athletic, slim fit. I wear large in most clothing brands and I chose large for this, I do find it is kind of restricting in the arm movement but overall after breaking it in a bit it isn't too bad. Definitely try before you buy if you can.
Functionality: This jacket is extremely warm, definitely would recommend this for cooler temperatures.

A few complaints, my pocket developed a hole in it, Dale offices were slow to reply to my email about this but once I did get a reply they were willing to help.
Not a big fan of the flag on the sleeve, I ended up taking it off.

The jacket is marketed as a ski jacket, personally I can't see myself using this during skiing as I feel it is too restricting and I would heat up in it. It does have some breathability but I would prefer to use some lighter weight wool midlayer and a shell.

Somewhat weather resistant but the seams will leak on the non wool parts of the jacket.

Buy if you want something unique, I wouldn't recommend this as a substitute for a good midlayer/shell combo for skiing. Makes for nice casual wear in colder weather. For the price there are a lot of other jackets you can get.
I was a little skeptical buying this jacket until I saw it in person. Thought it would be much thinner than it was but it is actually incredibly thick, and hugs your entire upper body. There are very few jackets that I have been as pleased with for a lot of reasons: Very durable, handles washing incredibly well especially for wool, keeps the cold out yet breathes well, and it looks totally non-standard. You won't see a million of these walking around! I was scared to death that washing it was going to cause major problems, but washing with nikwax wool wash on the wool setting and laying it flat to dry did the trick. It didn't shrink, looked brand new, and completely seemed ready to roll. One word of caution is that this jackets cut is very athletic so you may consider bumping up a size if you prefer your jackets to have plenty of room.
These jackets run really small. My boyfriend needed to go 2 sizes larger than he wears in any other jacket or sweater.
I am having some confusion with the cuffs. I...
I am having some confusion with the cuffs.

I saw the jacket in a local store and one color had a 4-way stretch like material for the cuffs(where the thumb-slits are). Another color on the same rack had cuffs made out of what felt like to be generic cloth.

Unfortunately I want the color that had the cloth cuffs but I want the 4-way stretch.
We have total of 4 Dale jackets and all are of 4way stretch material, all are black in color. I've seen several "replica's" especially in outdoor consignment stores - the seam has a unique stitch and logo.


I love this jacket..!! It is not for Greenlandic winter, but for spring and autumm, this is what you want to wear..! It is a tight cool fit, and it really is wheatherproof..!
Great jacket but sized small
I had a chance to Beta-test this jacket, and it's all everyone has said - warm, waterproof, snug, durable, and very smart-looking. I couldn't buy one though as Backcountry.com didn't have an XXL. XL, my usual size, simply was too small.
This jacket is very cool looking and very unique. I bought it as a replacement for my well-worn windstopper soft shell. The jacket is much softer than I expected so next season I'll also try it as a mid-layer without the hood under my Arc'Teryx shell on cold days. The construction quality is excellent with my only complaint being no pit zips. With put zips I would have given it 5 stars.

Overall I'm very satisfied with it at the price I paid. Not sure I would have gone for the full retail price as there are a lot of really versatile products in the $400+ range. That being said, none of them look quite like this one!
Excellent jacket. Bought it at the beginning of the winter and couldn't be more pleased with its performance. The construction is top notch and so far durability is strong. When skiing I went "through" a 1.5 inch branch with my chest. At the time only the wool was matted down from the friction of the branch rubbing across and a bit of sap, but even without cleaning I can't see the spot where it happened and no fibers are loose. Has the best zippers I've come across. Might not seem like much, but just remember how annoying they are when they don't work.

The wool sheds water like an umbrella. If out long enough in rain, it would soak through, but for shorter trips it will keep you dry. I've had snow built up over the entire jacket, even the heavy wet kind, and when stepping into a warm area and letting it melt off, a quick brush with your hand will get rid of the excess moisture with none of it soaking in.

For fit, it is on the smaller size. I am 6' 1" and around 165 lbs and I got a medium. I can fit a couple of thinner base layers with no issue. It does a great job at keeping you warm, so you really don't need to layer much.

When you put it on new, it will feel snug, but it breaks in quickly. It is sized for athletic builds in mind, so take that into consideration. I personally like close fitting clothing, but in terms of function, with this jacket it is best to have a snugger fit. It helps keep out wind since there are no draw strings (besides the hood) to snug up open ends. For snow sports, it keeps the snow from ending up on the inside of the jacket. The only time I've had snow inside is when taking a high speed fall where my legs are downhill from me. Skiing through deep powder is no problem.

Only complaint would be the cuffs (they fixed the cuffs, check update). They are great for keeping you covered when wearing gloves, but the material used holds it's elasticity for maybe a week or two. A bit annoying when it starts bunching up when you put a glove on, but overall it doesn't detract from the jacket as a whole.

Update: A small hole formed on a seam at the armpit. I returned the lacked (lifetime warranty) and they replaced it with a new one (bonus is I got the red I wanted the first time around). Same jacket, but they updated the cuffs with a more spandex material so it doesn't stretch out of shape.
Do Dale of norway do a mtching pair of ski...
Do Dale of norway do a mtching pair of ski pants for the totem jacket in moca/black
not on this site---------------------------------------Dale only has one pair of pants judging by their website, and they are black and gray or blue and gray.
In addition to being beautifully finished, the totten jacket combines the properties of wool (warm, dry, soft) with the windstopper technology. The cuffs and the adjustable hood make it possible to seal your jacket from the outside when it gets really cold/windy. It is especially warm compared to its size/weight. I am 5'6 and 37.5" (chest) and got the medium size, which fits perfecly.
Hi my name is PaulI was wondering if...
Hi my name is PaulI was wondering if anybody could tell me where I could get hold of the hood for this product as I've lost mine on a trip.Can you help ?
this has a lifetime warranty, so you could try contacting dale
Exceptional piece of outerwear. I'm 5'10, 32 waist and around 40 inch chest and weigth 170Lbs and i ordered large. It fits nicely with enough room for insulating layers. A very unique piece of outerwear, and I am getting lots of compliment from friends. So what are you waiting for?
This jacket is awesome, especially with the deal on backcountry. Took the size I usually have and it fits just fine to still fit a base layer and a fleece underneath. Makes a great casual jacket as well since it fits rather tight and keeps you warm in cold and windy conditions. Recommended!
This jacket is awesome: excellent materials, so light, and great look. People keep on asking me whether this is an appropriate winter jacket when they see me around with it -they just can't believe it keeps me warm and dry in the midwest these days, but it does. When it gets really cold I use it together with the vest of the same brand. This combination worked pretty good the last time we drop down to -2 in Chicago. It's not a cheap jacket, but totally worth it. By the way, outstanding purchase/shipment/tracking system from this site.
Great Layering and Outer Garment!
Wore this garment as an inner layer at -20 degrees C and an outer layer at -10 degrees C in a snowstorm and it worked well in both situations in terms of both warmth and wind. Close fitting so needed an XL instead of my usual L in Dale sweaters. Also received lots of compliments on the style of the jacket.
The detachable hood is useful.
I have to agree on the size. I am usually a L and sometimes a M but the L was just to snug. I ended up with the XL and the fit is just right to layer under or by itself. Great jacket. Nice looking and quite warm.
I purchased this Jacket thinking I would get something nice, but this Jacket is the best quality jacket I've ever owned. It is lightweight, allows me to move freely, and it is warm even in the most windy storms in Iowa. Order larger size because they do run small. Two light layers underneath was all I needed. Anymore would be too hot when skiing, even in the coldest temperatures. It's definitely worth the money and it was so attractive at the resort, I gained much attention from the ladies!
I ordered the size L. Generally L is comfort for me to wear.and it was just too fit to me, but it is sweet and warm.
It was just too small. I did order the XL though and it is sweet. I will know more after I get back from Vail opening weekend in November.