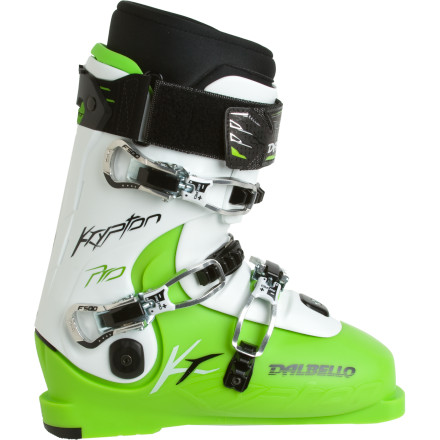 Detail Images
Rocking Dalbello's signature Cabrio Tech three-piece design that gives skiers a smooth flex, unmatched lateral stability, and a truly customizable fit, the Dalbello Krypton Pro ID Boot is a favorite of aggressive freeskiers and park riders alike. The three-piece design rules hard landings and lacks the harsh stopping point that plagues traditional overlap boots.
A 98mm last is designed to be more narrow for an athletic feel and increased control and stability
An adjustable flex rating of 100-140 allows the aggressive big mountain skier to your everyday groomer type of guy
TruFit Comp Thermo-moldable liner is thermo-moldable, provides added warmth, and a is designed to fit snugly
Cabrio design features a three-piece shell architecture to provide a smooth, progressive flex and an optimal combination of support, stability, and dynamic response
Contour 4 tech mates the outside of the liner with the inside of the boot while simultaneously matching the inside of the liner with your foot's anatomical shape
Dynalink tech is an independently functioning heel and instep closure that locks your foot towards the back of the boot and won't let it slide forward
Awesome boot, even cooler company!
I have been a Dalbello user for the last two seasons now. Last year I picked up the Dalbello Virus for a Touring boot and I grabbed the Krypton Pros this year for a new Alpine setup. They have both been awesome. But the customer service is what has sold me most. I fractured the shell this season on a really cold day and after calling about the warranty, i had a new pair of boots on my doorstep in 3 days. No questions asked. I am very pleased by their response. Almost as good as Backcountry.com!
Is there much difference between the Krypton...
Is there much difference between the Krypton Pro and the Full tilt Konflict??? are they a similar boot??
Hey Dunvan,

Thanks for the question. There are definitely a few similarities and differences between these two boots. Both have an almost identical 3 buckle design, can be customized more than most boots out there and both are built for the all-mountain/big-mountain crowd.

That being said, the fit on the Krypton Pro is slightly lower volume than the Konflict and it achieves a bit of a stiffer flex at its highest setting. Also, Dalbello packages most of the customization pieces with the Krypton while Full Tilt only does half with the Konflict. But, other pieces are available on Full Tilt's website.

Overall, both are more than good boots for the modern all mountain skier. If you are a bit more of an all-mountain/big-mountain charger who puts performance before playfulness, go with the Krypton. If you prefer a slightly wider than narrow boot or something slightly more playful, get on the Konflict or the Seth Morrison Pro Model.
I cant believe that I bought a second pair of the same boots. I am retiring my 1st pair after 4 seasons and around 500 days there isn't much left of the old pair. These boots are great and the reversed toe buckle is real cool.
Even Superman would try these out
I'm super impressed with this boot. Before buying these I tried getting into a super tight Head race boot, which were a powerful boot, but required way too much boot work (punches, heat molding, etc) to feel comfortable enough to ride for more than 10 minutes. I eventually got rid of the Head's, and bought these. The Kryptons were for me the most comfortable, yet still close fitting boot from the very start. I heat molded them and was good to go.
On top of the good fit, the Krypton skis awesome. They have great lateral stiffness, and the high cuff keeps you from falling into the back seat when you get a little out of control.
I've even done a decent amount of touring on these, when my touring boots were out of commission, and although I wouldn't recommend these as an every day walking boot, they did alright.
For resorts, though, I'm not sure I'll ever buy a different boot. Love these things.
For a narrow footed skier who likes to go fast this is a great choice. I have always struggled to find a boot with tolerable comfort and a secure feel. My solution has always been tightening the lower buckles of a four buckle boot. This clamped my foot against the footbed but really hurt. The Krypton Pro has a very narrow and stiff forefoot compartment that eliminates the need to crush my
foot with buckles. I actually am able to keep the lowest buckle quite loose and my foot doesn't move at all. The center buckle really holds the heel down well and seems to be the key to this boot design.
I compared this boot to the Lange RS 110 in my living room. I had to tighten the RS more than I wanted so I chose the Krypton. After three days of skiing and breaking it in I was able to
keep the Krypton buckled on the lift without pain.
The "wrap tongue" was new to me but
worked fine. I'm really happy with the boot. BTW I'm 6', 185 lbs and ski fairly aggressively.
does this boot come with multiple tongues...
does this boot come with multiple tongues that can be interchanged to adjust the boots flex/stiffness? I've been skiing the Krypton Cross for the past 4 years and the fit is perfect but they seem like they are a bit soft. Don't get me wrong, I LOVE the way they ski but when I get into the crud/big terrain I find myself clamping the buckles down all the way and they still seem a bit soft. I am 5'8" 170, aggressive ex racer. I want a boot that can hold up but I also like my boot to have good flex. I just don't want to drop $700 on a new boot and find out that it is too stiff and unresponsive. I know that these boots can be adjusted in multiple ways...but in all honesty, how soft can these boots actually be after making the proper adjustments? How stiff?

I wonder if I could modify my Krypton Cross boots with a new stiffer tongue? any other suggestions for making the Crosses stiffer?
To answer your questions:

YES

100

140

yes

tongue
yep...I put the black tongues on mine. I am 163-165 5'11". It is just a personal "feel choice", but for me the softer tongue absorbs the rougher run outs and hits better without springing or kicking back too abruptly. That kick can sometimes be the ski you are on but I have been on many different skis while using the KR Pro's and it really loses nothing in terms of carve as the lateral stability and power of the boot is amazing. Just terrific in pow or crud and will amaze you on the groomers. No lack of power here.
Previously I have been in the Il Moro T, and just moved into the KR Pro. I do more backcountry/big mountain but I also ride a lot of park early season. Once I got used to the stiffness I felt alot more control than I did in the Il moro when skiing out of the park. The boots really transfer powder into your turns. Really stoked that I am skiing this boot.
Has anyone messed around with the different...
Has anyone messed around with the different tongues? Notice much of a difference?
I've messed around with a few toungues, some white ones and a black one. While I did notice some difference they were both fairly supple. I could push harder on the white and the black tounge had firm position retention. I ended up having one on each side and that was great.
Best Answer
Yeah I have. The one thing I would say, is if you put the soft tongue in it I feel like it makes the boot feel strange. Like the flex doesnt match the rest of the boot and feels like you flex on the tongue instead of the boot. If you want a softer tongue I would get the Il Moro.
I am a little bummed that they have not come out with an "A" stiffness tongue. I would like a little stiffer option.
Definately one of the better all around boots Ive skiid. I can rip big mountain, but also send booters without getting the dreaded shinbang. The ankle buckle system is key as well, keeping your ankle locked in safe during high impact situations, where a 4 buckle boot allows some flex and "bubbling" around your ankle when your landing.