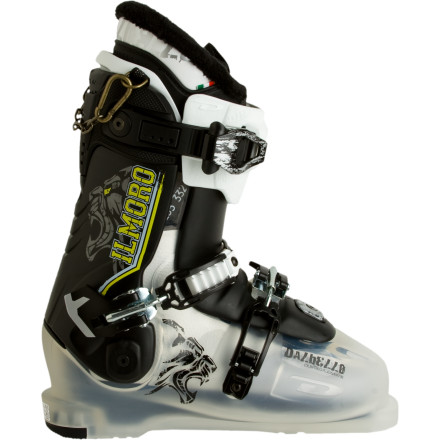 Detail Images
Born of Glen Plakes ski-obsessed mind, The Dalbello Krypton IL Moro I.D. achieves an endless forward flex you simply won't in a traditional overlap boot. Dalbello's Cabrio three-piece design allows for uninterrupted forward flex while maintaining extreme lateral stability, resulting in a freerider's ideal combination of responsiveness and shock absorption. Stomp a landing, carve an icypipe, or rip some bumps—the IL Moro rules it all. Swappable tongues and bootboards and loads of canting and flex adjustments let you customize the IL Moro to perfection.
It is a great boot, but unfortunately not the boot advertised by Backcountry. It is listed as coming with the I.D. liner but instead came with the less expensive TRUFIT performer liner. Still a good liner, but not what I thought I was ordering.
This model NOT I.D. but still a great boot
This model is actually NOT the I.D. version. This one comes with the stock Dalbello liner, as shown in the photo. Still a fine boot, but only 4 stars without the Intuition liner. I have last year's which was the real I.D. model and did come with the Intuition liner. Some people prefer the Pro to the Il Moro boots because of the upper buckle, but I really like it. Good idea to have a couple spare ladders (the belt-like plastic tongue that inserts into the ratchet buckle) because they can break--I broke one after about forty days.
What is the last on this boot? 98mm?
What is the last on this boot? 98mm?
http://www.dalbello.it/en-GB/collection/69/Krypton-Il-Moro-Il-Moro-I.D/

Yup, 98mm. Fits like a velvet vice.
do these come with the wrap liners or are...
do these come with the wrap liners or are they traditional liners with a tounge
these ones have the traditional liners that are not intuitions.
Unanswered Question
What is the last on this boot?
What is the last on this boot?
Solid and versitile boot!
I love this boot! This boot can be dialed in for whatever the conditions call for. Flex index, forward lean and canting can all be adjusted fairly quickly. Great all around alpine boot! Word of caution… be careful when swapping out the tongues. They're specific to left and right.