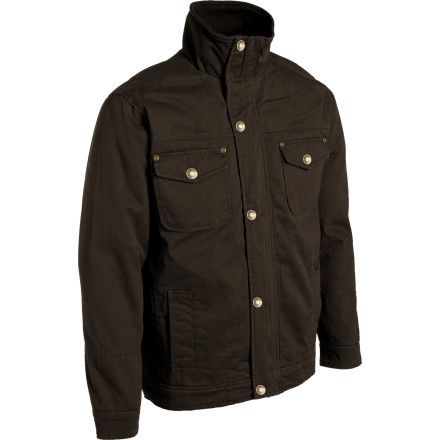 Detail Images

Community Images
Rugged cotton canvas makes the Dakota Men's Shane Jacket tough on the outside. On the inside, warm brawny-flannel keeps you toasty when you head out to shovel in the bitter cold. Zip and then button up the front of this tough work jacket and step out into the elements without worry. A wax-coating offers light protection against precipitation and wet snow so you stay dry when your daily man-work can't wait for the conditions to clear up.
Love the fit & look, not so hot on the build quality.
I received the Shane jacket in January and I have to agree with the other reviewer, the build quality is substandard which is a shame because I really like the look and feel of it. It fits great, I really like the red plaid interior but it suffers massively from using cheap materials.

I too found the main zipper would catch and be hard to start, the inner pocket zipper is really weeny and fragile so within a few uses it became bent and is now only hanging on by one side. Also, the quilted inner arm stitching became undone, slowly revealing the lining near the armpit.

Despite how much I really like the look and feel of the jacket, I opted to return the jacket for a refund than live with it's defects, YMMV.
I bought this jacket at the sale price as I have been looking for a waxed cotton jacket. In short, it's pretty disappointing even at the sale price. It is good looking, but it feels cheap, has a lousy zipper, and isn't the least bit weatherproof.

I ordered the Olive, but the jacket is brown. I don't believe it is a mistake, just a poor description by the manufacturer. I was disappointed by the fabric - lightweight and didn't seem to be anything more than plain old cotton - not waxed. It has a coarse metal zipper that sticks and wax doesn't seem to help. Also, when the jacket is worn unzipped, the bright red zipper material is very visible. Doesn't look bad, but it isn't very subtle. On the plus side, the fit was great and I think it is a pretty good looking jacket. But good looking, cheap, cotton jackets can be found anywhere for next to nothing.

I debated sending it back, but figured I would just treat it with a can of Barbour wax used to treat their (expensive) waxed cotton jackets. Let me tell you, that isn't a fun job - a couple hours and a lot of sweat. This gave it a better appearance and gave it some level of weather resistance. But I don't think you would want to be in much more than a brief sprinkle with it. I think the underlying cotton material is just to thin and not tightly woven enough for it to shed water. I used a substantial amount of additional wax, and water still immediately soaks in in places.

So, if you like the looks of this jacket and think $60 is worth it for a cotton jacket - go for it. If you are looking for a cheaper version of a Barbour or similar jacket - keep looking.
The Grizzly Shane is as Beastly as it sounds
I did not buy this jacket from this vendor just because of price but Ive always had great experiences with Backcountry.com

But I always like to have reviews to go off of before I purchase an item so I thought I would add.

So, I just received the jacket today and let me tell you this is everything Ive been looking for in a coated canvass jacket.

I bought the Java, which I thought was black but its more like a super, super dark brown, close enough to black that Ill keep it because I like the jacket so much, and I'm a picky person.

Its pretty heavy so I can imagine that it will be toasty as a bear in the winter months. Heavy duty canvass with a nice wax coating, zippers and snaps are heavy duty. A nice fluffy Flannel lining inside.

It just has a rugged look to it but no so much that if you wore it out around town that youd look like a construction worker.

It no like a carharrt jacket or anything.

The fit is nice, not very baggy, more form fitting which I love.

Im 5,10, 180lbs and I went with the large, fits perfectly.

All in all, if youre in the market for a canvass jacket this is a top choice.

FOLLOW UP:
Ive had this jacket for 4 or 5 days now and the only major problem I have with this jacket is this:
Whatever this jacket is coated with, wax or oil, smells very very strong and it is not a great smell. Ive had it hanging out for days and I have even washed it in cold water and hung it to dry. I am hoping that this smell will fade away or I WILL be returning it. Other than that I like the jacket.