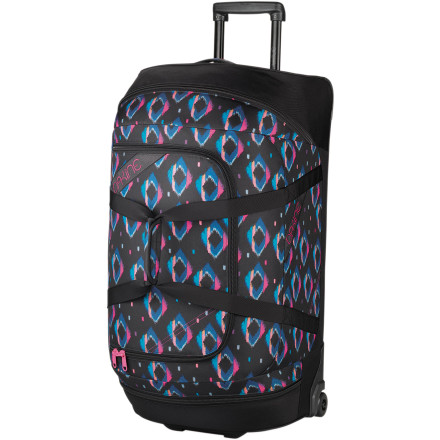 Description
It's a jet-setting duffel, not just a cosmetically-enhanced gym bag.
Roll the soft-top DAKINE Women's Wheeled Duffel onto your flight and smirk as other passengers struggle to stuff their hard-case luggage into the overhead bins. Thanks to a u-shaped opening, you'll have easy access to a clean shirt during a long layover in Phoenix, and when you reach New York, you can grab your comfortable walking shoes from the two end pockets. A retractable handle and smooth-gliding wheels keep you moving quickly on and off the plane so you can get to your destination with plenty of energy left.
I fit everything I needed to a 10 day trip over-seas. Side pockets are perfect for toiletries and shoes. There was way more room than I expected but stayed well under the 50lb limit. The duffle bag part made it easy to move in the trains while the wheels made it a breeze to rush through the airport.
Amazing bag for traveling!
Familiarity:

I've used it several times
This bag is one of the best purchases I have made. I was pleasantly surprised with the amount of room the bag had to offer, which made multiple 8 day trips around the country easier than ever. This bag expands to fit more than a week and a half wardrobe, all your toiletries, plus spare room to accommodate multiple hoodies and clothing items from unexpected shopping purchases when traveling. Also, it is the more durable bag I've purchased. It has taken a beating at airports and has minimal scratches on it, and the wheels are sturdy and do not wobble; this makes for a smooth and non irritating, hassle free walking experience. Would definitely recommend this bag to all!!
Great bag but Bigger than described
Awesome overall, as you'd expect from DaKine. But in 90% percent of planes, this is definitely not a carry on. If it's 75% packed full, it will be be to big (high when laying down) to fit in most overheads. I barely got in in on a Southwest flight, but when I switched planes to Horizon (Alaskan) it was way too big and they ended up stopping me at the gate, taking it, and charging me $40 to check it. When I got on the commuter plane, it was obvious it never would have fit. So be warned, on big planes, it MIGHT FIT in overhead, if they even allow it on, but on most normal size or commuter planes, it will not. And if you're going to check it, you might was well check a bigger bag.
It's handy for weekend car trips.
is this a carry on or checked bag?
is this a carry on or checked bag?
Hey,

Really depends on the airline you're using. I would say it should be fine as a carry-on for most any airline but you may want to check their site for regulations.
Unanswered Question
So this bag is a carry on size?? I need...
So this bag is a carry on size?? I need one thing for a short 3 day snowboard trip...but I tend to overpack. Any suggestions on sizes?
Unanswered Question
does it stand up when it's loaded or tend...
does it stand up when it's loaded or tend to tip? I have another Dakine bag that's more of a monster size - always falling over - frustrating. Trying to not make the same mistake twice...
I already owned the large folding wheeled bag from Dakine and got this one because I wanted the same quality in a smaller version. Even though it's small, it holds lots of stuff and is very durable. The end pockets zip up so you can compartmenalize your stuff. The size of this bag is perfect for weekend trips or even slightly longer. I also like that the Dakine bags are unique looking and easy to spot on the airport baggage claim conveyer belts. Don't let that keep you from checking your name tag, though. My large Dakine bag is green and brown herringbone, extremely unique, who would have one of those, right? Well, both myself and another girl grabbed what we thought were our own bags, got them all the way home, and didn't realized we had the wrong bag until we went to unpack them. Thank goodness for phone numbers on luggage tags! After a good laugh, we met up and exchanged bags. Lesson learned!
This bag is perfect. It is big enough for a one week excursion with extra room if you over-pack. It also has pouches for shoes to keep them seperate from you clothes.
Is this a carry-on size bag?
Is this a carry-on size bag?
Best Answer
No, it is definitely not. Carry on size is usually 14 x 9 x 22, while this bag is 28.5 x 14 x 12.5.
any lock system? does it need to have...
any lock system?
does it need to have extra lock for security?

thanks
you could lock the two zippers together but there is no built in lock.