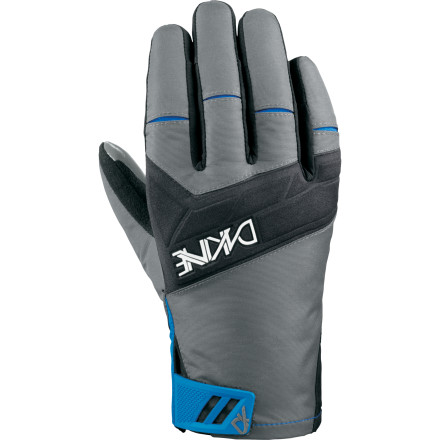 When you're throwing big airs in the pipe, it's nice to feel the board when you grab it. The DAKINE Viper Glove's synthetic suede palm protects your fingers from sharp edges while silicone grippers give you the grip you need to tweak just a little bit more. The Viper combines the style and board feel you need for a full spring of park riding.

What do you think about this product?
Have questions about this product?
I bought these gloves so I would have a second pair to hit the slopes with. I'm not a fan of large bulky gloves so I've been using pipe gloves for awhile now. Usually, the only problem I have with using pipe gloves is that since they are thinner, you can't really expose them to too much time "in" the snow or else they'll get wet. I have some really cool Burton pipe gloves that always give me this problem. However, I spent a prolonged day in these gloves without having to change over into a second pair. They didn't get wet/soaked and they were warm the whole day. I'm not sure they would hold up to warmth on a severely cold day but you really should wear some insulated gloves for those climates anyway.
So these gloves were tight fitting. I always wear large size gloves but with these, I actually struggle a bit to get my right hand in the glove. You can feel some seems inside the glove due to the type of material but this is preferable to having a really soft glove that soaks up moisture like my Burton Pipe Gloves.
And they look very ninja~!

EDIT: They will certainly not be warming enough for a day with 3 degrees Fahrenheit temperatures. If they get a little wet, they will freeze solid in those temps.