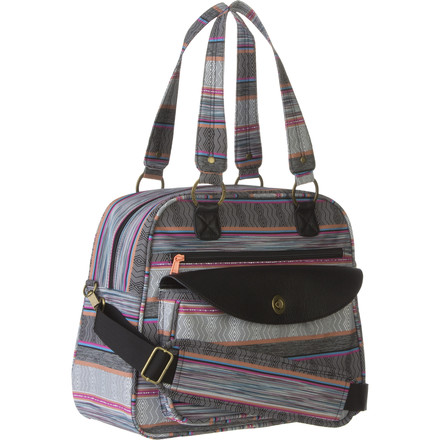 Description
Pad that precious 'puter.
With its padded laptop sleeve pocket, the Dakine Women's Valet Bag ensures you're never without your trusted e-brain again. This small bag sports two internal organizer pockets to prevent your bag from becoming a muddled mess, while the front pockets sport slots for your MP3 and celly.
Great Bag
Familiarity:

I've used it several times
This is a great all-around bag. Can be used as a purse, gym bag, travel bag and more. Love the space, but not overly large.
This bag is great! I use it as a purse, gym bag, lunch sack. Plan on using as my carry on when traveling.
Love it...and so did other travellers...
Familiarity:

I've used it once or twice and have initial impressions
Just returned from a 10 day trip using my Kala valet bag. I got several comments on the pattern. the 2010 review by 'high street' covers it all for me. I have two wants on design: 1) an inside zip pocket for added security for my wallet. I use it as my purse/carry on so I'd like my wallet in a zipped pocket inside the bag with a key fob/ring of some sort to keep my car keys on because I didn't need them until I returned home 10 days later; and 2) the front outside flap fastener for the front pocket protrudes and catches on things. It also doesn't always stay fastened so it's not safe or practical. Even if it's meant for easy access for say, pens or small change, or gum, they are suseptible to falling out since it unfastens. Especially as a carry on moving from lap to under the seat and back, during a long flight. I'd rather see another zipper or 'something' ... I'm going to rig an easy access harbinger somehow. Overall, LOVE IT!
Great bag, Got the whole matching set.
I saw my sister in law with this bag and had to have it... and a bonus... it matches my super awesome snowboard bag :D
Perfect size. Fits a medium sized laptop and all your work for the week. The front pockets are good for your phone, Ipod, makeup whatever you need to carry. It is perfect as a carry on or something for work or school. I use it everyday and I get a lot of compliments.
Good laptop bag for travel
I ordered this to replace another Dakine laptop bag so I'd have one that can slide over a roller luggage handle while traveling.

Overall, great bag - I use a laptop sleeve, so I keep my computer in the main compartment and documents/files in the padded laptop pocket. There's still plenty of room for books, etc.

The organizer pocket has a fleece-lined pocket that would fit a cell phone, 2 slots for pens and another pack-paneled pocket where I stuck my cell phone, ipod, boarding pass, etc, and room in the front for memory sticks, and small miscellaneous items.

Also has an external zippered pocket that works great for a laptop power supply.

The shoulder strap is adjustable, padded and comfortable. The handles are a teeny bit too short to carry for long distances, but that's what the shoulder strap is there for.

Was also pretty water resistant in the rain, which is a plus.

The only downside it the little fastener that keeps the front pocket closed doesn't always stay fastened - I've had this problem w/ Dakine bags before, but it's not much of a problem.
I really love this bag. It is the perfect bag for going to school with my laptop and books and is also a great bag for a weekend trip. Very roomy, The front pockets help keep everything organized. The quality is amazing and I believe it was a great purchase.
what is the very back pock for?
what is the very back pock for?
I am sure you figured this out by now - if not, it slides around the telescoping handle on rolling luggage to hold it in place on top.