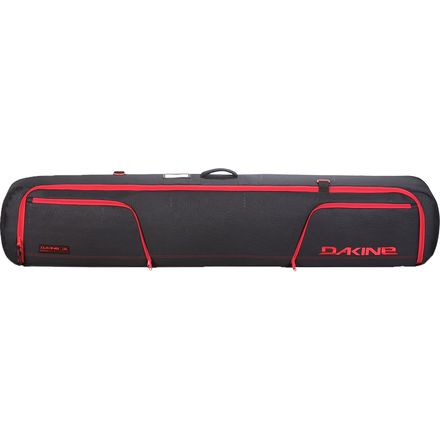 Colors

Community Images
Description
Don't walk around with your deck out.
The Dakine Tour Snowboard Bag ensures your next powder-huffing trip is as smooth and easy as a walk to the corner store. Dakine padded this bag protect your deck from the drops, slams and javelin throws on the tarmac, and the top-entry boot pockets keep your board gear all in one place. Use the full-length zipper to easily access all of your gear, and lock the zipper tabs to prevent shady travelers and sticky-fingered airport employees from plucking your cargo.
Fully padded
Exterior-access boot pockets
Full-length zipper
Lockable zippers
Great bag.
Familiarity:

I've used it several times
I bought this for my last trip to Vail and I fit my board w/ bindings, boots, jacket, pants, goggles, gloves, and helmet. And I'm 5'1 so I only have the 157cm. It is only lightly padded so I nestled my outerwear around the ends to protect it on the plane ride. Worked great and kept all my gear in one place.
Am I Able to take my two boards in this bag? Maybe one with the bindings attached and the another one not...
Hey Cristobal!

Yes you can, I literally just unpacked from a trip to Utah and Colorado. I have the 175cm touring bag and my boards were 165 and 163. you can fit another pair of bindings if you remove them and pack them between the others. There is plenty of room with 2 boards, 1 binding for your outerwear, boots goggles and gloves.

Enjoy!
I have a 155cm board and got the 157 bag. I say that this is a perfect fit. There is about 1 inch of room left at the tip of my board, so 1in is 2.54cm, I'd say it would be possible to fit a 157cm board in the bag for a snug fit. This thing allows for lots of items. Size 11 boots, bindings attached, gloves, goggles, board pants, extra clothes, socks, you name it.
Will this fit a 165 board with bindings and a pair of 169cm skis as well? trying to find something to carry both my board and gf skis to colorado on a plane ride.


Hey maf105766533,



If you go with the 175cm option, then you'll have no problem fitting your 165cm board and your girlfriends 169cm skis.
Padded is a relative term
Familiarity:

I returned this product before using it
Not really padded, what little padding was there was twisted in the bag providing 0 protection. I love my board WAY too much to use this cheap!
I have a 149 board should I get a 165 or 157 bag? Is more space in the bag better?
Hey there! I always get my board bag bigger than my board so I can throw my boots and gear in there, as well. But ultimately, it's a preference thing :)
Wish the shoulder pad was adjustable!
Familiarity:

I've used it once or twice and have initial impressions
The 165cm bag worked fantastically for my trip out to Colorado this past Winter! If I remember correctly, I crammed in my 156cm board (with bindings still attached), my riding pants, my riding jacket, my boots, a waxing iron, my googles, my helmet, and some base layers; the bag... was quite full. But, I bet you could do some finagling to cram some more crap in there. I would highly recommend stuffing some clothes around the nose and tail of your board. The padding seemed a bit thin around those areas. The only drawback that I could find about the bag is that the shoulder pad doesn't adjust along the strap.
Love it!
Familiarity:

I've put it through the wringer
Love this bag, size up so u can store everything in this bag. I have a 157 and bought the 165, also bought the 157 for my wife, she has a 141 board. Fits my helmet, gloves, boots, coat, pants, and everything else I can think of. Super protective too! Only downside is takes up so much room when traveling!
Gets the Job done, Looks good doing it!
Familiarity:

I've used it once or twice and have initial impressions
Great bag, Fits everything I needed and Love the Pockets being separate from the main bag. If you are packing for yourself you will be able to pack your board, binding, boots, tools, helmet, snowboard gear (pants jacket), and maybe few more things like goggles. On my last trip I was able to pack my board(152) then a towel then my girls board(150), stacked on that my bindings and hers. Put our boots in the separate boots pockets. On top the boards put goggle, snowboard pants, butt pads, knee pads. Only thing that I could not fit was Helmets and it was PACKED!!! I got the 157. Only thing I?ll do different on my Next bag is Add Wheels. 4 stars only because plastic hook broke for shoulder strap, but like I said I packed the heck out of it.
Perfect for Air Travel
Familiarity:

I've used it several times
I ride a 155, so I bought the 157 for extra room for my gear. This bag has so far survived a couple of plane rides, car trips, etc... and I was able to shove everything I needed for my trip around my bindings. I like the padding, and the boot pockets, which were great for stashing wet gear on the way home, without getting all your other things wet. No buyer's remorse here!
I have a 152 board. Will I be able to fit...
I have a 152 board. Will I be able to fit the board w/ bindings, helmet, and size 8 boots into the 157 bag? I'd opt for the 165 bag but I'm afraid that the longer bag won't fit into my car (a sedan but the stupid back seats don't fold down.)
Everything should easily fit in the 157 bag. These bags are designed to hold not only a board, but your other gear as well.
Well lucky for you, the bag does fold down! 157 will hold all that gear, helmets are funny to fit between the bindings sometimes. The 165 bag could come in handy if you ever travel with 2 boards or get a slightly larger board. I have the 165 free style bag and had a hard time fitting a 161 board in it. Extra room won't hurt!
Good Bag
Familiarity:

I've used it several times
Fantastic bag. I got the 165 to be big enough to throw lots of clothes, my helmet, coat, and other stuff in there. Everything fits no problem. The Pockets are just big enough for my boots. I have had no problems with it at all.
love it!
Familiarity:

I've used it once or twice and have initial impressions
I used it just once and I was able to stuff all of my gear on to this bag. The handle on the bottom part (the side which sits on your shoulder) is slightly abrasive which ensures that the bag doesn't slip! I was able to fit my board with bindings, boots, ski jacket, ski pants, helmet, goggles, gloves, etc.,
Will I be able to keep 2 boards, a 162w...
Will I be able to keep 2 boards, a 162w and a 157W, in the same bag
You can easily fit 3 boards with one pair of bindings mounted into the bag. Size up to the 175cm to assure extra room.


So far... So good...
Familiarity:

I've used it once or twice and have initial impressions
So far this item is fantastic... I have plenty of space for all of my clothes, helmet, etc inside the bag... The boot pockets are fantastic as well. I easily fit the board (with bindings), the boots in the pockets, and everything else needed for a trip out west...



I do want to see how it handles being tossed around by disgruntled airline workers before I start raving about it.. It does have some padding, so we shall see...



Oh, I bought the 165 size for my 158 wide board... I like the extra space...
Well padded with lots of room
My main criteria for purchasing bag (along with value) is adequate protection for my board. I know seems obvious, but not all padded bags are created equal as some designs are inherently less protective. This bag essentially creates a large, padded box shape around your board that protects your board in 6 directions, as opposed to other designs which essentially layer two sheets of foam above and on top of the board and the zipper close with nothing to protect the board on the sides as it shifts in the bag(or is thrown around by luggage handlers at the airport). Not only does this better protect your board edges, but it also creates more internal volume inside the bag to store boots, jacket, pants, gloves, etc. I purchased the 157cm bag to go with my 155cm board and there is more than enough room to fit all my gear. Also appreciated are the two boot storage pockets. These are great for use if your boots are dirty and you don't want to store them in the same compartment as the rest of your gear. Note that these pockets protrude into the bag, so they do not increase the overall storage volume of it. Other nice features are the tarp lined interior of the bag and boot storage pockets, luggage tag window, and the ability to add a lock to ALL zippers on the bag.
because of the placement of the boots...
because of the placement of the boots compartments would having the bindings still on the board be a problem? i have the bindings on a wide stance
hoboman,

That is a tough call to make without seeing your gear and binding setup. You will be able to fit your complete board w/bindings and boot in this bag no matter what, but you may have to load your boots in the main compartment and use the boot compartments for other items if the stance really as wide as you are indicating. That being said, your binding stance would have to be about as wide as it gets to interfere with the boot compartments. A sure fix would be to go to a little longer bag length to compensate for the wide mounting postions (e.g. a 165 bag for a 161cm board).
I have not had that problem at all, I use the 175 bag my boards range from 172cm to 165cm and have a 24" stance width (wide as they usually go). there is a lot of room within the boot pockets for them to be shifted around. I have fit 2 boots (DC size 10) into one pocket with my helmet, goggles, gloves etc in the other boot pocket. Be sure to size up the bag! I at first had a 165cm bag and had a hard time fitting a 161cm board inside. The extra space is awesome for packing in all your extra gear!
I have the Capita Jess Kimura Pro. I could...
I have the Capita Jess Kimura Pro. I could not find the dimensions of the board. I was wondering if anyone knows if this board is too wide for the bag?
Best Answer
Depending on what length you've got, the dimensions can be found under Item #CPT0145



But honestly, that board should fit just fine in that board bag, it's a women's specific (which aren't very wide to begin with), and i'm guessing it's a 149cm or shorter, so you should still be able to fit your boots and everything in that 157cm bag without any issues.



And if you feel like you want a little extra room, I'd go up to the 165cm.
Will I be able to store my Burton Clash,...
Will I be able to store my Burton Clash, with my bindings mounted on board. With my boots, pants and jacket in another compartment?
You shouldn't have any issues fitting all of your goodies in the Dakine Tour Snowboard bag with some room left over for another deck or two if you want. People pack board bags like this in a myriad of ways and you will figure out your own best use of the compartments once you have the bag in front of you.