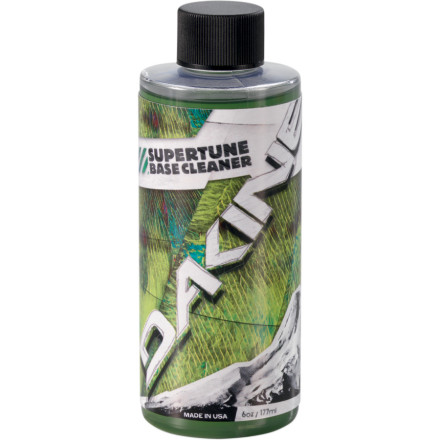 When the base of your deck has been riding dirty a little too long, treat it to a little of DAKINE's Supertune Base Cleaner. A blend of highly concentrated citrus oils removes old wax, dirt, and other contaminants from your base so your next hot wax has maximum effectiveness. Simply apply a little Supertune to your base with a dry cloth, let it dry, then bust out the iron and wax on.
add it to your kit
Familiarity:

I've used it several times
A must for anyone who likes to work on their equipment at home. Does the job and maximizes the wax job you are about to apply.
This stuff smells nice - but leads me to believe it's just like Goo Gone. It worked well - and it lasts a long time. I put mine in an empty spray bottle for a more even application. Nothing to write home about, but does the job.
Does what it is supposed too
Cleaner works well and will likely last for 25-30 wax jobs. Make sure and rub down your board/skis with denatured alcohol after using the cleaner so you don't wax over the chemicals in the base cleaner.
Just apply a little to get your bases a bit cleaner. This is really a necessity for doing any consistent waxing at home. Even though you might not notice a performance difference, your bases will thank you dearly.
smells good...works better
used on 3 boards so far...cleaned them up perfectly
How many skis can you clean with this?
How many skis can you clean with this?
It goes a long way. I've cleaned three pairs of bases (6 Skis) with it and I have used barely any of the cleaner. I would say at least twenty pairs of bases.
you can work with a scraper and paper towels for days, you still won't get it as clean as a little soak with the cleaner. it's pretty much a must have if you're doing hot waxing. i've used the oneballjay cleaner before as well, this is pretty much the same stuff... haven't really noticed a difference.