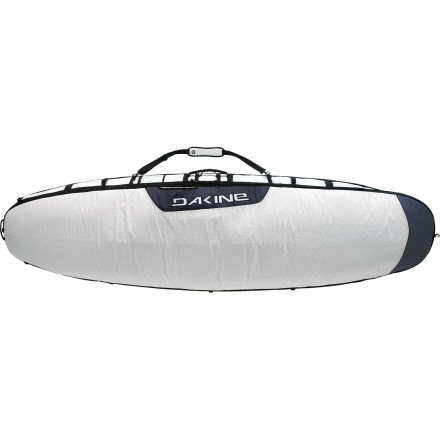 Say 'sup?' to the DAKINE SUP Board Bag. Trust us, you want to be nice to it; it will be carrying your stand up paddle board after all.
The internally protected and corrosion-proof wrap-around zipper ensures long life to your bag and SUP alike
If you have a ways to go before you get to your drop-in point, your shoulder will thank you for the padded shoulder strap (complete with stash pocket)
The tarpaulin top is durable and reduces the chances of dings, dents, and scratches
The SUP Bag features a heat-reflective tarpaulin bottom to keep the heat from effecting your board
Great SUP Board Bag!!!
Familiarity:

I've used it several times
I love my new DaKine SUP bag. It fits and protects my board to the max. I was afraid it was going to be to baggy, you know with too much room to the side and overall fit. It's a great fit and has lots of pockets for fins and other stuff. Great bag at an awesome deal!
Not as pictured but still awesome
I already have this bag for my 11'6" SUP so I wanted another for my 10"5" SUP. I ordered it based on the photo. The bag I received is the newer version that Dakine now makes. The photo in the Backcountry has up is of the older coffin style bag that Dakine no longer makes. Still a great bag. It fits my 10'5" x 32" perfectly with a little room to spare. Stick with Dakine and you will never go wrong. Life time guarantee from bumper to bumper.
I bought this bag for my 10'6" PSH and it fit like a glove. Works beautifully and really protects the board (I go on a lot of long distance road trips). Only issue I have is I wish the zipper went further down the bag. I'm not a very big person (5'5") so it takes some maneuvering for me to get the board into the bag, especially since the board is so long too. But once I figured out a system it works great. The bottom of my board is gray so when I drive on a hot day it really heats up, in the bag the board stays nice and cool because of the reflective surface. One of the best and most well padded bags I've seen out there.

Just bought a 9'6" for my new 9'1"! :)