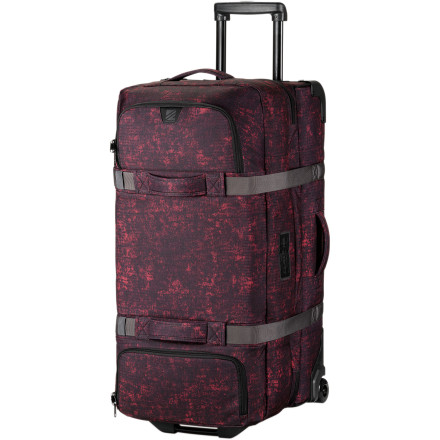 Videos
Description
They better have your room ready by the time you get in for the night though; you might be bringing back a guest who is not a chicken.
You've been waiting for hours to check into your hotel, and the room still isn't ready. Apparently, the people who were staying in the room before you were into some really weird stuff involving melted chocolate and live chickens. Pull a clean set of clothes out of your Split Roller Small Gear Bag (everything is easy to get to thanks to the compartmentalized design), and you're ready to hit the town.
Split-level access makes this gear bag like a dresser on wheels so you can find what you need quickly and without making a mess
Retractable handle turns you into a human tractor-trailer as you haul your cargo to your next port of entry
Replaceable wheels can be switched out in case security removes them for some reason
Locking zippers keep creepers out of your stuff
Share your thoughts
What do you think of the
DAKINE
Split Roller 65L Gear Bag - 4000cu in
? Share a...
Perfect for our 1-week cruise
Familiarity:

I've used it once or twice and have initial impressions
Firstly, I love how this suitcase looks (I got the patchy pewter color). It is also super durable - the outer material, corners, etc I can tell are very robust and should last a long time. The wheels roll very smoothly, and the telescoping handle works well. There are also two small pockets on the outside.

I packed for a 1-week cruise very liberally (extra clothes, swimsuits, and 4 pairs of shoes), fit in everything I wanted, and it weighed in at 46 pounds, which is just under the 50-pound cutoff for most airlines, if you're concerned about that like we were.

Inside, it is sectioned off into 4 compartments. one half is a large compartment. the other half is three smaller compartments good for shoes or accessories.

every internal space is sectioned off and has its own zipper cover. if you're an orderly kind of person, you'll love is because it keeps everything nice and organized.

Overall this is the best suitcase I've ever had, and I can't really think to improve on it.
Through the ringer and then some....
Familiarity:

I've put it through the wringer
I travel extensively throughout the country and this bag has already experienced about 60,000 miles in the air. Solid construction, the wheels are constructed to roll smoothly... The handle telescopes with ease with one hand. Bag has plenty of compartments for enough clothes to last more than a week. This bag has seen the hell of Philadelphia International Airport. If it can survive that place, then it can survive anything else.
Keeps everything organized on the road
Familiarity:

I've put it through the wringer
In my opinion this is the perfect sized travel bag, any bigger and I might be tempted to load it with so much stuff I'd get charged through the roof in fees. The different compartments are great because you can separate dirty laundry and you can see through the panels so packing and unpacking doesn't become a game of Memory. I got the highly visible Higgins color, easy to pick out quickly on the baggage carosel.
DAKINE Split Roller Small Gear Bag - 65L
Great
Familiarity:

I've used it once or twice and have initial impressions
Holds enough for a casual week or so stay. Not a bag built to pack a suit or a nice peacoat or anything. Great construction and has held up to a few trips where I've had to check it in with the airline. Can't beat the warranty that comes with it.
Not bad, but ultimately returned it
Familiarity:

I've used it once or twice and have initial impressions
I like the bag overall, but it just isn't as functional as I would hope. The reason for that is that the hardwear that makes up the pull system takes up too much of the interior room of the bag. For the total size of the bag, I would have expected it to have a little more space. You can easily fit a week's worth of clothes in it, but from the exterior dimensions, I would have thought it held more.
Love, Love, Love this bag!!
Familiarity:

I've used it several times
Awesome bag, plenty of room for everything I need. Love all the compartments, nice to keeps things separate. I would recommend this one instead of the larger one for flying because this one is not considered oversized. You still need to be careful with the weight very easy to fill it up and be over weight. I bought the Nebula color of this bag, I love the way it looks and very easy to spot amongst the sea of bags. My daughter has been trying to persuade me to give it to her....I may have to break down and get her one of her own because she isn't getting mine.
Unanswered Question
Something doesn't add up. It says it is...
Something doesn't add up. It says it is 4000 cu inches but the dimentions are 30 X 14 X 13 = 5460 cu in!!! Perhaps the frame and wheels take up a lot of space?
Unanswered Question
I'm looking for a bag to carry my ski gear....
I'm looking for a bag to carry my ski gear. My boots are 29.5. Is this bag big enough to fit my boots in the bottom compartment?
Simply the best travel partner
Gender:

Female

Familiarity:

I've used it once or twice and have initial impressions
I bought this without ever physically touching/seeing one for a trip to London & Italy last month. When it arrived was worried not enough space with the internal pockets. Was I ever wrong!! This bag rocks & with the pockets keeps clothes tight and from moving around. Even the bag came home with only a small scratch. A First for me since my last two "other" suitcases were destroyed on two separate trips. I'm in love with Dakine! Highly recommend & it holds a LOT of clothes/shoes. Not small by any means!
Perfect size bag !
Gender:

Male

Familiarity:

I've put it through the wringer
I've had this bag for 4 years and ... just replaced it with the Freemont pattern. Looks like they improved the wheels compared to mine. The new pone has skate board style wheels while the old one was more roller blade type.

The new ones look more stable. I find with this size when I pack it full to the brim it always comes in just under the 50 lbs mark! Perfect for travel! Fits everything and has awesome pockets and compartments to organize your gear.
I took this bag to Barbados and it exceeded my expectations. The separate compartments and sandwich style opening made it a breeze to quickly transfer duty free liquor from my carry-on luggage to this bag prior to my connecting flight. I got this 65L over the 90L because I did not want to exceed the weight limit; good thing cause I was slightly over. awesome quality and lifetime warranty!!
This Luggage bag is what I was looking for, I snowboard and the Boots fit very well in the middle pouch and helmet on the top one. I put my socks and othere equipment on the bottom pouch, its all fitting perfectly. There is still too much room to put my other snowboard equipment.
GREAT WARRANTY
Gender:

Female

Familiarity:

I've put it through the wringer
WE BOUGHT 5 OF THOSE BAGS OVER THE YEARS.. ACTUALLY ONE FOR EVERYONE IN OUR FAMILY. THE FIRST ONE CAME BACK FROM A FLIGHT ALL DESTROYED, IT LOOKED LIKE IT HAD BEEN RUN OVER. WE SEND IT BACK TO DAKINE AND THEY REPLACED IT. WE TRAVEL INTENSELY AND NONE OF THE BAGS RIPED AND NONE OF THE ZIPPER BROKE. VERY GOOD BAGS. DON'T BUY THE BIGGER BAG VERSION. THIS ONE IS BIG ENOUGH THAT I HAVE TO BE CAREFUL NOT TO LOAD IT OVER THE 50LB LIMIT.
I travel three weeks out of every month. I have two Dakine bags - this one and the larger one and love them. Roomy and the three compartments are why I went with these. Keeps socks undies and stuff separate and easy to get to. Love the two snap chinch straps on the outside as well as the outside pockets that are large. Rolls great. Buy a set. Worth it and this was the best price on the Internet at BC. Enjoy your travels.
Yep, daughter loves it!

Great value for your duckets. Fill yer boots!
Got this for my brother as a wedding present. He used it for his honeymoon and told it was great! Held all he needed for a week and and some of her stuff as well. The different styles are great so you can spot your bag quickly among the masses. Definitely worth the price.
since most airlines charge per bag, needed one large suitcase that could hold everything. Before purchasing this one, I was a little worried about the split design and the divided compartments - would those features not allow for large items, or interfere with over stuffing the thing, etc. All my worries were non-issues packing for a 10 day trip to the caribbean with snorkel gear and hiking gear. A normal carry-on fits in one side of the split roller with room to spare on that side, just to give you an idea of how much space you get. I do have mild concerns over durability of the bag, as it has all material outer. It seems to be thick, beefy material but airlines are brutal with your stuff. No problems so far. The compression straps are awesome as it makes the bag very usable still if you don't need all 4000 cu in. of the bag, and it seems to take some of the stress off the zippers. Smart design that works for me.