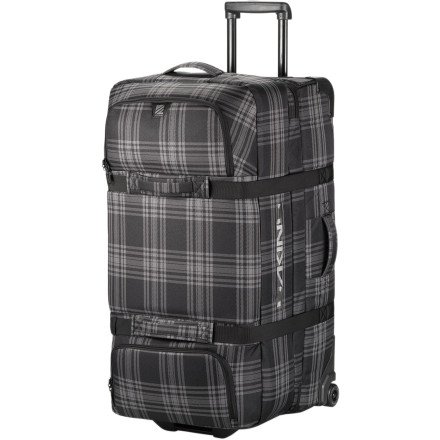 Community Images
The cavernous 6,000-cubic-inch DAKINE Split Roller Gear Bag gobbles your possessions with the voracity of a hyena at the end of the dry season, so you can forget about carefully selecting exactly what you need before your big vacation.
Split-level design for easier access to your valuables
Retractable handle and wheels get out of your way when you're not using them
Exterior pockets help with organization
Beefy construction can take a beating
The Rasta color option isn't available from any other retailer
Share your thoughts
What do you think of the
DAKINE
Split Roller Large Gear Bag - 6000cu in
? Share a...
Favorite Frequent Flyer
Familiarity:

I've put it through the wringer
This is my favorite travel bag. I travel about 10 out of 12 months a year, and this has been my frequent flyer ever since I got it. (I've own the bag since last April, 2014.)
For short, weekend snowboarding trips, my girlfriend and I can fit all our casual and snowboarding clothes in this, no problem! (But she has her own too for trips where more 3-7 more days' worth of clothes and warming layers are needed.) For one rider, it can get all that gear plus helmet and snowboard boots!
The compartments make organization a breeze and work very well, though I do have a concern that something sharp will shred the mesh to pieces (hasn't happened yet *knock on wood*.)
It's even saved me time after landing; I've got this beauty in the Higgins color, so it's always easy to spot on a conveyer belt and I'm never mistakenly grabbed someone else's.
The wheels on the bag are not suited for varied terrain; if you're going on or off a curb, any angle will cause the bag to flip and they're a bit small to begin with. It also doesn't stand upright too well and will tip unattended.
I read the reviews about the size, and thought I'd have some trouble checking these in at airlines, but it hasn't ever been an issue after about 14 months of travel but the fabric at the corners is a bit frayed; that's more of those baggage handlers' fault and less of a design flaw.
This is a great investment, especially if you can get them discounted! Like I said, both my girlfriend and I own one and I will be replacing this when my current one gets worn out. (I've owned the bag for two years and hope to not need to replace it for a couple more years.)

Great rolling bag
Familiarity:

I've used it several times
Pockets inside. Not too heavy. Well I think it is one of the best large rolling bag.
Easy access and loads of room
Familiarity:

I've used it several times
Ordered two of these bags for a long trip and they worked out perfectly. The bag has one large compartment with a mesh zipper cover one one side and three compartments on the other all with the mesh zipper closures. Outside there are two outer pockets where I stashed my coat, mittens, hat and a change of shoes. The bag itself isn't super heavy so you don't have to worry about weight limits. I took tons of clothes, toiletries, two pairs of sneakers, bike helmet and shoes and had room for more. Straps on outside are nice for keeping it compact. When I made the order I thought that the bag zips apart completely (similar to an older Dakine model we have) but it doesn't. Wish it did though!!
Bonus: the cloth material of the bag is made from recycled plastic bottles.
Unanswered Question
What color is the Midnight bag - it appears...
What color is the Midnight bag - it appears to be navy but your specs said black
I have ordered a lot of stuff from dogfunk and been very happy. I received this bag the night before my board trip to Chamonix. I opened it to pack & it smelled like a small man had camped inside with a carton of cigarettes. So bad I let it air out over night & still couldn't use it. Really needed it for my trip but sent it back. Hopefully you don't get it.
Great bag for taking a ski trip
I just took my new Dakine bag on a ski trip that involved the bag getting checked through connector airports. It came through without a scratch, testament to its sturdy, rugged construction. I had plenty of room in the bottom layer for very large ski boots (I've got size 13 feet), a helmet, and ski clothes. When I first saw that the top half was split into three compartments I was not pleased, but now that I've used the bag I really appreciate this feature. Great job done by the designers! I further appreciated how the bag rolled quietly and easily and how it stayed put when placed upright on its end. I am very pleased with this bag and strongly recommend it for folks wanting a big bag for ski trips!
walking through the airport with this bag for some reason has people "double taking" all the time. i picked up the rasta bag. and beside the sick look. it has so much space, the wheels are good, and very easy to maneuver around. RECOMMENDED.
Awesome bag!
Gender:

Female

Familiarity:

I've used it several times
Lots of space and durable. I couldn't be more satisfied!
Awesome Bag
Gender:

Female

Familiarity:

I've used it several times
I loved this bag when I saw it but was a skeptic that it may not handle the airline baggage because of the soft outside of it. Not only is is super durable, you can't even tell it was ever checked as a bag! Love it. Super roomy, super stylish and durable.
Seriously large bag! It fits quite a bit of gear, and the way the compartments are constructed it manages to separate your gear without constricting your packing options. Highly recommend this bag to anyone looking for an extended trip case.
Unanswered Question
Does anyone know what the difference is...
Does anyone know what the difference is between Fremont and Fremont 1? I'm getting my brother the entire set.
The RASTA Colorway featured here is EXCLUSIVE to BACKCOUNTRY.COM and can't be found anywhere else. Lifetime Warranty and a great price! Travel in style!
Thought this was a great bag, just a bit too big for my needs. I love it's durability and Dakine let's you have a little originality as well, which is good when waiting at the luggage area.
This is considered our big travel bag. It has awesome separate mesh zipper storage compartments inside. Everything stays put when the bag is opening and closing. It has survived one plane trip and will endure another soon. The size is perfect for 2 people over the course of a week. All the handles make grabbing and going, nice and easy.
Great bag. Well made and can take some hits, bumps and tosses down the stairs! Which when it comes to traveling around the world is an important trait! The bag itself is pretty light for that size. Which is great because it means I can pack more gear!
I travel alot and have used different luggage over the years. This bag was great!! plenty of room for everything and the seperate compartments made it great to live out of the bag. very very happy !
Unanswered Question
Anybody used this? How is it?
Anybody used this? How is it?