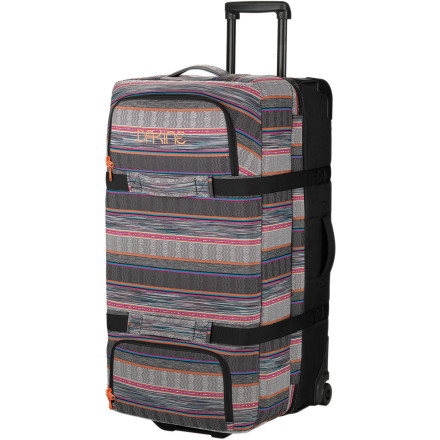 Description
Hit paradise with 6000 cubic inches of ... everything.
You could empty a storage unit into the DAKINE Women's Split Large Roller Bag and still find everything easily thanks to the split-level design. So when its time to take to the sky, pack everything you need without feeling like you have to cram thirty pounds of clothes into a ten-pound bag. Locking zippers defeat sticky-fingered airline employees, and a retractable handle makes navigating the airport or hotel a snap.
Share your thoughts
What do you think of the
DAKINE
Split 100L Rolling Gear Bag - Women's - 6000cu in
? Share a...
HUGE BAG!
Familiarity:

I've used it several times
I love Dakine luggage. I have the Over/Under for short trips and purchased the Split Roller because I travel for work and often parlay that into weekend camping trips if I get sent somewhere cool. I can fit all of my work clothes for 4 days of dressing like a corporate desk-jockey PLUS an entire weekend's worth of camping gear PLUS my big camera tripod into this beast! We're talking tent, down sleeping bag, sleeping pad, pillow, cooking gear, work clothes, camping clothes, some camera junk... I mean you could seriously fit ME into this thing if you tried. I have underpacked, packed, and wildly overpacked this thing and it hasn't done me wrong yet! I will say, however, that it gets VERY unwieldy when fully packed (as in I needed boyfriend to help me get it into the trunk) and it's pretty easy to go over the 50lb airline limit with this behemoth. If I had to purchase again, I might get the 4000cu in just because of that. That said, I do love it because of the amount of junk you can cram into it! One star off because the time I had it filled with 70lbs of stuff the wheels were dragging/sticking a tad, but that might have been my fault for filling it with books...
DAKINE Split Large Roller Bag - Women's
Has anyone tried to check this bag with...
Has anyone tried to check this bag with the airlines? Their limit is 62 inches diameter. This bag is 62.5.
Best Answer
I think with any bag that pushes the limits it really is going to boil down to the flight attendant and how good or bad of a day they are having. Safest bet when flying with luggage larger than the requirements hope for the best but have extra in your budget in case you need to pay more. Also, checking with the airline ahead of time might be in your best interest.
Recently, I checked this bag through United airlines on a trip to Europe and I had no issues at all with this bag . My return flight was through Air Canada and again, there was no question about the bag being to large.
Massive!!
Familiarity:

I've put it through the wringer
This bag is so easy to pack - it's huge and the compartments are really handy to help organise your stuff. It's really durable and rolls well.

You really have to watch out as its super easy to keep putting stuff in this until it is waaaaay over airline weight limits.
Bag Won't Stand
Familiarity:

I've used it several times
Buyer Beware. I bought this bag and no matter how I pack it, it won't stand up. It falls forward every time. Granted not every one of these will do that, but make sure you buy one that does not have this manufacturing problem. Also warranty won't cover this defect just so you know. Seems crazy that they will replace a 5 year old bag with a broken zipper, but not a new bag that obviously has not been made properly. Would give it 0 stars if I could.
spot to spot gear in tow
Familiarity:

I've used it several times
lay it out, zip her down, fill er up, zip her up, and most important, keep it pushing. No more dreaded gear packs or emails from homies about how they love all that gear you left em at the cabin. Separate spots for essentials. Dakine Dialed this one. Im a male and I got the ladies meridian color and it never pops my masculine balloon.
Huge fan
Familiarity:

I've used it several times
I love this suitcase so much. This is my first "clamshell" suitcase, and first suitcase with compartments, but I will ONLY buy those types of suitcases from now on. It makes packing and finding your stuff so much easier. It seems like you can fit everything and the kitchen sink in there; on my last trip I put my ski boots in my suitcase! I am also extremely happy with the quality of the product as well as the colors/look of the suitcase.
Awesome Luggage
Familiarity:

I've used it several times
I purchased 2 of these and took them on 2 weeks to Hawaii. They held up great. As someone said you do need to watch the weight. We actually purchased so many items we went to the Dakine store and bought another.
Unanswered Question
Is the Carlotta a 6000 cu in bag ? Or...
Is the Carlotta a 6000 cu in bag ? Or smaller than the Juno etc. are they exactly the same with just a different patten ?

Amazing gear!
Familiarity:

I've put it through the wringer
This bag, and all other similar bags I have had from Dakine, truly delivers according to my needs. I travel frequently both for business and pleasure across the globe, and they have never failed me. Quality is also good, both for wheels and handles. Recommended!
This bag is the best. Seriously couldn't have asked for a better travel bag. Was super impressed with how well it was made and how strong the fabric holds up. The inside of the bag is divided up and has room for everything. I never thought it would shut with how much I had stuffed into it, but it did, comfortably and easily. Lightweight with it being completely full. I love this bag. Dakine is awesome, and can't wait to get the other matching luggage for it!
SO EXCITED TO TRAVEL
Gender:

Female

Familiarity:

I've put it through the wringer
I just got this bag because I am going to italy for a study abroad. I love the separate compartments on the top part of the bag and the huge compartment on the bottom that has enough room for everything I need to take with me. I have had suitcases before that have had just one compartment and I feel like having the separated top and bottom is going to make travelling a lot easier.

UPDATE!!!
If you are flying internationally the first bag is free and this one really fits everything that I needed for Italy. Even my Ceramic art supplies! Also the hard tub for the bottom part helped protect my camera lenses. The organization of this bag truly is awesome. I know where everything is if I need it at anytime. Also the handels that are all over the bag make it so easy to lift onto trains, Planes and busses! I have had no trouble traveling and the wheels glide so easily! Not to mention all the compliments that I have gotten on the stylin' print!
This bag is the ish! Super big, heavy duty and gets the job done and then some! I over pack like it's my job, so when I can find a bag that gives me more space that I can use, I know I've spent my money well. I had the color Skyler and get compliments on it all the time. Great for vacations to Tahoe and CO. Can fit multiple snowboarding jackets and pants, along with shoes, shirts, beanies, gloves...etc. There is a pocket for everything which keeps all my gear organized! Love it!
How much does the bag weigh on its own?...
How much does the bag weigh on its own? I've looked at different websites and they all vary from 5lbs to 14 lbs. I'd like someone who has the bag to tell me. Thanks!
Unanswered Question
I am planning a yoga trip to Costa Rica...
I am planning a yoga trip to Costa Rica for 2 weeks. Wondering if there is a way to secure my yoga mat with straps to the outside and if this bag will be too large? I do like to pack a lot of stuff. Also I'm assuming it only wheels one way,not staning upright and can wheel in any direction?
Great traveling/studying abroad bag!
This bag was a gret investment. Very well made. Huge compartments. The bottom and top 3 compartments, exposed once you un-zip the bag, are really big and i was able to fit enough clothes for the entire fall semester within them. Smart extras, like clips and tons of handles. I did about 2 months of research and i know for sure that Backcounty.com has the best price out there!! Best bag ever!
Easy to handle. It is so big I had 7 kilos extra weight, but that was because I also bought some heavy things. BUt you can fit a lot of things in this suitcase. One of the comments I had read in the reviews was that if pockets side is not full they will be very lose, but I thought this was great for making my packing easy. Probably looks prettier loaded than empty. I did not mind it. Seems to be going to be a sturdy one. So I am happy with the purchase. I think I should have gone for a bit smaller one, though. Other than that, no regrets.
This looks to large to check in for airlines...
This looks to large to check in for airlines - Do they consider this oversize????
Best Answer
It's close. US Airways considers 62 linear inches to be oversize and this is 62.5". Delta starts at 63". Jetblue and United at 62".

You could probably get away with it unless you really stuff the bag, but it will also be easy to stuff it until it's over the weight limit as well.

Consider leaving the industrial-strength hair dryer at home.