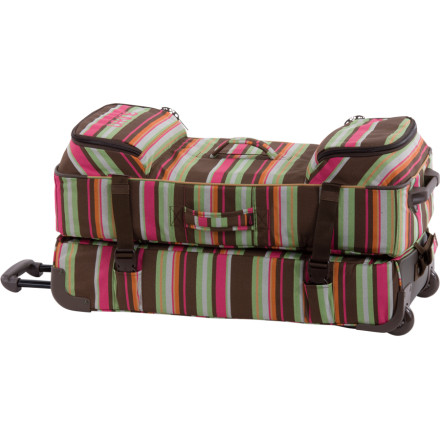 The bag performs well, the rollers are great on moving walkways, up curbs and over big cracks in the flooring; the handle is sturdy and can take the load of a full, heavy bag. I put this thing to the test this past Christmas and it delivered. The print isn't my favorite but it jumps out at you on the conveyor @ bag claim, and that's what I wanted.
Having the split option is helpful while you're living out of your bag because you're not rifling through a foot of clothes to get to the stuff on the bottom. Packing it takes a bit of forethought since one half of the bag is divided into sections and there's no option to 'un-divide' it, but it's really no big deal.
Very pleased, would definitely recommend.
Dakine Split Convertible -
This bag is really usefull!!! You can fit lots of things and the fact that its splits is really good. You can use one of the bags in case you dont need to take that much stuff and if you do having things in separate bags is really good for when you have to look for something you dont have to go thru ur whole bag..
Its really cute too!!
I totally recommend it ! =)
This bag is great. I love the fact that it splits in 2. It is wonderful and carries everything I could imagine.
Unanswered Question
Hi guys, do you do the set for this? ie...
Hi guys,

do you do the set for this? ie the 3 bags?

if so would you do a deal on it?

cheers