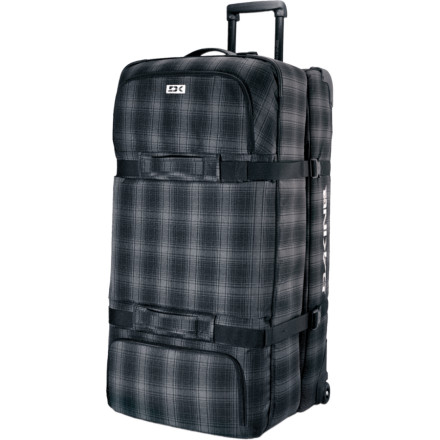 When the airline hits you with a gnarly overweight charge, just separate the top and bottom of the DAKINE Split Convertible Rolling Gear Bag into two lighter bags and laugh all the way to the gate. A split-level design gives you easy access to your spare underwear and makes packing a cinch. Lock up the zipper cars, extend the retractable handle, and roll this behemoth of a bag on its smooth-as-silk urethane wheels.
I have an older version as well with the zipper and the straps to join the two bags. First, IMO this bag was designed to be split for luggage check to save the ridiculous airline weight fees. I always split my bag and unfortunately one of the airlines managed to rip the zipper off the bag so it no longer zips. Perhaps this is why the zippers are gone now. The straps alone are adequate for holding the bags together until you get to baggage check but I do miss the zipper because even tightly zipped they do slip a little and they were joined rock solid with the zipper. I thought of getting it repaired, but figured the airlines would just rip it off again. The design is awesome and except for the zipper loss the bag has held up well.
Dakine Split convertible bag 7657cu in
I bought this bag to replace the previous model, which I LOVE, but which is finally giving up the ghost after seeing quite a few cargo holds and luggage handlers. My main fear is that the zipper which holds the two parts of the bag together will give, leaving only two buckled straps in charge of keeping the separate elements together. Because it's a large bag, each piece of the bag can get pretty heavy, and a couple of straps around the thing does NOT do the job. On a recent trip, TSA apparently failed to re-buckle the straps after examining the bag. Luckily, the zipper held. Also, I used to be able to slide something (Camera tripod, ie) in between the two sides and zip it in, which was great for last-minute additions.
Imagine my dismay when the new bag arrived yesterday, but doesn't even HAVE a zipper to hold the bag together. Traveling with this bag will guarantee that at least one part of it gets lost. You might as well just tie a couple pieces of webbing around your bag and hope for the best. This is a horrible design mod, obviously conceived by someone who doesn't travel seriously like I do (50Kmiles+ per year). I'm bummed that I have to find a new bag after getting so attached to Dakine's earlier version. I ordered 2 of these, and am returning both. Lame.