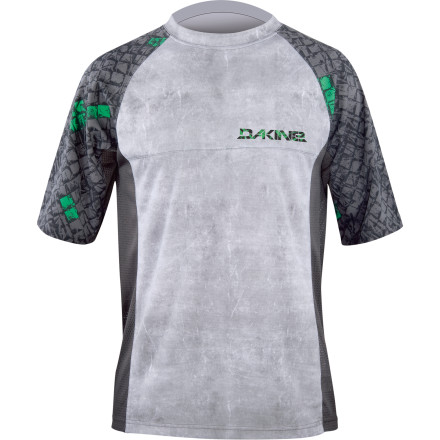 'Steady ... steady,' you think to yourself as you carefully maneuver your rig down a sketchy rock spine as you're wearing the DAKINE Men's Sentry Jersey. Packed with comfort, this short-sleeve jersey has ventilated mesh panels to keep you from losing your cool in high-pressure situations. Its antibacterial fabric ensures the Sentry doesn't smell too funky, even after you've been sweating bullets on a descent. And an eyewear chamois, located at the left interior sideseam helps you wipe away any dirt or mud from your shades or goggles.
Awesome sweat management and cooling. Colors and graphics rock. Dakine bullseyed with this one!
105 degrees in Florida today. Went for a 10 mile trail ride and came back completely dry. This shirt is awesome a wicking moisture!!!
I'm net generally a jersey kind of guy. I've been riding in cotton t-shirts since I was 8 years old. BUT...DAKINE is changing my mind about jerseys. This one in particular does an excellent job wicking moisture from your body and has a mesh vent panel on both sides from your arm pits to your hips to keep you cool. Finally, technical material that doesn't make you look like a spandex loving stopwatch whore.