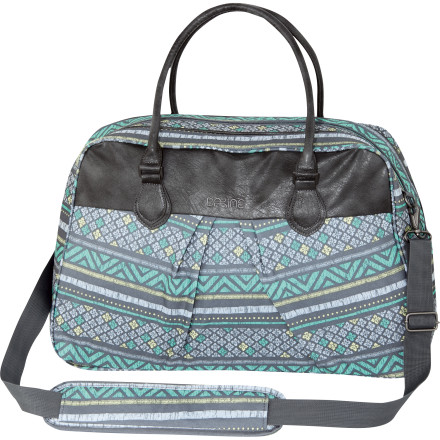 Dakine's Satchel Carry-On is like a messenger bag, briefcase, and a purse all rolled into one. The Satchel features a padded and fleece-lined laptop sleeve that will accommodate a 17 inch laptop, interior organizer pockets, and an open back panel designed to slide over a travel bag handle. The removable shoulder strap, soft vinyl trim and handles, and light weight make the Satchel comfortable to carry around, and the exterior zippered pocket makes it simple to get to small items.
I love this bag!!! its super large and is a great 5 day trip/weekender bag! no outside zippers but 3 puckered inside pockets that hold so much! The black leather one looks amazingggg OMG!
Perfect Travel Laptop Bag
I bought this in the Flourish color and used it on a trip to the east coast. This thing has a lot of internal space! I used it as a carry-on and it held my laptop, kindle fire, all my electronics (laptop charger, mouse, blackberry and charger, droid), as well as my purse and a sweater, and a very stuffed cosmetics bag. I still had room for more. The best part was that it fit easily under the airplane seat. I was on the aisle, and the room under the seat in front is narrower than what is provided in the middle and window seats. This bag is narrow enough and short enough to sit upright under the seat, allowing for easy access to the content of my bag during the flight.

The other reviewer commented that they didn't think the bag was sturdy enough. I have to disagree. It seemed plenty sturdy to me and I had no issues with the handles or the over-shoulder strap. With repeated use, it may start to break down, but I'm honestly not concerned (and I tend to be hard on my luggage!)

I just purchased the Dakine Over-Under Carry-on in the same colorway, and the satchel slides nicely over the handle of that bag, allowing you to roll the whole kit. The only funny thing is that the satchel is a bit wider than the carry-on, so when it sits on top of the carry-on roller, it looks a little out of whack.

Because I am using this for work travel, I went with the Flourish color (it's a bit more conservative) and with both the matching satchel and the carry-on roller, I look like a seasoned, well put-together traveler.
It's an ok bag. Good size for travel. But I have to return it because it doesn't look like it would hold up well with what I plan to put in it. A computer, make-up, extra clothes, snacks, etc. The handle is sewn to the outside vinyl material only which will rip in time.
Unanswered Question
Does the dimensions on this bag include...
Does the dimensions on this bag include the handles?