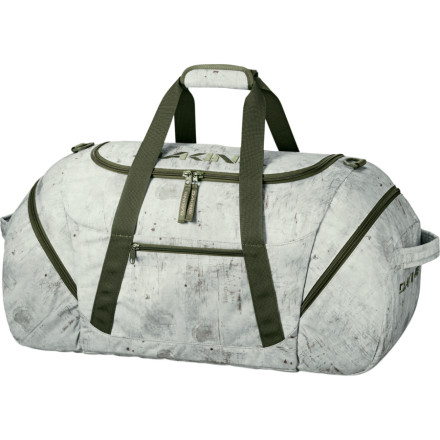 Detail Images
When you get invited to compete in the regional skate comp two states away, pack all your shred-wear into the DAKINE Rider's Duffle Bag and hit the road. It has plenty of room for your skate threads and holds your stanky shoes in the two tarp-lined end pockets. When you show up and the heat has already started, the U-shaped opening lets you quickly access your custom-label shirt to wow the judges. When you advance to a national comp the following week, the padded shoulder strap comes in handy as you catch a plane to Philly.
Nice Bag, The small might be too small for the big dude
Got this bag for snowboarding-small size Great price. Very nice bag. Sturdy and has water resistant lining. Great looking as well. Has nice big storage compartments on either side of the bag that can be used for you boots or shoes. The picture in the info packet for the bag show snowboard boots in the side pockets. If you have big feet like me (size 13 and you wanna fit your snowboard boots I suggest goin with the larger size bag as they do not fit very well. I would think that a size 10 and under boot would work well with this bag though. Has nize compartment in the middle for all your other gear.
Good Deal For Sure
Very nice. Tarp lined compartments work well for shoes, laundry and toiletries. Once again Dakine has produced another quality product that I'm sure will be around for years to come.
Will there be more colors coming soon?
Will there be more colors coming soon?
Questions about inventory can tend to languish here. Your best bet will be to click on the "Chat Now" link to get in touch wit a BC rep. Best of luck.
The two side compartments allow easy access for bulky items thru a long arcing zipper. My helmet fits in one, cycling shoes in the other; which is exactly what I'd hoped for. This leaves the ample main compartment for everything else. The Rider's Duffle bag easily exceeded my expectations--highly recommended...
I could live out of this bag.

My favorite duffel bag is the rider's duffle because is super versitale and super bomber. Great for travel and storeing your ski/snowboard gear on the off season.
Solid, thick, and good lookin
This bag is perfect size for weekend getaways, the zippers are well made and rugged, and has great two pouches on the sides and little sub compartments (little let separation). So far, no problems at all.
Have only used it twice, but already it has become the young upstart in my luggage collection. I feel like this is one of the few bags I've ever owned in which I can actually see inside the pockets when I unzip them. The linings are a silver material-not pitch black--like so many. This feature, In addition to increasing the durability and visibility of the inside of the bag, also makes it stand open nicely when you're packing it.
Pros: does fit in the overhead compartment. (not sure if it technically is supposed to, but if you don't pack it too tight, it's a squishable bag.
Two inner mesh pockets within the largest compartment. Nice for whatever u want to keep separated.
Yes a helmet does really fit in the end pockets.
's BIG!
And of course, looks f'n gnarly, as the Bf sez.
Cons: cumbersome to carry for more than through a terminal or two.
Not waterproof to 100 bar, and the padding on the strap is "meh" at best.
Dakine did it again! Great bag!
Just added another favorite to my list of Dakine travel bags! I've trusted my skis to a Dakine ski bag for the last few years and it has held up great! From the back of my truck to the fun and friendly TSA agents nothin' has dinged my sticks! So I figured it was time for a clothing bag too and at $35 from SAC I couldn't go wrong. The lined compartments are great and the zippers are very durable and very smooth. Lightweight material but very durable keeps the bulk down and my clothes dry and intact. I have plenty of faith that this bag will do a great job for years to come.
Can this duffle fit ski boots, helmets and...
Can this duffle fit ski boots, helmets and some extra soft stuff?
yes, it can hold all of that. the two side pockets fit my boots perfecly and the middle has plenty of room for the rest.
LOVE LOVE LOVE this bag! also got a size Large for week long trips, but the small is great for the gym or a weekend! LOVE IT!!! Great material... feels very sturdy and well made, and the compartments are great!
perfect for carry on luggage! my husband was jealous so had to get him one too. bigger than the small, freebie duffles but not too large you have to check. plenty of room to use as a sport bag or for a couple night trip.
Excellent day/weekend bag
I live out of my bag constantly. Between my house, the office, the gym, the golf course, my girlfriend's place, and weekend trips, I always need a bunch of crap with me. The bag is a little bigger than your average day/gym bag but I am used to that and I like it. Tons of room inside and each end of the interior compartment have elastic mesh pockets where you can throw some smaller things for quick access (I've got everything from earbubs to ipod cables to laptop chargers to lens filters and CF readers). I almost never leave home without my 15" MBP which is carried easily along with a weekend's worth of clothes. The zipper pulls are oversize and the shoulder strap is comfortable. The end pockets are tarp lined and hold at least one pair of shoes each (two depending on the type). As someone who regularly goes from dress shoes to golf shoes to runners to sandals all in the same day, these end pockets absolutely make the bag. The one small side pocket doesn't fit much, but it's enough for keys, wallet and a phone. I wouldn't look anywhere else for a small/medium sized bag.