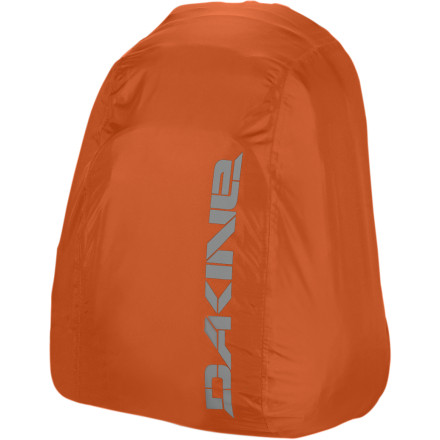 Detail Images
Share your thoughts
What do you think of the
DAKINE
Rain Cover
? Share a...
Nice rain cover, especially for the price, good design and material. Size info. may be slightly incorrect so if your pack is towards the larger side it may be tight. As always Backcountry remains an exceptional retailer. Thank You.
why isn't there an orange rain cover in...
why isn't there an orange rain cover in large? 68 in stock and not one is large?
We've got you covered now dude, order before the L Orange runs out! :)
I bought a medium cover for a non-Dakine backpack. The fit is perfect, easy to put on and doesn't take up space in my backpack when not in use. It does the job keeping my items inside dry and I don't go on a hike without it since I live in Florida (it'll pour even when the sun is shining). Now if Dakine could come up with a product to keep my backpack straps dry and i'd really be a happy camper.
I bought it for my smaller dakine pack and it doesn't fit at all. sorry dakine you let me down for the first time.
I think the bigger size would have been better. Everyone said it didn't stay on well so i got the smaller size and its so small i can't even get it to cover any of my dakine bags (2 of which are some of the smallest backpacks they offer).
does not cinsch well; I don't trust seams at the top (?!?) of the cover; needs more fit and fasten points to be really effective
The rain cover is awesome for the Duel Backpack, slits for the shoulder straps would make it better, but all the valuables stayed dry through hamilton's torrential downpour. Definitely worth it, but must be used in conjunction with a raincoat, or your gear is dry but you're not.. learned that one the hard way!
I was really excited to receive this but in the end was quite disappointed as it did not seem functional. It did not fit on my backpack in any way or stay put. I tried every way I could to secure it around my pack but it would not stay on for even a few minutes. I am not sure what they were thinking when they designed it. I have a very small rock climbing pack (Black Diamond) so I don't think the size was an issue. I have returned this product and will try to find a better one.
Dakine Backpack Rain Cover
I bought this for a non-Dakine backpack and it works really well keeping my pack dry. I walk a total of 16 blocks from the train station to work and back and when it rains hard it is nice to have the inside of my pack dry to protect my electronic devices and books in it.