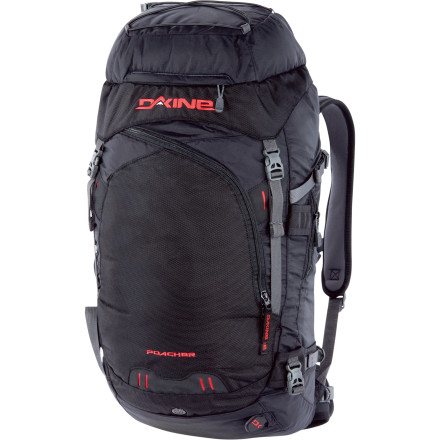 Detail Images
Description
Known as the Poacher because it helps you snake stashes like it ain't no 'thang.
With two different ski carry methods, vertical snowboard carry, and plenty of space for enough gear for a day beyond the ropes, the Dakine Poacher Backpack lets you ditch the tram for a slackcountry adventure. Like it's bigger brother, the Dakine Guide Backpack, the Poacher pack uses supremely durable ballistic nylon and rocks comfy, padded carrying system. Reach for this pack when a dawn patrol powder mission calls your name and you need a little extra room for that backup down jacket.
Vertical board carry and a-frame or diagonal ski carry lets you haul your weapon of choice up the mountain hands-free
Top load allows for easy packing at home and back-access means you can reach whatever you need without empty the contents of your bag into the snow
The pre-curved internal framesheet keeps the padded back panel comfortable and the padded waist belt takes some load off your shoulders
Quick access snow too and shovel pocket and quick-draw ice axe sleeve means all your safety tools are easy to reach at a moment's notice
An insulated hydro sleeve keeps your high-quality H2O from freezing solid
Share your thoughts
What do you think of the
DAKINE
Poacher Backpack - 2746cu in
? Share a...
Perfect Pack
Familiarity:

I've used it several times
Pack is great for all round everything. I wanted something that I could use for both traveling and going into the backcountry. It has already been great for splitboarding. Seperate pocket up front is a perfect sport for skins, shovel and probe while your shovel handle and poles can go on the side of the pack. Plenty of room but still managable for day trips. I am about to go traveling for 3 months and plan to only bring this pack. If I remember Ill report back once my trip is done.
Best ski touring pack
Familiarity:

I've put it through the wringer
I have several packs from 22 to 70L. This is the best pack for ski touring because of the back access, the plethora of pockets and straps. It is difficult to take a jacket or other equipment out of most packs once the skis are installed, either A frame or diagonal. This pack makes it easy to grab your lunch or a jacket. Plus, there is a separate pocket for your shovel and probe which is large enough to hold first aid kit and other essentials. The integrated snow board straps are also great for snow shoes. It only 40L, but can be large enough for an overnight winter trip if you travel light. Great pack for long day ski mountaineering trips where you need rope, two ice tools, spare clothes etc. Comfortable and looks nice too!
Built to last!
Gender:

Male

Familiarity:

I've put it through the wringer
I've had my poacher pack for 4 years and have been most impressed by the strength and durability of the product. It's not the lightest pack on the market, but I've beat the hell out of it and 4 years later it still looks brand new. Ice axes, crampons, tree limbs, accidentally-left-open-knives, nothing seems to be able to break or cut this bag!
13 Years and running....
Gender:

Male

Familiarity:

I've put it through the wringer
I cannot say enough good things about this pack. I have used it for everything from backcountry skiing to hiking to biking to whatever for over 13 Years!!!! If this new model is of the same quality then its worth every penny. The only issue I've ever had was the stitching on the hanging loop, when I hung it up loaded which was my own fault. I stiched it back up and its been fine for the past 5 years. The back panel access is also a must for any backpacks. Granted it is small for any overnight camping (with proper packing and small/minimum gear you can make a one nighter work) but for everything else this is the pack to have! Once mine finally expires (probably another dozen year) I will buy another Poacher without hesitation.

This pack says it has ONE ice axe loop....
This pack says it has ONE ice axe loop. Is that true? it would make way more sense if there were two..
Here is a more detailed illustration of the pack:

http://www.dakine.com/Uploads/DAKINE/DAKINE_SnowTech_Manual_12W.pdf
Wanted a pack that was big enough to fit all my avie gear, large camera, and enough room for long day tours. The rear access to this pack lets me grab my camera without any fuss. It is a great pack for splitboarding as you dont have to put your board back together and strap it in as it has 2 dedicated ski carrier options as well. It seems big being a 45l pack but with all the compression straps you can clamp it down and even use it as a day pack. The only negative I would say is that it doesn't seem very waterproof so if you are touring in the rain you may want to cover it with a garbage bag or some sort of waterproof cover. Overall a killer pack that will last many years.
how wide are the straps for A frame ski...
how wide are the straps for A frame ski carry, i have skis tha are 123mm wide at the bottom will they fit?
Also would the vertical carry for snowboard work on skis (i don't see why not, but who knows)?
I have an older version of this backpack but the straps on this one look the same. On my pack the straps are more that wide enough for 123mm and the are adjustable so you can cinch them down. Great for A Framing.
Also the Snowboard carry works for skis but the skis end up hitting the back of your legs, its better to use AFrame or you can also do a diagonal which works equally as well.
I have the 2008 version of this pack, seems a little different, but I will add my review. This pack is awesome. I use it as a day pack, it is probably on the bigger side for a day pack, but that just means you can bring more stuff :D. Durability is awesome, have used this pack year round for 3+ years and there is no sign of wear or tear. One thing I have to say is that, it isn't waterproof so make sure you don't put your cell phone on one of the outer pockets. Oh, and i gave up on using the camel back, too much fuss, i'll just stick to bottles.
Solid and comfortable when packed correctly. I would say it was a bit on the small size for 2-3 day trips but doable if aren't in a rush to load up. Weight isn't a problem for me at least but there are 1 to maybe 2 lbs lighter packs out there but I doubt you could notice much difference. Pockets are a bit on the small side to be super useful but that keeps your load compact and streamlined and not hanging all over the place. Excellent choice for multi snow sport enthusiast as it might be the only pack that has built in carry for skis and a board. The back panel access is clutch when you need it. Still if your doing overnight winter tours and have a decent assortment of gear the guide series might suit that need better. I am borrowing this out to the lady friend and making the guide my go to winter camping pack.

Not made for anything in bounds. If your worst case scenario does not include a night of sleeping outside iwith snow on the ground you should look elsewhere.
Good, but watch your shovel choice.
I just bought this pack but haven't used it yet, it seems pretty good but I have one complaint. The shovel pocket seems designed for a telescoping shovel like the ones Dakine makes. I have a Voile collapsible shovel which is a pretty standard size but the handle is too long to fit in the shovel pocket properly, so I have to attach it through the loops on the side of the bag.
Can this pack Carry an ice ax? Specificly...
Can this pack Carry an ice ax? Specificly a black diamond Venom 57cm?
Yes the gear loops on the sides are perfect for an ice axe
Whats the difference between last years...
Whats the difference between last years and this years models, last years model only $80.00, whats the difference between the two if any, thanks.
Just colors, Thats all...
Unanswered Question
Does anybody know if this is big enough...
Does anybody know if this is big enough for winter camping.