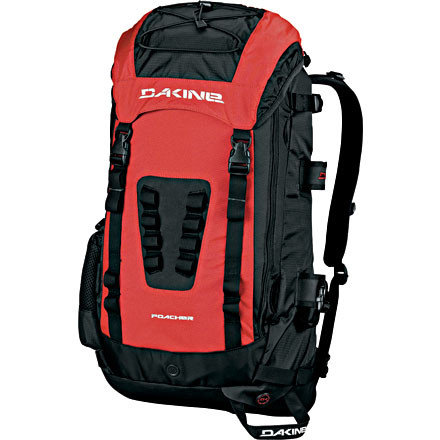 Dakine Poacher Pack is NO JOKE!!!
It's bigger than you may want for a day trip but for serious backcountry travel, it's outstanding. The back panel unzips to allow full access to the main compartment by releasing the chest strap, spinning the whole pack around and laying it out horizontally at your waist. It's a fantastic feature when you're on the move. The diagonal ski carry is key. I had a pack that required A-Frame carry and it's painfully slow to rig. The outside pocket gives you quick access to your shovel, probe and other avy gear. There's also a handy, purpose-built, waterproof pouch for your skins. The underside of the top flap has a clear, plastic map pouch for peeking at those topos without having to put the pack on the ground. The left strap has a great pocket for your hydration pack hose. The bladder goes in an internal sack that can be rolled up out of the way if you are not carrying a hydration bladder. The aluminum frame bars are removable if you so desire. Dakine knows their stuff when it comes to winter packs. I highly recommend this pack. It may be a bit large for some so compare it to other Dakine models - especially the Heli Pro if you are looking for something a little smaller. If you need 2,300 cu. in. of pack, this is an unbeatable choice. I recently carried it on a day hike during the summer and my only gripe is that it made my back a little sweaty. Not a big shock that the winter sports pack is a little warm in the middle of summer but the pack was otherwise very comfortable.
I love this pack... very versatile, and it's awesome for ski carrying and avalanche gear. The ice axe loops are great as well. My only complaint is that the hydration system is a little tricky to insert (you have to buy one separately). I use this pack in the summer as well. My favorite thing about this pack is that it is built very, very well - as opposed to several other Dakine products I owned that were built not-so-well. Great product I highly recommend it.
Have been using the Dakine HeliPro for years, liked all the features and is super well made, so i decided to stay with Dakine steppin up to a larger backcountry pack. Its got enough room to get all your extra gear into it that you'll need on a day of hiking deep backcountry pow. The "Back Entry" is one of the best features this bag has as you don't need to take your board off while hiking. Not something I'd recommend for reg lift riding usage. Sick pack all around. word.
, ☃bcs_badge_alumni_label☃
Great pack!
I've been using this model for years, and the pack has held up well to the abuse. My favorite feature is the ability to access the pack by the 2 zippers on the back panel. The frame is sturdy, and the pack is able to carry enough for a full day in the backcountry. This pack is perfect for those who like to carry a little extra, like a first aid kit, puffy jacket, lunch, and lots of liquids.
, ☃bcs_badge_alumni_label☃
Never lets me down
This pack has been a solid performer for my longer ski tours in the Wasatch, Cascades, and the Tetons. The back panel is key for accessing gear when you've got skis strapped to the pack or other items - meaning you don't have to pull everything off to open the pack in a traditional fashion. Comfortable waist- belt and a sturdy frame came in handy when the loads were heavy. Like other DAKINE packs, the excessive strap lengths are a bit annoying but nothing a knife couldn't fix. Although it's not the lightest pack around, it's a keeper.