Free 2-Day shipping on orders over $50*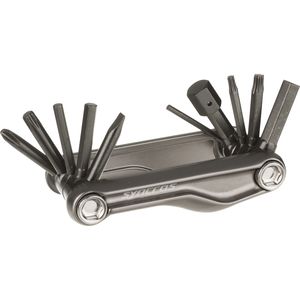 Free gift with purchase!
Alloy 11 Multi Tool
Details
Ditch the towel.
You've seen enough Dakine logos across the tailgates of pickups around town to know that the company must be doing something right. Jump on the bandwagon already and protect your bikes, and your truck, on your way to and from the trailhead with the Dakine Trophy Pick-Up Pad. Made with rugged nylon, the Trophy will withstand its fair share of bumps and scrapes, protecting your bikes from each other with adjustable hook-and-loop anchoring straps. Plus, Dakine includes 0.75-inch thick padding to stand between your bikes and your tailgate, making sure an ill-timed pothole doesn't cause any unnecessary damage.
Go with the small Trophy if you're driving a mid-sized truck, like the Tacoma or Frontier, and the large if you've got something bigger, like a Ram or F-250. Don't be surprised if your rig becomes your ride crew's go-to shuttle either; once word gets out that the small Trophy will fit up to five bikes and the large up to seven, yours will likely become the unofficial group vehicle.
Backcountry Exclusive
Rugged nylon tailgate pad protects bikes and vehicles
Anchor straps hold bikes in place during transit
Extra padding prevents tailgate damage
Item #DAK00LB
Tech Specs
Compatibility
[small] fits most mid-sized trucks (54-inches wide), [large] fits most full-sized trucks (62-inches wide)
Bike Capacity
[small] 5, [large] 7
Recommended Use
bike transport
Manufacturer Warranty
2 years limited