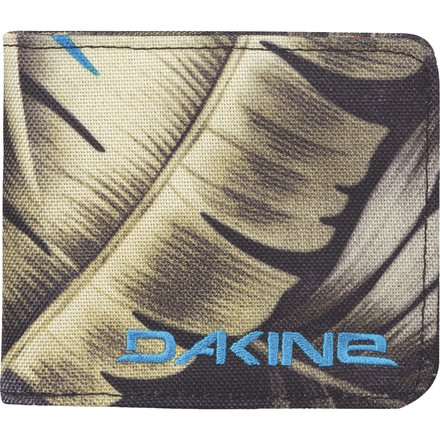 Colors

Detail Images
Description
We recommend stocking this wallet with a few fake bills if you're single.
Last call is announced and human bar fixtures slam shot glasses down like a presiding judge declares the session is over … for tonight. Whip out your slick Dakine Men's Payback Tri-Fold Wallet and give back to the folks behind the bar. No cash in the billfold? You'd better have a valid card in one of the card slots then.
Best Wallet Ever
Gender:

Male

Familiarity:

I've put it through the wringer
This thing is badass! It doesn't look like a tri-fold wallet, but it is a great one. Keeps bills straight, lots of room for cards, and a sweet little zipper pouch. Leather gets warm and wet in my pocket, then hardens out all funky and gross. This wallet will not do that; it's perfect for anyone who's ever pulled a sweaty wallet out of their pocket to pay for food with moist bills (how embarrassing). Never again!
Better than a standard tri-fold
Gender:

Male

Familiarity:

I've put it through the wringer
After a few leather wallets, I came back to polyester. Much better. This wallet is better than the traditional tri-fold. My bills would always bunch up on one of the ends being folded in thirds. This wallet leaves your bills folded in half... no bunching. The flip out for cards is convenient. The zippered pocket is a nice secure place to drop my wedding ring in when I remove it play or work. Wear it for a week or so to allow it to form and soften a bit. First few days it looks like you have a CD case in your pocket.
I thought it would actually fit my stuff and in my pocket............Sadly it wasn't to be
Nice wallet but too small for my liking. Hip design and the coin pocket a plus but if you keep a lot of bills or cards, it gets tough to close. On the flip side, maybe with the slow economy they make small wallets now to make it seem like you have more in there... :)
awesome wallet , plenty of space,durable with coin pocket