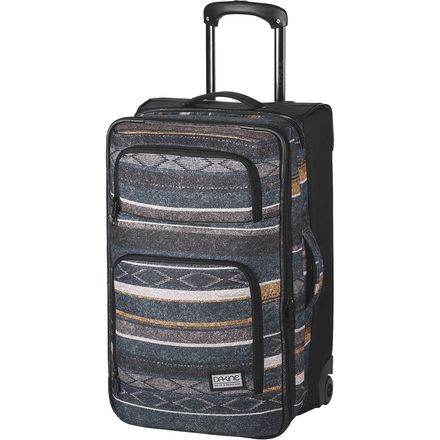 Colors

Videos

Community Images
Description
Pack carefully ... then pack more anyway.
The DAKINE Women's Over Under Bag's expandable storage and a split-level organizational design makes hitting the duty-free shops at the airport just a walk in the park. You've already packed your clothes inside but the question remains: how do you fit more? Thanks to an extra 900 cubic inches of space, the Over Under accommodates your shopping spree with ease, then rolls onto the plane on smooth-as-silk wheels.
Perfect!
Familiarity:

I've used it once or twice and have initial impressions
I was tired of lugging around my 10 year old Volcom Duffel bag in the airports, so I finally picked out this luggage for a carry-on. Once it arrived i was really concerned it wouldn't work for a carry-on. I usually fly smaller distances, with smaller planes (two seats each side). This bag probably wouldn't fit in those overhead bins, but they let me check it at the gate which worked fine. The flight home however I was on a bigger plane (3 seats each side) and this definitely fit in those bins. I wasn't using the extender but imagine it still would've worked so long as I could smash it in there, haha! This bag is built very nicely, the zippers feel strong and the wheels seem protected enough to not break if I did ever check it under the cabin for a flight. Very pleased that I snagged one of these!
Buying my own
Familiarity:

I gave it as a gift but have feedback to share
Gave this as a gift but 100% will be getting my own.

I have the smaller 42L bag, it works for me but I like to OVER PACK. This is cool because you can pack your clothes alone before vacation and hopefully bring home some souvenirs or gifts for yourself. Since the bag expands.. you don't have to worry, it expands (and got through security while it was expanded).
Wife's a huge fan
Familiarity:

I've used it several times
My wife picked up this bag before a trip across the country and it worked great with the pockets and separator she fit everything and had it organized well. It also has a extender zipper and for traveling not on a plane it can be a bigger bag than a carry on which she has used that feature a lot.
Unanswered Question
Hi I'm looking for any Dakine "Juno" roller luggage, is there any out there? Please let me know.



Thank you,



Cynthia

cg2415@aol.com
Favorite Bag Ever!
Familiarity:

I've put it through the wringer
When I say I've put this bag through the wringer, I mean it. I've had it for three years and I travel about 20 weeks a year. I've checked it on planes (the ultimate abuse test) no fewer than thirty times and it has held up amazingly well!

The capacity is perfect for a week-long trip if it's pretty casual packing (i.e., you're not fitting an 8000m mountain expedition's worth of stuff in it). I usually fit a week's worth of work clothes, play clothes, toiletries and a few pairs of shoes just fine. Love love LOVE that the top part unzips to expand so if I go somewhere and end up coming home with more than I brought, I can open that up and have a crapton more room in here.

Nice and lightweight but super sturdy, and Dakine bags come in really cool patterns, too, so your luggage doesn't get swallowed up in a sea of black suitcases. The wheels have held up really well and show no signs of wearing out or wobble, and the handle slides up and down just as well as the day I bought it.

All in all, this is the best suitcase I've ever had and when it finally dies, I am 100000% getting another one!
DAKINE Over Under Bag - Women's
i LOVE my Dakine carry on bag!
Familiarity:

I've used it several times
That bag fits everything you need for a week and more - like others said, be careful not to over pack it or they will make you gate check it. A lot of times the flight attendants or person scanning tickets at the gate give a weird look like it's too big. I promise the bag, if not overpacked, will fit the correct way, wheels first in the overhead cabin!

Great purchase!
Great for Travel!
Familiarity:

I've used it once or twice and have initial impressions
I purchased this piece of luggage for my 5 week volunteer trip to Peru and even though it was too big to count as a carry on it was still a fantastic bag! It had many compartments for storing items - inside the top zips off to separate and hold in items so as not to spill out if needing to be opened for inspection (which thankfully did not occur). Definitely plan to use again for longer trips!
Awesome!
Familiarity:

I've used it once or twice and have initial impressions
This has enough room for a weekend trip and a few bottles of wine. The perfect bag!
Makes traveling a little more enjoyable!
Familiarity:

I've used it once or twice and have initial impressions
This bag is the perfect size for a week long trip! You can fit everything you need in here, without it expanded. But be careful because it's very easy to over pack it and you'll end up with a gate check. This is my second Dakine luggage piece and I'm just as happy with this one as I am with the other. Well worth the price.
is the Dakine Over UNdr Bag Kala on sale...
is the Dakine Over UNdr Bag Kala on sale for $98.97 at 49L or what size is it?
This 3000 cubic inch bag is the 49L option. If you pull down the select options menu each color variant will have listed its exact price.
I purchased this piece of luggage to take with me on a five week trip to Peru. Unfortunately, it was not allowed as a carry on and had to be checked for all flights. Regardless, it's durable and can fit quite a bit. After several long walks with this item (thanks Miami for the hour long adventure tugging this and two other bags along) it held up the way I would hope any bag would. Even with having another heavy bag resting on top of it, I have no complaints.

PS. LOVE the print! Sierra got a lot of compliments =)
love this luggage
Gender:

Female

Familiarity:

I've used it once or twice and have initial impressions
i didnt think id like the how the 2 sides have their own zippered compartments but its actually super handy. i think its the biggest size u can get for carry on luggage for most airlines plus it expands! the zippers are awesome too
Great bag. Sturdy and a cute design (I got the Skyler). Great bargain at sale price! Dakine products always seem to last, too. Props to Dogfunk.. ordered it less than 48 hours ago and it was on my doorstep today (with free shipping!).

P.S. This bag is def on the upper limits of "carry-on" dimensions. Careful how much you pack or you may find yourself with a gate check.
Unanswered Question
Will this fit on the overhead shelf on a...
Will this fit on the overhead shelf on a Metra train?
Very nice and sturdy, but if you want to use it as carry-on, don't put very much into it, as it gets too big fast. Will hold a lot, easily 50 #, which is the limit for most airlines in checked bags.
Looks great, but broke in the airport.
I like the looks of this bag, and the separated compartments. Unfortunately, the first trip I took this on, it didn't make it through the airport without breaking apart. One whole wheel piece broke completely off, making me think other products might have superior quality.
, ☃bcs_badge_alumni_label☃
Great Bag
I gave this as a present. Perfect bag for her, a lot of room but still able to carry on to planes.
This bag extends to be quite large. I travel alot and didn't want to have to check a bag, but still be able to fit everything in. I love this bag. Fun colors too! Fit 3 pairs of shoes in and all the clothes I needed for a 4 day trip. Love all the pockets, and there is an inside zip/mesh that separates your shoes from your clothes.