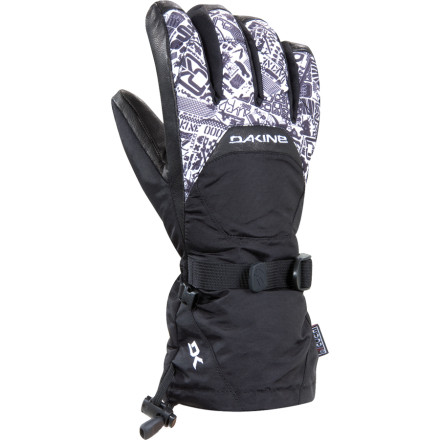 Community Images
These gloves are wonderful, they keep my hands dry and warm all day on the mountain. I've had them a for a full season now and they show absolutely no signs of wear and tear. The leather palm is nice, it has great grip. My only complaints would be that for some reason the middle finger on my right hand always gets cold and starts to numb for some reason. I just stick it into the palm of my hand and wait for it to heat up, and then it's fine for the rest of the day. I think it's just my pair, not a manufacturing defect. Also, functionality (e.g. working electronics, tying laces, etc.) is limited, and though not impossible to do, I find it easier to take off the glove to do these things. This could potentially be pretty annoying. Other than that, these gloves are fantastic, and I love the price. For some reason though, Dogfunk doesn't have the awesome black and white color scheme I do (see picture), and the Charcoal Herringbone is, by my opinion, not the most stylish glove on the mountain.
does this glove have a removable insert?
does this glove have a removable insert?
, ☃bcs_badge_alumni_label☃
Wore them all week at Steamboat and it was as cold as -20 and never got above 10 and I had no problem with my hands getting cold. Went skiing all week and never had cold or wet hands.
if you are gonna go to some discount shop to get gloves, dont waste your time. you will spend less money there but you wont stay as warm and they wont last as long. great gloves! thanks!
The gloves are super comfy but I would not recommend them for cold days. I was bording at Brighton last week with 10 degree weather and my hands were freezing. Great gloves for the 20's but if you're looking for a glove to ride at night then keep looking.
These gloves are warm enough, but the fingers aren't so grippy, and the stitching between the leather on the palm and the nylon between the fingers doesn't seem so durable. I'm not the type to abuse gloves, so I'm not totally worried about it.
Bought these gloves as a gift for the BF, and I steal them every time he isn't looking! Warm, dry... my hands are happy no matter how many times the dog drags me down on a day of ski jouring! I might have to by the BF another pair for his birthday so I can keep these full time!
After talking to the "experts" at Backcountry, I decided on these gloves because of the price. The gloves keep my hands warm. You can grip things well while wearing them. It is easy to move with these gloves on. The gloves are functional and I really like the insanely cool design. Great bargain.
these gloves were a great buy. they're the most comfortable gloves i've ever had and they do a great job keeping my hands warm. i was a little skeptical buying them, because of the low price, but they work really well. they always keep my hands warm with the exception of a few really cold nights while night skiing. not only are they warm but they have insane graphics too! one of the cheapest priced gloves of it's kind and i highly recommend it!
these gloves are grand. buy them.
The description of this glove says that...
The description of this glove says that it keeps out the cold really well. At such an affordable price, is it as warm and dry as it says?
I'm sure this will work just fine....At this great price you can't complain too much if it isn't 110% perfect.