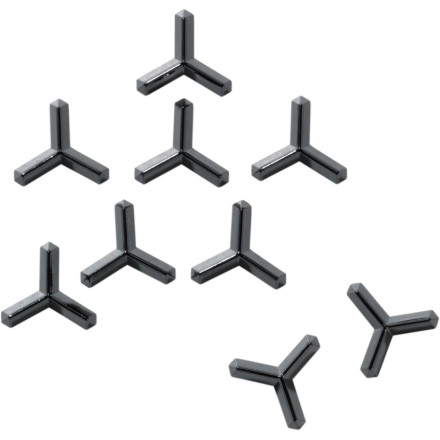 These Dakine Ninja Stars are my favorite stomp-pads I've ever found.

They can be stuck individually wherever you want to, to get the best grip. I actually decided to put half of the pack on the switch-side, as I can load the lifts switch or regular.. (decreasing wear on my boots from lift-rest!)


They provide just the right amount of grip and abrasion, without sticking up too far and aggressively like some other stomp pads.
The shape of the stud sheds snow quickly if you have some packed into the tread on your boot.

Not all of Dakine's equipment is top-notch, but these sure are in my book.
these are sick, they look sweet and they work great, just make sure you put them on how the instructions say and you will be in business.
These are pretty good little stomp thingys, but they do come off. Granted, I put mine on in the parking lot of the resort and so thats probably my problem, you will want to put them on properly with a blow dryer like it recommends. Good news, there are actually 9 of these in the pack like the picture shows (not 6) and I can only fit like 6-7 of these on my board without it looking too cluttered, so you have extras to replace if they do fall off. Overall, for $10 they are minimalist which is great and get the job done.