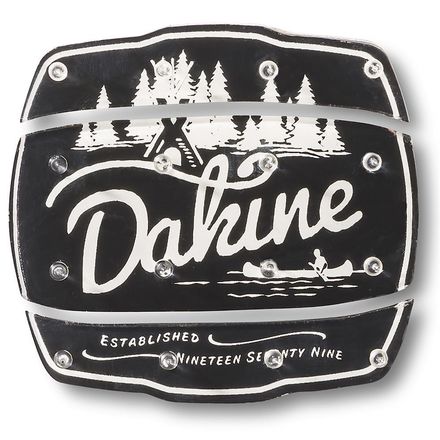 Colors
Description
A stomp pad for those hit a little harder by the growth hormones in their milk.
Slap the three-piece DAKINE Modular Mat Stomp Pad down on your deck and treat your sasquatch-sized paws to some traction for once. Feet smaller than a semi? The Modular will still work like a charm so you won't fall on your face while loading or unloading the high-speed quad.
buy on amizon
Familiarity:

I've put it through the wringer
great product but i found it twice as cheap and with free shipping on amizon
The best stomp-pad out there.
Familiarity:

I've put it through the wringer
I've used this stomp pad on my past two boards and between the two of them probably have over a hundred days using this product.



This is simply the best stomp-pad out there as far as I'm concerned.



The spikes on it are made out of rubber but they are pointy as hell so they really bite into the bottom of your boot. They are so pointy that if you are carrying your board with it rubbing against your arm it can be quite uncomfortable.



The three piece modular design lets you really customize the placement so it matches your boot size / riding style.



I've found putting the smaller strips fairly close to the edges of the board really helps with control. This way you can really dig your toe or heel edge in if you need to.



If I'm just making my way up the mountain and need to take a quick run to the next lift I normally don't even strap in and with this pad I feel confident making turns even in firm conditions.



I hope Dakine continues making this because I plan on using it on every board I buy in the future.
I have the biggest boot size possible without needing risers under my bindings. This stomp pad allows you to set the three pieces as far apart as you like for full coverage across your board. Works great and looks great on my board!
Within the 2 boards I've had i used this stomp pad both ties. It looks good and i like the 3 separate pieces and it digs in good. Don't understand why anyone wouldn't get this one.
Holds you like your momma - tight!
Great stomp pad for keeping your foot planted and giving you the control and confidence you need for those hairy chair lift departures. The urethane is extremely sturdy, with nice spikes that are so pointed they should require a weapons permit. Clear version allows board graphics to shine through. The 3-piece design allows you to customize the placement of the pieces for your preference. Love this stomp pad, and will be buying more to stock up with the reduced price.
Hasn't fallen off yet : been out 3 times with it. Like the way its broken up and blends in nicely with a black board. Some like 'em, some don't. I nearly clipped a guy who sat down right as he got off a lift. It was snowing / pretty slick (and actually the only time I needed it) and it helped when I had to juke around him quickly. So I'll recommend it.
The spikes are pretty sharp so they dig into your boot. It also is 3 separate pieces so you can set them up however you want them. I spread the smaller pieces out about 1 inch from the bigger one so it covers a good portion of the board. I love how you barely notice the clear one at first glance. Works great. Hope they keep making this style
Seems pretty strong I have not used the board since I put the pad on there But I like the fact that it's clear So it does not interfere with the look of my board.