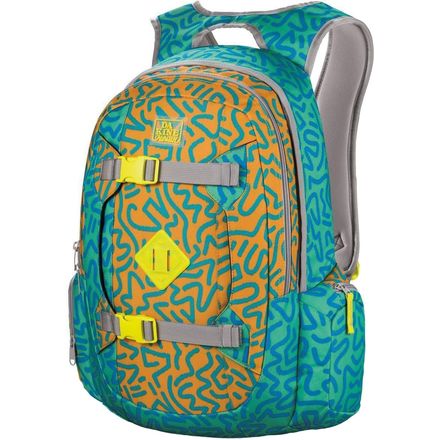 Colors

Detail Images
Description
A pack as flexible and adaptable as your schedule.
Sure, you planned on going to class today, which you can easily prove by the fact that you stashed your 15-inch laptop into your DAKINE Mission 25L Backpack. But you also attached your snowboard to the pack's vertical carry straps and tossed your goggles into its fleece-lined pocket. So, upon closer inspection, one would almost think you were on a mission to ditch class and shred from the start.
Padded sleeve that allows you pack your 15" laptop
Fleece lined pocket for your sunglasses or goggles
Great pack for anyone on the go. Especially for school carrying your books, laptop, and all that. Wont disappoint.
Unanswered Question
PS. anybody with a brain know of a difference...
PS. anybody with a brain know of a difference between the mens and womens version of this bag besides the smaller shoulder straps? I'm a pretty small chick, and the mens (aka standard) version is just fine.
The rest of the reviews on this pack are funny to me. No, it's not a hydration pack, nor does it claim to be. And I cant seem to find any claims of it having a waterbottle pocket either. So if you're new to Dog funk, my suggestion to you (and all of you who already own this pack, and apperantly didn;'t read these upon purchase...) READ THE TECH SPECS... not super labor intensive there ya bunch of rocket scientists.

Now, onto my review.
Got this backpack on Whiskey Militia for $24 +shipping in Neon Blocks.

Love this pack. Why? Because it's versatile. Already done some intense study seshs with this pack (thank you padded laptop sleeve), and I've also taken it on a couple of back country hikes. It's great for snowboard carry and easy to ride with, and if you're not a kook, and you care about the environment at all, there are plenty of spaces to hook a water bottle with a carabiner on.

Lifetime warranty, check.
Read the Tech Specs, check.
Attend classes and stare at Whiskey militia all lecture, check.
Hike in Mammoth Mountain's backcountry, check.

This isn't a serious pack, and if thats what you're looking for, I suggest you take some backcountry classes before buying this pack and then b!tching about the non-existent bladder pouch... duh.

5 of 5 stars
Great backpack
Gender:

Male

Familiarity:

I've put it through the wringer
I purchased this backpack because I wanted something that would last me and hold up better than my older backpack. I am a student commuter so I needed something lightweight and durable so I can speed through the streets of Chicago on my bike and make sure that my laptop is going to be safe and secure, and this was a great choice. There is a lot more room than expected once you open it up and fill it with all your books and whatnots, and the bright neon green on the Neon Blocks is an eye turner. As another customer said there isn't a spot for a water bottle but I haven't found it to be a problem, there is still space left over in the front compartment for my bottle, and as for the laptop sleeve there is extra room for it to move around, but I keep my 13in MBP in a padded external case and it fits perfect with the extra thickness. I got the neon because it's my favorite color and also it reminds me of Finn's backpack from Adventure Time just a little more snazzy. It feels well balanced with 3 large film books, notebooks, and my 13in laptop, the straps and back are comfortable and well cushioned, and it doesn't pull you back and fell clunky when wearing it like my old Ogio did. I'm 5"5 and it fits right in the perfect area, the lower straps fit right around my waist. I feel that this backpack will last me well over the life of the one it replaced. I shopped for days and hours before deciding on this one and Backcountry.com had the best price around for this and on the other ones offered. I couldn't be happier.
Great backpack for school. It has held up for 2 years already
Thanks for the making my x-mas shoping so easy. The product price was great and the shipping was speedy and reasonable in price. I was very happy with the quality of the product. You have made me a customer for the future.
Hello. I recently purchased this pack and...
Hello. I recently purchased this pack and like it so far with the exception of one thing... I can't figure out how to carry my board with it! the straps on the front are too narrow for my board to fit. Any pointers? Thanks.
Position your board so that the top binding fits through the middle of the straps. It might not be the most secure, but it should work! Also try loosening the straps.
Excellent backpack, but not perfect.
PROS
- Great outer design, looks good wearing it
- Very strong and durable, should last a long time
- Has many pockets and organizers
- Can fit most 15 inch laptops
- Shoulder straps are designed to attach and not hang, which puts less stress on your back.

CONS
- Whoever designed the water-bottle pouch is a genius (end of sarcasm). The zipper pouch doesn't hold cups securely and they often fall out. Some models have the pull out mesh holder like most conventional backpacks, however, this model does not.
- Interior space is quite thin. If you're the kind of person who likes to pack a lot of things, you might not be able to fit everything. It is only good for flat objects such as notebooks.

Overall, I am very satisfied with the backpack. If it weren't for those two cons, it would be rated 5 stars instead of four.
This Is a great bag, It looks awesome! and you can fit alot of camera gear in it also can put a laptop or a Apple Ipad in the front
I needed to get a new backpack for school during the week and sking on the weekends so I got this pack and it's gonna be here for a looooong time. The goggle pouch is handy for keys too and the padded pockets work fantastic! Everything stays dry and overall it's a really good backpack that I would highly recommend!
Sits low, no laptop strap
I bought this as a replacement for an old Targus laptop commuter bag. The snowboard style sits a bit too low on the back for my taste (I guess you need an oversized snowboard jacket for it to fit right). Also, the laptop pocket doesn't have a strap/bucket or Velcro to keep the laptop from moving around. This may or may not be an issue for some, but it makes the pocket seem like an afterthought into the bags design. Finally, the side pockets are too small for regular sized water bottles.
Can it carry your snowboard? Yes. Can it accommodate a hydration pack? Sorta. Can you carry your laptop inside? Yes. Can you easily carry a water bottle? No. Are there plenty of places to store sunglasses and goggles? Yes.

If I had it to do over again (and I suppose I do), I'd go with a pack that better accommodates a hydration pack. This pack has a pocket for the bladder (the laptop pocket) but no easy way of getting the hose out of the bag and accessible. There is no tiny hole in the top; you're forced to just shut the zippers of the main pocket around the hose. Also, there's nowhere to put a nalgene or even a regular old 16.9 oz. water bottle. Water fail, I'd say.

It's plenty big for granola bars, sunscreen, and anything else you'd likely need on the slopes, but as a travel backpack, it's undersized, particularly when you have your laptop and power adaptor already jammed in there.

Overall, I'd try to take a look at these in person before investing in one. Know what your priorities are in a pack and make sure they are WELL established in the pack, not just a slight hint at them.
is this hydration bladder compatible?
is this hydration bladder compatible?
No it is not. However the smaller 20L Dakine Heli Pro does, as well as the larger 26L Dakine PRO II.
Does this pack come with the strap that...
Does this pack come with the strap that you can put ice-axes/shovels in?
Best Answer
If you are looking for the straps on the side of the pack then this does not come with them. this is more of a school backpack that can also carry a snowboard/ skateboard with the buckle straps. the Dakine Heli Pro bag does have side straps for a shovel.
I bought this pack to use for school - I've had a North Face for the past few years, but seeing as it was white when I bought it and is now a nasty tannish color, I felt the need for an upgrade.

I bought it in Citron, because I love the color yellow - I guess I didn't realize "citron" is similar to "citrus." That being said, its actually a lime green. I was a bit bummed about that.

Also, there isn't a place to store the waist straps, so that was slightly disappointing.

Other than that, this is a great pack! Plenty of storage space, including a nice cushioned laptop sleeve, two fleece-lined pockets, and a nice organzing pocket. The front straps fit my Original longboard perfectly, so I'm pretty stoked about that!

All around, a nice pack, certainly can't complain for the price.